Have you checked the weather forecast? I did – and it told me, "hibernate and don't re-emerge until March" (which I'm totally okay with, by the way). During these chilly, cozy winter (well, almost) nights, mother nature calls for some serious soup recipes. And trust me friends, this one delivers. It's full of red wine and brandy – YES, PLEASE – and it only adds to the depth of flavor here. My sister, a self-proclaimed french onion soup aficionado, uses this as her go-to french onion soup recipe – so when you're bundled up at home, wrapped in your favorite blanket and decorating for the holidays, this is the perfect accompaniment. Have family for the holidays? The best first course. Cozying up with your better half? Have it for dinner! The sous chef and I did (and he had three bowls of it… just saying).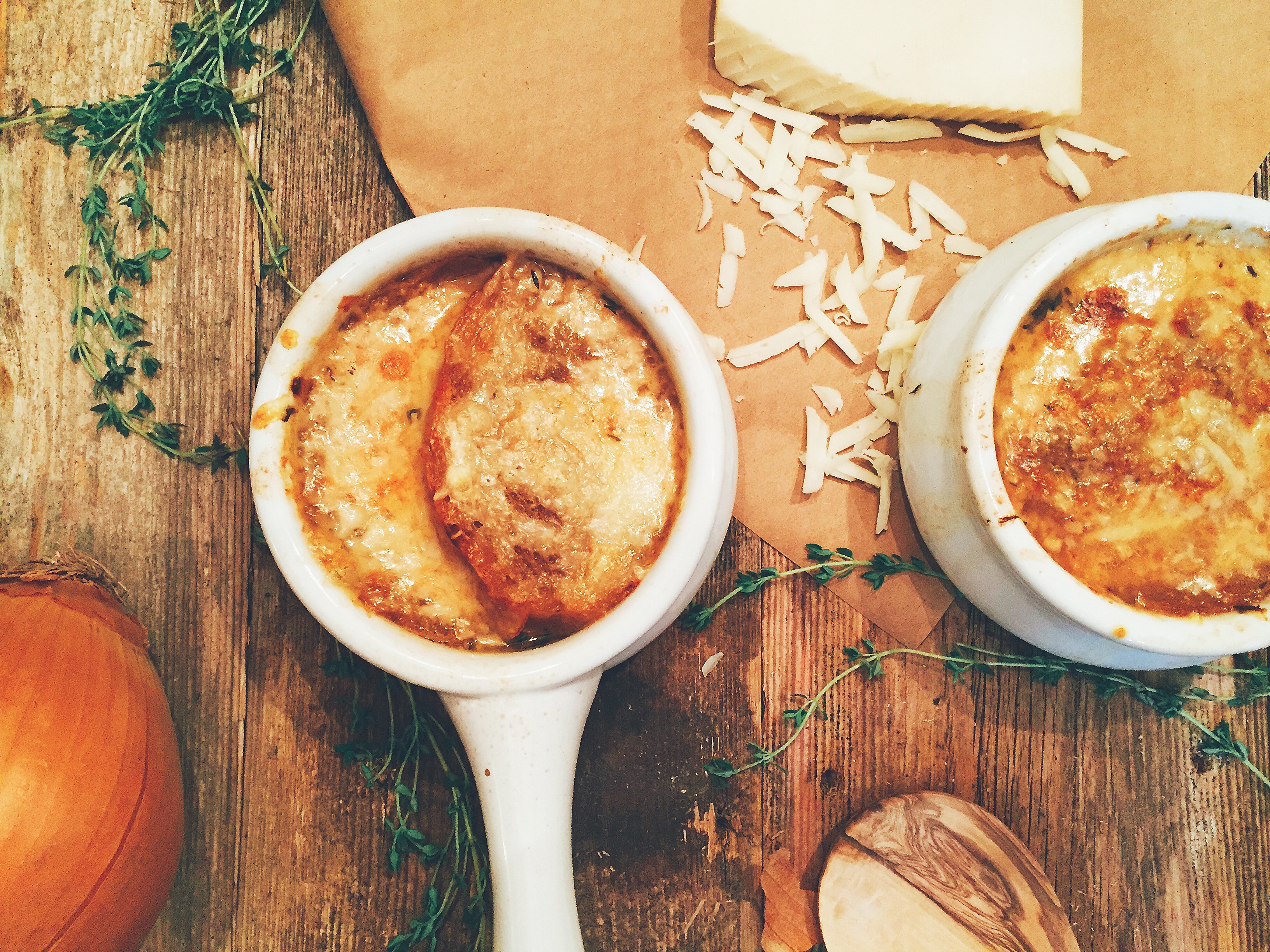 French Onion Soup with Red Wine & Gruyere Cheese:
1.5 lbs sweet yellow onion, thinly sliced
Three tablespoons butter, unsalted
5 sprigs thyme
2 bay leaves
1 teaspoon flour
1 tablespoon Dijon mustard
1/2 cup dry red wine
1/4 cup brandy
4 cups beef stock
2 tablespoons Worcestershire sauce
Salt and pepper to taste
Crostinis or croutons
1 1/2 cups gruyere cheese, grated
First, heat the butter in a large saute pan. Once melted and bubbly, add the onion, thyme sprigs, salt, pepper and bay leaves.
Let caramelize over medium-low to medium heat for about an hour until the onions turn a deep amber color. The thyme leaves will break off, giving an earthy flavor to the soup. Once the onions are finished, remove the thyme stems.
Transfer the onions to a large stock pan and add the mustard, and mix until dissolved. Then add the flour, stirring to combine. Next, add the red wine and brandy, and let simmer for 4-5 minutes, or until the onions have absorbed the liquid.
Add your beef stock and Worcestershire, turn the heat down to low, and let simmer for 25 to 30 minutes. Season with salt and pepper to taste.
Turn the broiler on in the oven. Ladle the french onion soup into oven-safe soup bowls. Place two crostinis (or several croutons) atop the soup. Top with the grated gruyere cheese. Place underneath the broiler until the cheese turns golden-brown, about 5-7 minutes, and then remove from the oven. Let cool. And with that, you're ready to dig in (the easiest part). Enjoy!