Um, hi. Butter. That is all. Crispy, buttery skin. Did I mention butter? Or juicy, tender chicken? Or butter. Yup, go ahead and sign your name on the dotted line, because this. is. everything. And by that, I mean literally everything you need for dinner – all in one roasting pan. Easy peasy. And did I mention seriously impressive? If you're entertaining this holiday season, or cooking for someone special, this chicken will make you look brilliant. I mean, you are brilliant, this chicken is just bringing that brilliance to the forefront, of course.
It's a gorgeous centerpiece, and this completely simple recipe looks like a million bucks. And I cannot even begin to describe how ah-mazing this chicken makes your house smell (double win with your lovely guests). But hey, don't take my word for it, give this golden little nugget of a chicken a whirl. But if you do take my word, make sure it's this one: butter. K, thanks, bye (until next time!).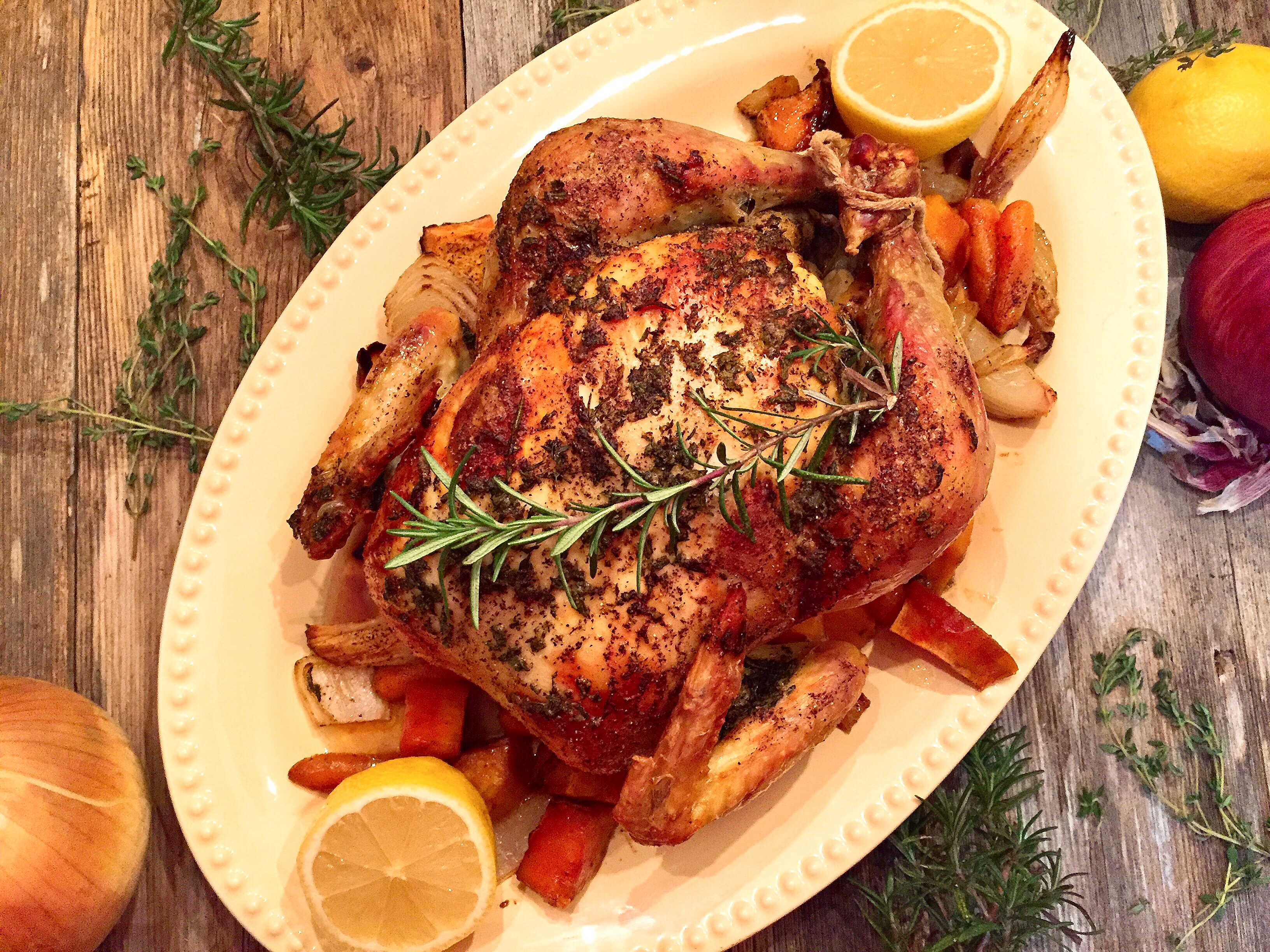 Herb-Infused Butter Roasted Chicken:
1 5-6 lb. whole chicken, rinsed and patted dry
5 tablespoons unsalted butter, room temperature
2 tablespoons finely chopped fresh rosemary (plus one sprig)
1 tablespoon finely chopped fresh thyme (plus one sprig)
2 teaspoons garlic salt
1 teaspoon ground pepper
1/2 lemon
1/4 of a small onion
4 cloves garlic
Salt and pepper to taste (both inside the cavity and on the skin)
Cooking twine (optional)
Roasted Root Vegetables (optional):
2 sweet potatoes, peeled and cut into 1-2 inch pieces
1 cup baby carrots
1 whole onion, sliced
2 tablespoons olive oil
1/2 teaspoon ground cayenne pepper
Salt and pepper to taste
Preheat your oven to 350 degrees.
For roasted root vegetables (optional) toss the sweet potatoes, carrots and sliced onion into the bottom of a large roasting pan (with a rack). Drizzle with olive oil, and season with ground cayenne pepper, salt and pepper.
For the chicken: combine the softened butter, rosemary, thyme, garlic salt and teaspoon of pepper in a bowl with a fork. Set aside.
To prep the chicken, remove the giblets and place your patted and dried chicken atop of your root vegetables in the roasting pan, breast side up. Season the inside of the chicken generously with salt and pepper. Stuff the cavity with your lemon half, chunk of onion, sprig of rosemary and thyme.
With a small pairing knife, create four slits inside the skin of the chicken breast to nestle the cloves of garlic. Place the garlic into the slits, beneath the skin.
Next, rub the softened butter and herb mixture all over the chicken (don't forget the nooks and crannies!). Season the skin with salt and pepper.
If desired tie the chicken legs with with twine to keep the moisture in the chicken. Place the roasting rack in the oven for about 2 hours and 5 minutes to 2 hours and 20 minutes, depending on the size of the chicken, or until the juices run clear (at 325, cook for 20 minutes/pound, plus an additional minutes is a good rule of thumb).
And just like that, this beauteous chicken is ready for carving (and I know, you're ready for a glass of wine – you earned it!). Enjoy!