I'm a true professional at hoarding scented candles during the holidays. Beginning in October, pumpkin spice is nothing short of a coveted item in our household, naturally followed by cinnamon-everything, pine tree-this and chestnut-that. But friends, the aroma that fills the house while baking these delectable nuggets of holiday joy is matchless.
And I don't care if it's 70 degrees and humid outside on Christmas, I will just as well bake these Christmas beauties as I will wear boots and a sweater today because that's just how I roll in December. And PS mother nature: go home, you're drunk, and give winter back before you leave (we'll take a rain check for July, literally). But back to the real conversation piece – these good-for-the-soul holiday treats – you wont be disappointed. Crumbly, melt-in-your-mouth, with just enough sweetness and dark chocolate drizzle to boot. Whip up these bad boys, and your coffee with thank you.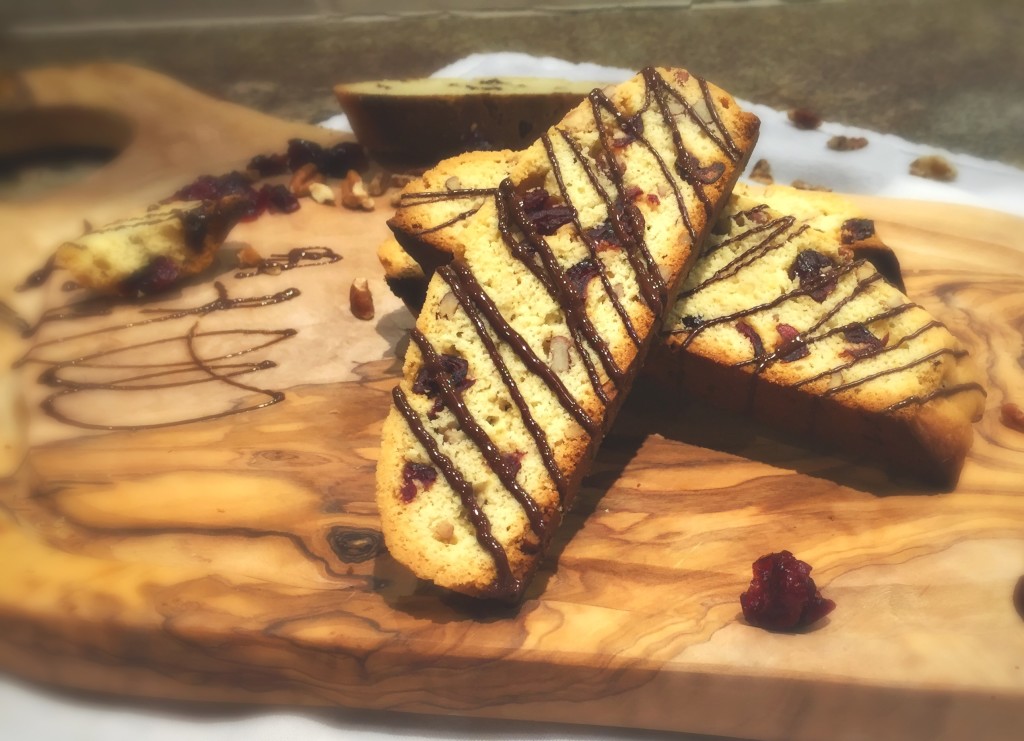 Pecan and Cranberry Holiday Biscotti with a Dark Chocolate Drizzle (inspired by this Food Network recipe):
2 cups all-purpose flour
1 1/2 teaspoons baking powder
3/4 cup sugar
1/2 cup (1 stick) unsalted butter, room temperature
Zest from a whole lemon
1/4 teaspoon salt
2 large eggs
3/4 cup pecans, coarsely chopped
2/3 cup dried cranberries
12 ounces good-quality dark chocolate, chopped
To begin, take out one stick of butter and let it come to room temperature. Then, preheat your oven to 350 degrees. Next, in a medium bowl, whisk together the the flour and baking powder. Once the butter has reached room temperature, cream together the butter, sugar, lemon zest and salt in a large bowl with an electric mixer until creamy and smooth, about 4 minutes. Add the eggs one at a time, until just incorporated. Then, slowly add the flour mixture and beat until just blended. Fold in the pecans and cranberries. Next, form the dough into a log-like shape, about 13 inches by three 3 inches on a silicone baking mat or parchment paper (on top of a baking sheet). Bake for 40 minutes at 350 degrees. Let cool for 30 minutes. Then, slice the biscotti at an angle with a serated knife, about 3/4 inch thick. Arrange on the baking sheet, cut side down. Bake for another 15 minutes, until the biscotti begin to turn a pale golden color. Meanwhile, melt the chocolate in 30 second increments (probably a minute to a minute and a half total), stirring in between. Remove the biscotti from the oven and let cool. Drizzle the dark chocolate using a spoon. Let the chocolate harden, et voila!
The perfect accompaniment for this delicious treat is coffee… and maybe a splash of bailey's. I won't tell Santa if you won't.
Merry Christmas!