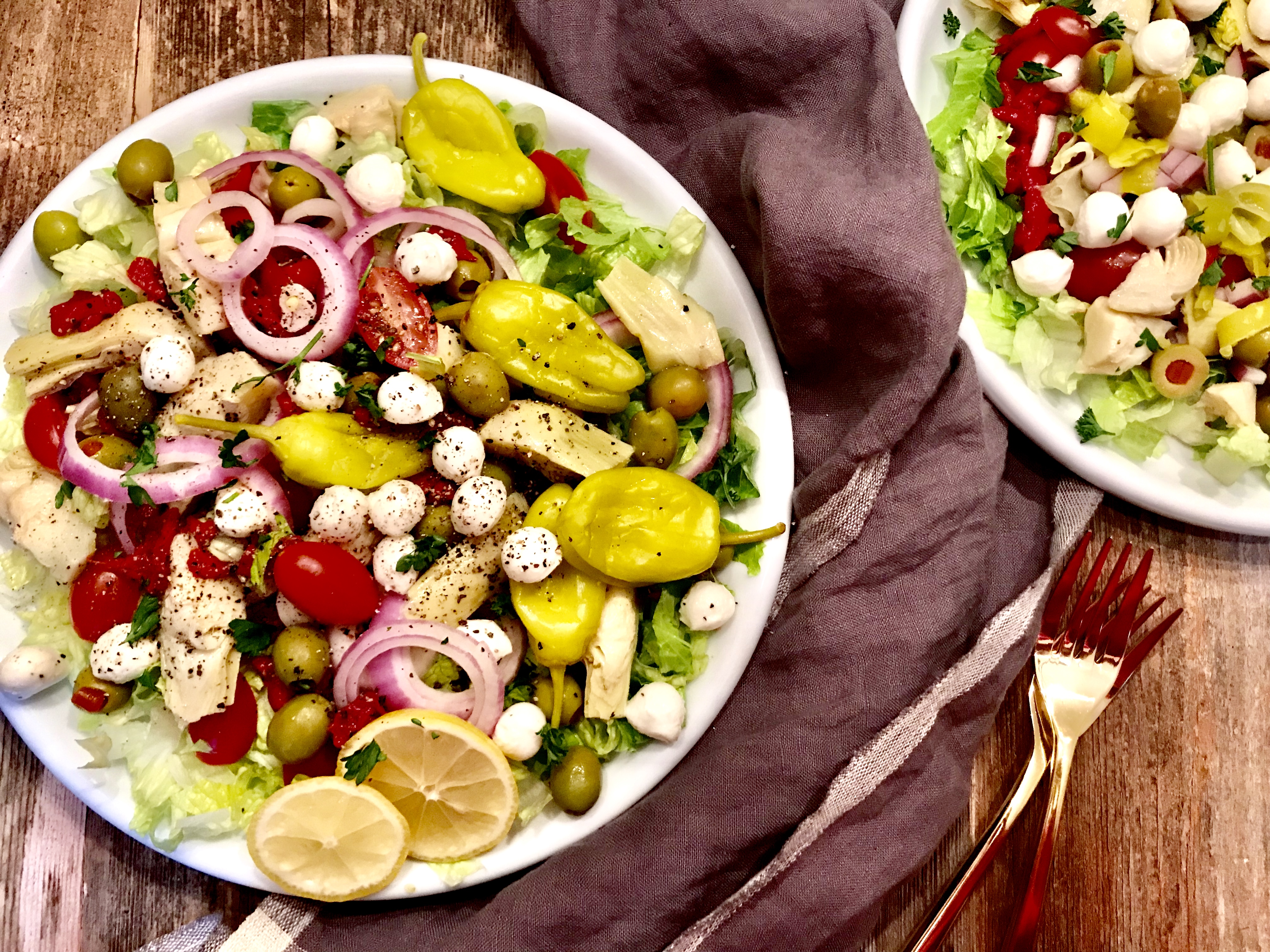 Well, hello 2018! Can we just talk about WHERE IN THE WORLD 2017 WENT?! I feel like I blinked, and it was gone. For me, the new year is always a simple reminder of how precious time is, and to truly appreciate every single day. Super sappy, I know.  *sips wine, wipes my tears* KIDDING. But, it does bring me to my next point: life is too short to not eat good food. AMIRITE?!
So, we start off 2018 with this beauteous antipasto salad — it's healthy and delicious! I'm totally a salty-over-sweet person, and I think what makes this salad so delicious is all of the savory little gems in it: the pepperoncini, olives, artichoke hearts, mozzarella pearls… it doesn't get better [and comes together in a snap with a really great knife!]. We actually had this for dinner, but it would be a perfect side salad for a gorgeous lasagna or pasta dish. I always struggle with what type of salad to serve with any pasta recipe, and always default to caesar salad… not any more, my friends, not any more.
Also, I'm a huge fan of homemade salad dressing — store-bought dressings just don't even compare. And I'm obsessed with this Italian red wine vinaigrette: full of garlic, freshly grated Parmesan cheese, shallot, oregano. I could drink it [but don't be like me… put it on your salad. It's the right thing to do].
So the sous chef grew up in New Jersey, and swears he's basically an Italian culture-aficionado [don't get me started on his self-proclaimed superior taste in pizza…] [AND let's be clear: he's Irish through and through]. Of course when I told him we were having antipasto salad, he immediately corrected me and said it's "antipast" [mind you, in a thick Italian accent]… the 'o' apparently is silent. WHO KNEW. But good news: it doesn't matter how you pronounce it, only that you eat it. With a generous glass of wine or three, naturally. CHEERS!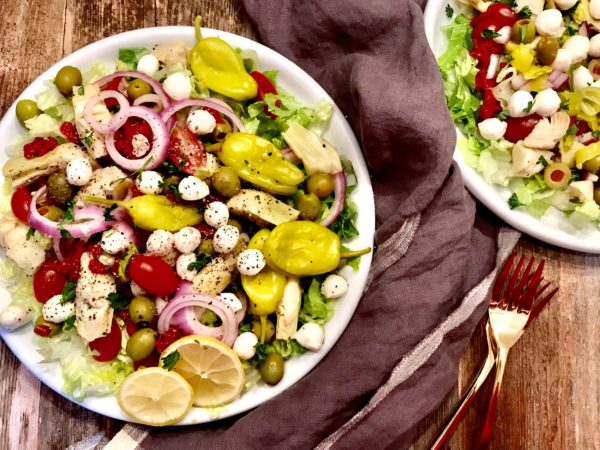 | | |
| --- | --- |
| Servings | people (as an entree salad) |
Italian Red Wine Vinaigrette
| | |
| --- | --- |
| Servings | people (as an entree salad) |

Italian Red Wine Vinaigrette
Divide the chopped romaine between four plates. Top with grape tomatoes, roasted red peppers, red onion, artichoke hearts, olives, pepperoncini peppers, and mozzarella pearls. Drizzle with the Italian Red Wine Vinaigrette, toss, and enjoy!
Italian Red Wine Vinaigrette
In a measuring cup, whisk together the extra virgin olive oil, red wine vinegar, garlic, shallot, Parmesan cheese, oregano, parsley, Worcestershire sauce, salt, and ground black pepper.
Our wine choice: the 2013 Castello di Gabbiano Chianti Classico Riserva. This classic Italian red is medium-bodied, slightly dry, and well-structured -- with notes of black cherry, plum, and vanilla, this Chianti is a perfect choice to pair with our antipasto salad. Cheers!