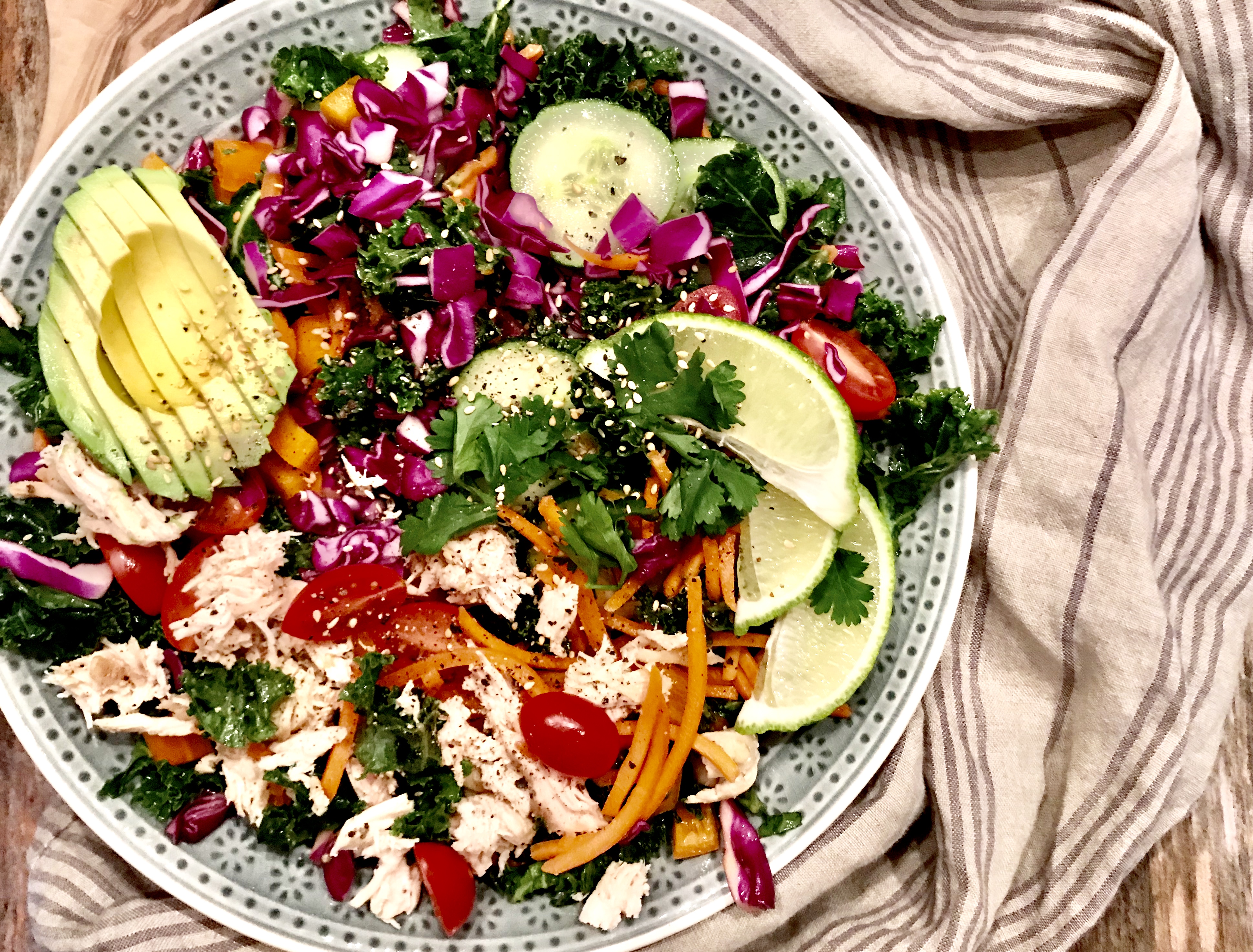 This is almost too pretty too eat. *just almost*. Because this salad is so delicious, and so satisfying! I clearly have an obsession with kale salads (exhibits A, B, C, for starters), and this one does not disappoint.  In fact, I think this is my new favorite dinner [and obvs should be yours, too].
It's literally the best of both worlds: healthy + insanely flavorful. And the TEXTURES. Oh the textures. Creamy avocado, crunchy cucumbers, juicy tomatoes — and then, there's the massaged kale coated in this sweet and salty sriracha peanut dressing. I DIE. [I mean, I'm swooning over this salad and there isn't a morsel of bacon or cheese…]
Not to mention, the sous chef SWORE he didn't like peanut dressing… and I'm all like, who are you, I could swim in this dressing for the rest of my life and die happy. Give me peanut butter anything, and I'm there. Creepy van with a clown inside selling peanut butter flavored fish? I'm the first in line [too far?]. Long story short, the sous chef naturally devoured this salad and happily said I could make it again. #winning. It's the little things in life, my friends, the little things.
But I totally have a confession. I FINALLY realized what it is about kale salads that makes me absolutely crazed. There's something about the dressing [go figure, I know #sauceaholic4lyfe] that coats every single nook and cranny of the massaged kale that makes each bite a little piece of heaven. Like, surprise dressing you didn't even know was there, hiding in that beautiful, deceitfully delicious kale – and then BOOM. Flavor blast. I know, such a sauce freak. It feels so wrong, but it's never felt more right.
You'll be shocked to know that my favorite part about making the salad is taste testing the dressing until it's reduced by exactly half. #saladgoals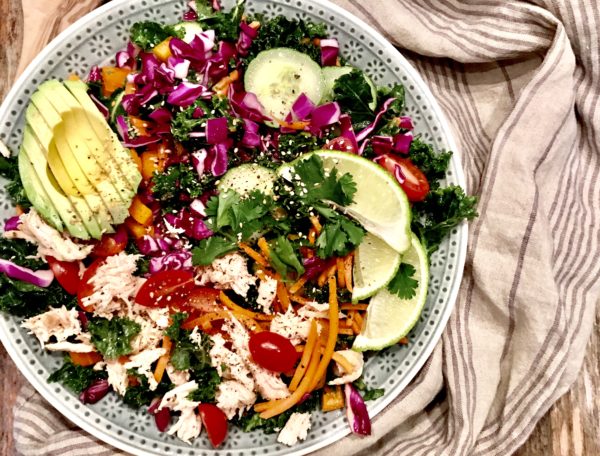 Sriracha-Peanut Vinaigrette
| | |
| --- | --- |
| Sriracha-Peanut Vinaigrette | |
Preheat the broiler to 500 degrees. Place the seasoned chicken breasts on a baking stone or sheet. Broil for 6 minutes on each side, or until the chicken breasts are cooked through and the internal temperature reaches 165 degrees. Remove the chicken from the oven and let cool. Once cool, shred the chicken.

Place the kale in large bowl. Using your hands, massage the kale until tender and bright green, about 3-5 minutes. To the bowl, add the red cabbage, carrot matchsticks, English cucumber, bell pepper, grape tomatoes, avocado, green onion, and shredded (cooled) chicken.
Sriracha-Peanut Vinaigrette
In a bowl or large measuring cup, whisk together the peanut butter, honey, vegetable oil, rice vinegar, lime juice, cilantro, light soy sauce, sesame oil, sriracha sauce, fresh ginger, garlic, and salt.

Drizzle over the salad until lightly coated. Store remaining dressing in an air-tight container in the refrigerator for up to one week. Enjoy!
Our wine choice: the 2015 Peter Lauer Barrel X Mosel Riesling. This off-dry German riesling is fruit-forward with a hint of spice and a touch of sugar - the perfect wine to pair with this delicious Asian kale salad. Cheers!