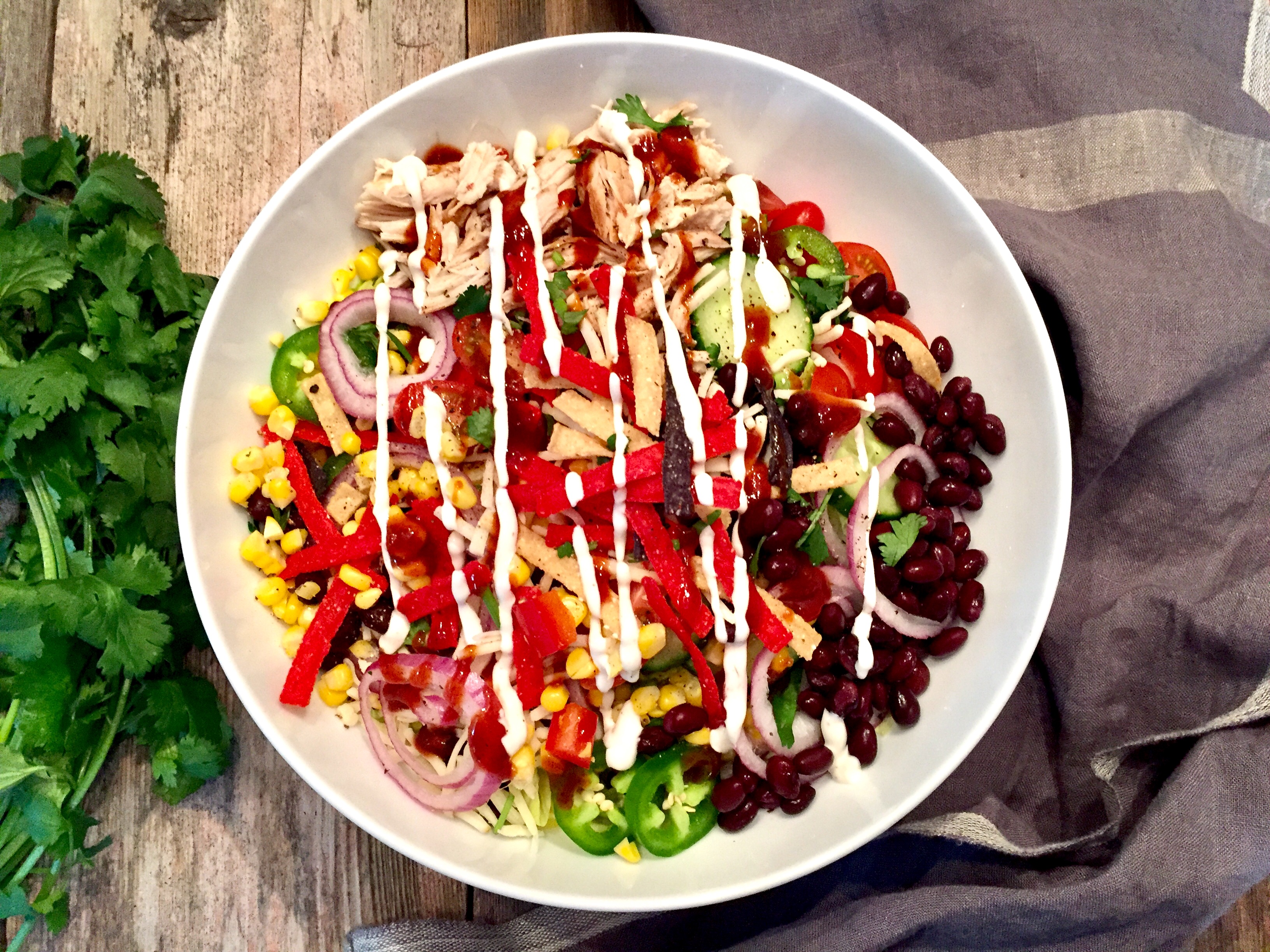 Can you keep a secret from the sous chef? Pretty please [with the recipe for this salad on top]? I have several loves in my life – not just him [I know, shhhhh…..]. There's our fury four-legged son [yes, to be expected], and then this beautiful bowl of spicy, crunchy goodness [GASP].
I know what you're thinking: it must be kind of tough to juggle three [it is, but I manage]. Oh, and I must have a pretty gosh darn big heart to squeeze three loves in there. I wasn't going to say it, but since you brought it up, I won't deny it… 😉
But back to business, my friends: this is basically #saladgoals. Soooo, no wonder I'm in love. And, um, there's two dressings – BBQ and Ranch [brb, basking in bliss]. Need I say more? Didn't think so.
But I will anyway. Because, you know, this salad is everything. My favorite part about it is all the textures and flavors. As in, texture and flavor galore. And once you chop it up, you get a little bit of everything in one single forkful, and it's pure heaven. BBQ chopped chicken salad heaven. And if that's where I end up in my afterlife, I'll die a happy lady.
Not to mention, I've always been drawn to southwest/Tex-Mex/Mexican food [by drawn, I mean can't resist/may be addicted/are there help groups for this?] – because duh, it's the greatest: spicy, cheesy, creamy, yummy… or maybe those are just the Tex-Mex dishes I make? Whatever the case, I'm a fan [understatement, for fear of embarrassment].
Moving right along, this is a must-make. And once you do, you'll never look back. I'm talking weekly dinner rotation status. Yup… I went there. And you should too.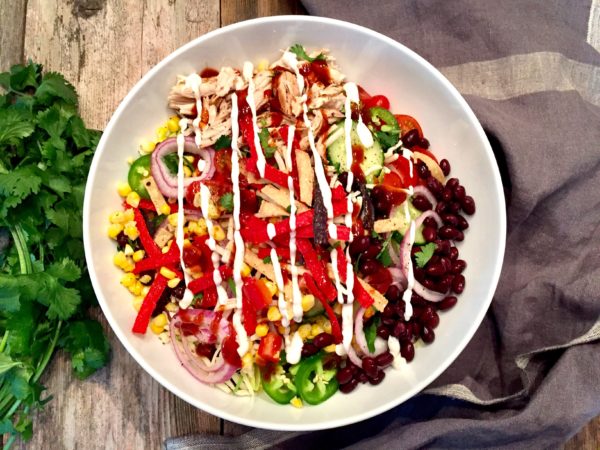 | | |
| --- | --- |
| | |
Marinate the chicken breasts in your favorite BBQ sauce for at least 1 hour, and up to 24 hours.

Preheat your grill to 400 degrees. Grill the chicken breasts on each side for 6-7 minutes, until they begin to char and are cooked through (with an internal temperature reaching 165 degrees).

Remove from heat and let cool. Once cool, shred or slice the chicken for serving, and set aside.

Divide the romaine lettuce between the plates. Top the romaine with grape tomatoes, English cucumbers, red onion, corn, black beans, monterey pepper jack cheese, tortilla strips, cilantro, jalapeno, and shredded chicken.

Drizzle with ranch dressing and BBQ sauce. Enjoy!
Our wine choice: the 2014 Ghost Pines Zinfandel. A well-structured red with notes of peppercorn, ripe berries, and a long finish - it's a great red to pair with this spicy salad. Cheers!