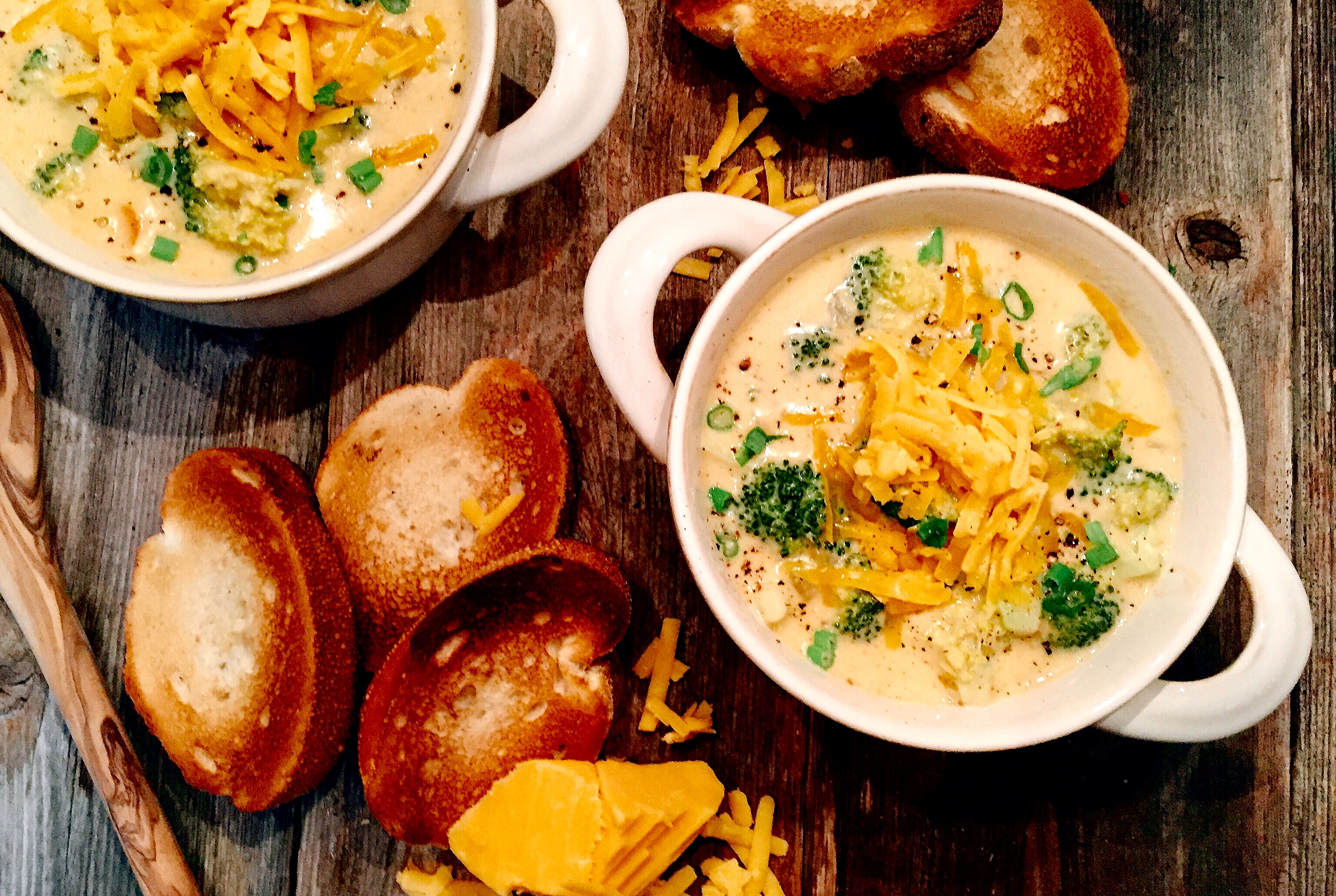 I've found a new way to consume copious amounts of cheese, and it comes in the form of soup (no surprises there…). This may actually be cheese, disguised as soup, and it couldn't make me any happier. And the broccoli? That's just for show. It's part of the disguise.
Now I clearly have a soup obsession, and the sous chef is totally on board with it. I've made plenty of soups in my day, my friends, (there's the roasted cauliflower soup, spicy black bean soup, creamy tomato soup, chicken chili stew, french onion soup, the list is really endless…) but this soup ranks among the best – if not, the best. The weirdest part about all of this though: there's no bacon, and no wine in the soup. And it's still hands down ah-mazing. I mean, that really speaks for itself if you ask me.
Now, this soup is pretty easy, but it does pose one serious challenge – not eating all of the cheese before putting it in the soup. Not to point fingers or anything, but it was clearly a struggle for the sous chef. I told you I wouldn't name names.
But luckily, for the sake of the soup, my anxiety (of running out of cheese – a totally normal anxiety to be plagued with, by the way) tends to help me plan ahead, and of course I bought way more cheese than was necessary (checking out at the grocery store may or may not have been embarrassing with that much sharp cheddar in our cart…). To my credit, I've lived with the sous chef for years, and know exactly how things go down in our kitchen.
To give you an idea: pretty much whenever I make anything – be it a cheese board, appetizers, room-temperature-anything that's sitting out – it is a constant battle to make sure he doesn't eat everything before we actually have dinner, or before guests come over, etc. The struggle is real.
But other than that minor obstacle, this is truly easy peasy. And you will be handsomely rewarded with this delicious, decadent soup. YUM.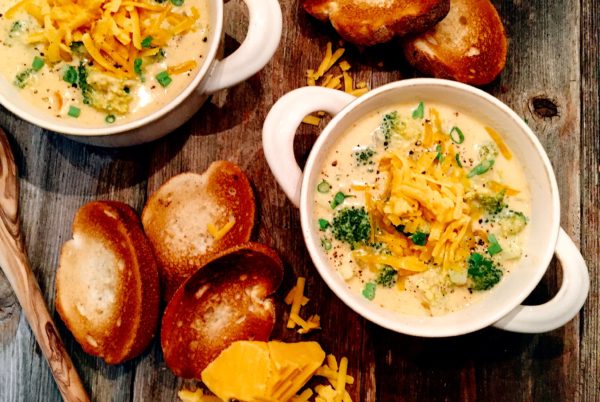 | | |
| --- | --- |
| | |
In a large pot, add one tablespoon of butter over medium heat. Once melted, add the onion and saute until it turns translucent and begins to brown, about 6-8 minutes, stirring occasionally.

Add the garlic, cooking an additional 2 minutes.

Add the remaining four tablespoons of butter to the pot. Once melted, add the 1/4 cup of flour. Let the roux cook for 1-2 minutes.

Slowly add the milk to the pot, whisking constantly to prevent lumps from forming. Continue whisking in the half and half, followed by the chicken stock.

To the pot, add broccoli florets, thinly sliced carrots, smoked paprika, salt, pepper, ground mustard, nutmeg, and cayenne.

Let simmer for 20-22 minutes, until the broccoli is tender.

Whisk the sharp cheddar cheese into the pot. Let simmer for an additional 5 minutes, and serve. Enjoy!
Our wine choice is the 2014 La Crema Chardonnay. With layers of flavor, this buttery, juicy, and fruit forward Chardonnay is a perfect pairing for the rich and creamy broccoli and cheddar soup.