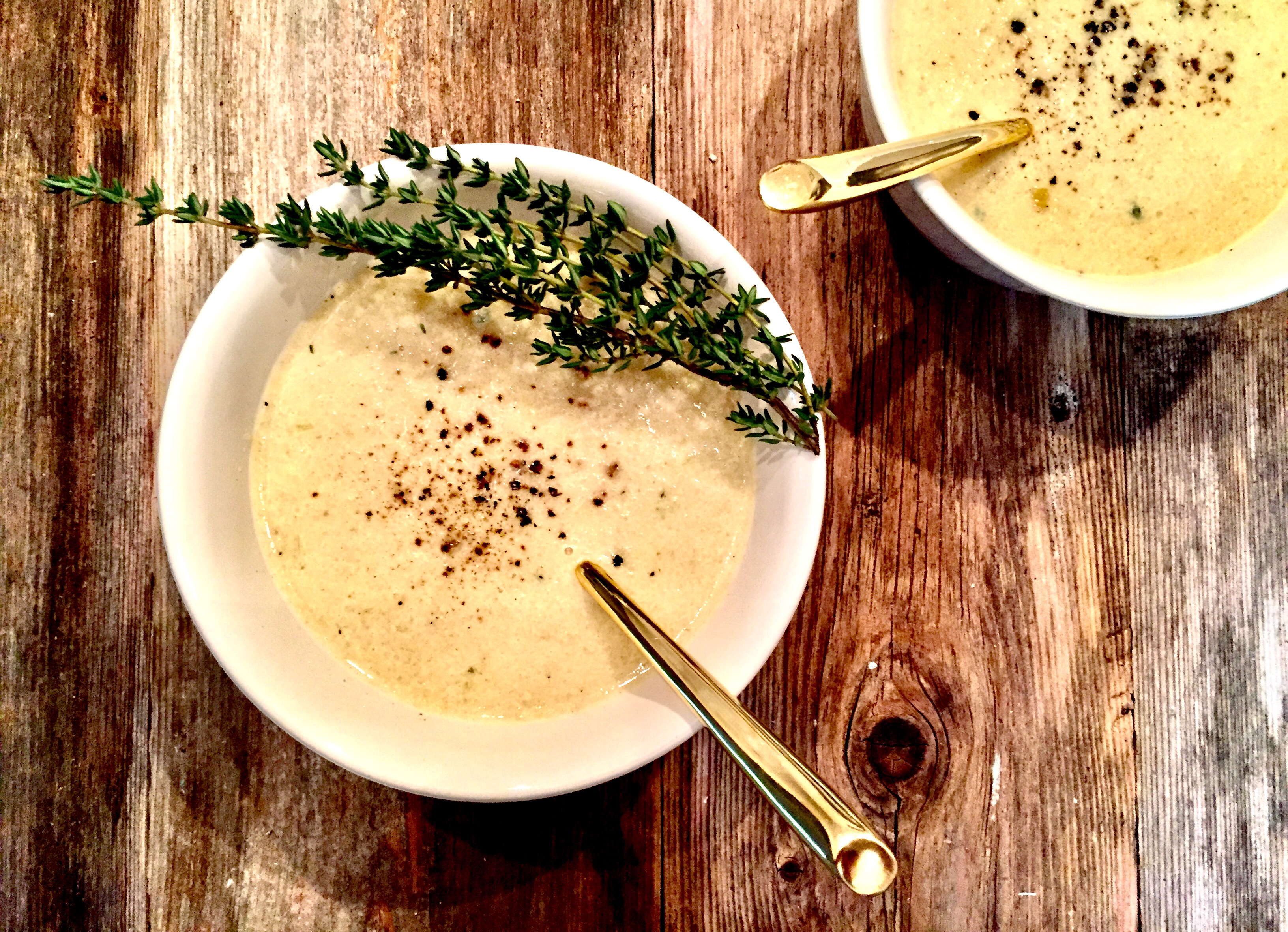 My fraaanndssss! Helloooo! I've missed you, dearly. But so glad we're reunited again. And there couldn't be better circumstances for our little parley. Because today, we're whipping up this completely delicious cauliflower and leek soup. And if you take out the cheese [WARNING: DON'T DO THIS, UNDER ANY CIRCUMSTANCES. CHEESE IS LIFE.], it basically has negative calories. But don't quote me on that.
This soup is so good. I mean, like, there were leftovers, and the sous chef pretty much decided that he wasn't going to pack them up for the fridge [you know, like he does with most leftovers when doing dishes] – instead, he was just going to take the ladle, and spoon the leftover soup from the pot directly into his mouth, NATURALLY. Welp, that's one way to get rid of leftovers.
…And, um, here I am pretending like I didn't do exactly that while making the soup… *slowly hangs head in shame…*
But moving right along, this is truly a perfect spring soup. Yeah, yeah, yeah – cauliflower season is basically December – but you and I both know you can get it year-round anywhere but the garden in your backyard, so don't start with that business. By perfect spring soup, I mean it's light, relatively healthy, and definitely doesn't skimp on flavor! And hey, at least I can get away with the fact that leeks are in season until late spring, so we're basically in the clear calling this a 'spring soup' if you ask me.
Not to mention – the sous chef immediately remarked his disbelief that I didn't even put bacon in this [and it was still that good]. See? No bacon [aka, more proof of a healthy spring soup]. Now you reallyyyy don't need to skip the cheese. Boom.
Well enough babble from me – if you've made it this far you pretty much deserve a gold star glass of wine (or five) for your patience – let's whip this beauty of a soup right up.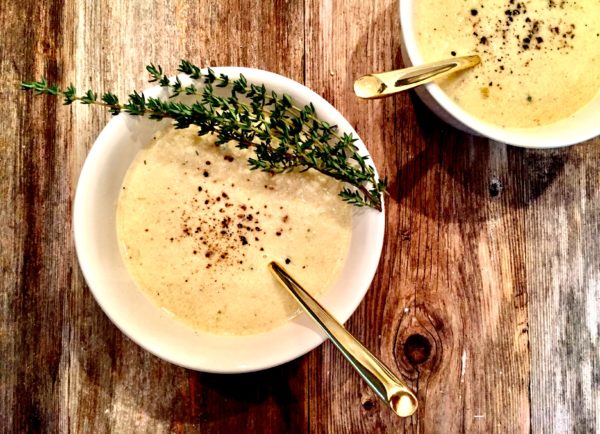 | | |
| --- | --- |
| | |
Preheat you oven to 425. Spread the cauliflower florets on a baking sheet lined with tin foil. Drizzle with one tablespoon of olive oil, and season with salt and pepper.

Roast the cauliflower for 425 minutes, until cooked through and golden brown on the bottom. Remove from oven and set aside.

In a large pot [can be done while cauliflower is roasting], add the remaining tablespoon of olive oil and butter over medium heat. Add the leaks, and cook for 10-12 minutes.

Add the garlic and thyme and cook for an additional two minutes.

Add the roasted cauliflower to the pot. Sprinkle the flour over top, stirring until dissolved - about 30 seconds.

Add the chicken stock and milk. Bring to a boil and then let simmer on low for 5 five minutes.

Using an immersion blender, puree the soup until smooth [alternatively, you can transfer to soup to a blender and pulse until smooth].

Add the cheese, and let simmer for an additional five minutes.
Our wine choice: The 2013 Rachis by Randy Hester Sauvignon Blanc. This clean, crisp, and refreshing white has notes of honey and citrus. A wonderful white to share with this soup! Cheers!