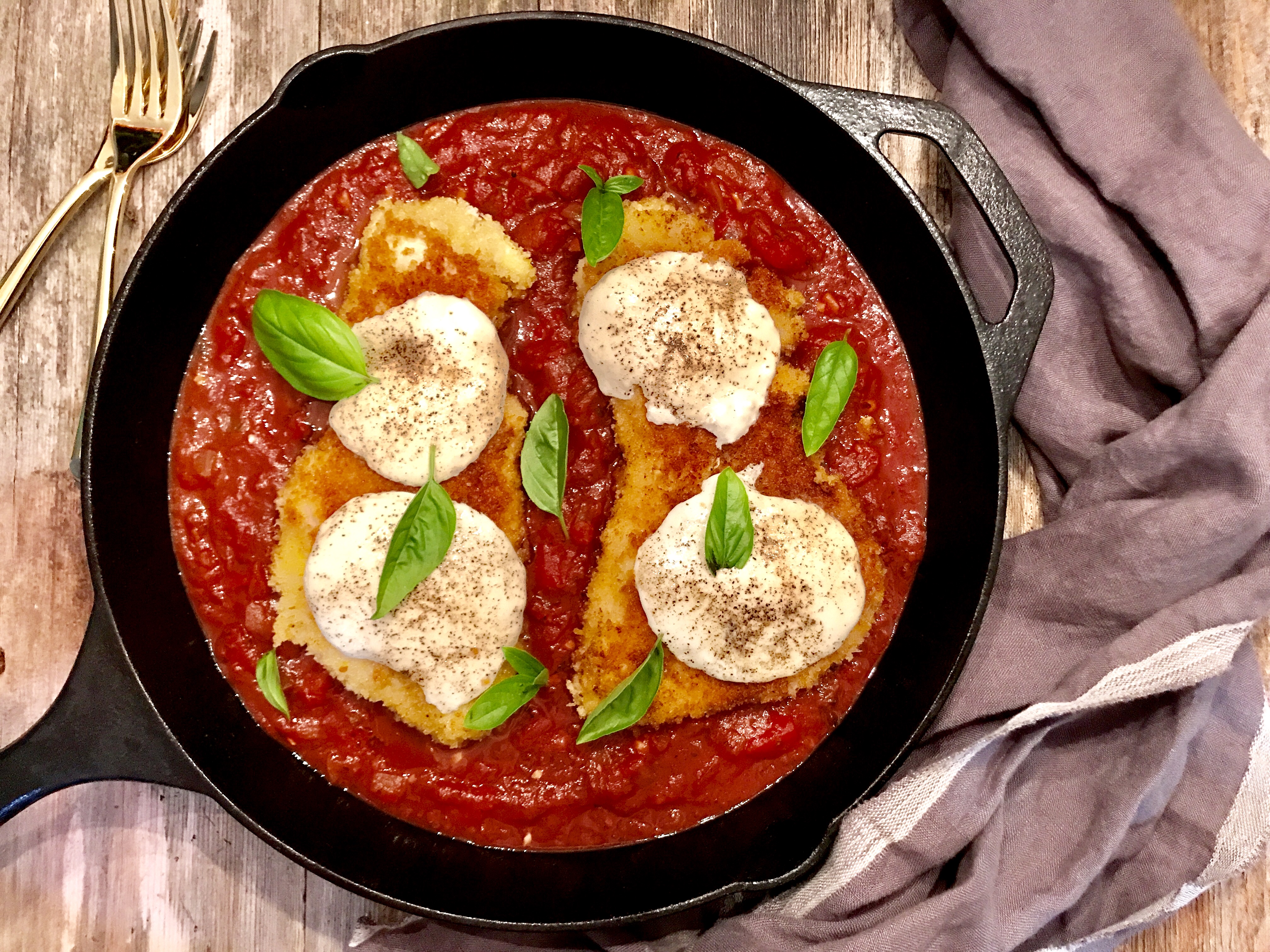 Are you as excited about this chicken mozzarella as I am? WHEW. So glad to hear it. My most favorite thing about this: the ridiculous texture + CHEESE + SAUCE = goals. And that's all I have to say about that.
Okay, not really. I have a lot more to say. Because I'm basically gushing about this — it's so. so. good. Honestly though, the crispness of the chicken is everything. And ooey, gooey, melted mozzarella is pretty much my weakness. And obviously sauce-galore over here is dancing in her element. And if I do say so myself, it is a perfect summer-transition-to-fall recipe. Cozy breaded chicken + fresh herbs + tomato sauce… you can basically get away with this recipe year-round.
My mom would make a version of this growing up, and so it's pretty much a go-to staple for me [And obvs should be for you, too!]. Food is one of those things that can make me super nostalgic. And no, I'm not talking, OMG I miss those nuggets I had at Chic-fil-A last week [even though I would totally take an order of those golden nugs right now, duh].
But like scents and smells, it can just bring you back to a moment in time in a heartbeat. There are so many foods I'm basically obsessed with and they're all from like circa 1975 [I also have my mom's 1970's Bon Appetit cookbook which I adore…], and it's kind of embarrassing. But you know, maybe lobster newburg will make a comeback, just like bellbottoms did… amiright [no, probably not…]. And it's pretty much because of what my mom would cook for us growing up. It feels like home.
Now lemme just say: this is NOT a recipe you're gonna love because my mother cooked this for me growing up. You're gonna love this recipe because it's BANGIN', and the sous chef will vouch for me there.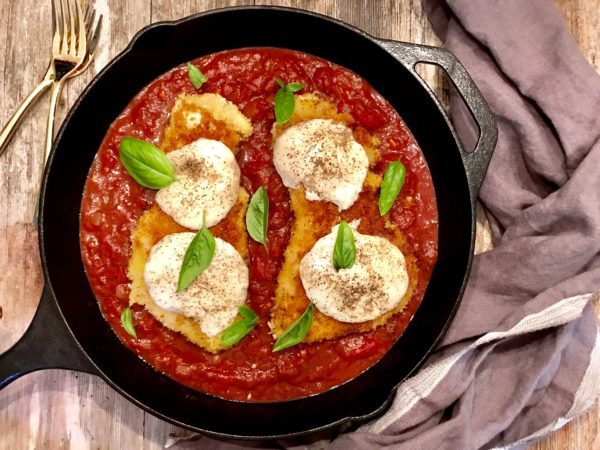 | | |
| --- | --- |
| | |
In a large saute pan, add one tablespoon of olive oil over medium heat. Add the onion to the pan and saute for 8-10 minutes until cooked through, and the onion begins to brown. Add the garlic, and saute for an additional 1-2 minutes.

Add the red wine to the pan. Let simmer until reduced by half, about 5 minutes. Add the crushed tomatoes, fire-roasted diced tomatoes, beef bouillon cubes, tomato paste, white sugar, Worcestershire sauce, fresh basil, dried oregano, crushed red pepper flakes, garlic salt, and pepper.

Reduce heat to low, and let simmer until ready to serve with the mozzarella chicken.
Pound the chicken breasts to 3/4 of an inch thickness. Pour the flour in a large ziploc bag. Pour the lightly beaten eggs into a shallow dish. Pour the panko into a separate shallow dish.

Place the chicken into the ziploc bag with flour, and shake until coated. Dip the chicken breasts individually into the lightly beaten eggs until coated, allowing any excess egg to drip off. Finally, place the chicken breasts in the panko, gently pressing the panko onto the chicken until coated.

In a large saute pan, add two tablespoons of olive (reserving the third until needed) over medium heat. Cook the chicken for 4-5 minutes on each side, until the panko is golden brown. Cook the chicken on the second side covered (add remaining tablespoon of olive oil as needed). Top the chicken with the mozzarella slices, and cover. Let cook 1-2 more minutes, until the chicken is cooked through (reaching an internal temperature of 165 degrees) and the mozzarella cheese has begun to melt.

Place the chicken breasts on a rack to remain crispy, and tent with tinfoil until ready to serve. Top with the hearty tomato sauce, and ENJOY!
Our wine choice: the 2013 Castle Rock Pinot Noir. This medium-bodied, delicate red has notes of dark fruit and a touch of spice - a great choice to pair with this chicken mozzarella! Cheers!