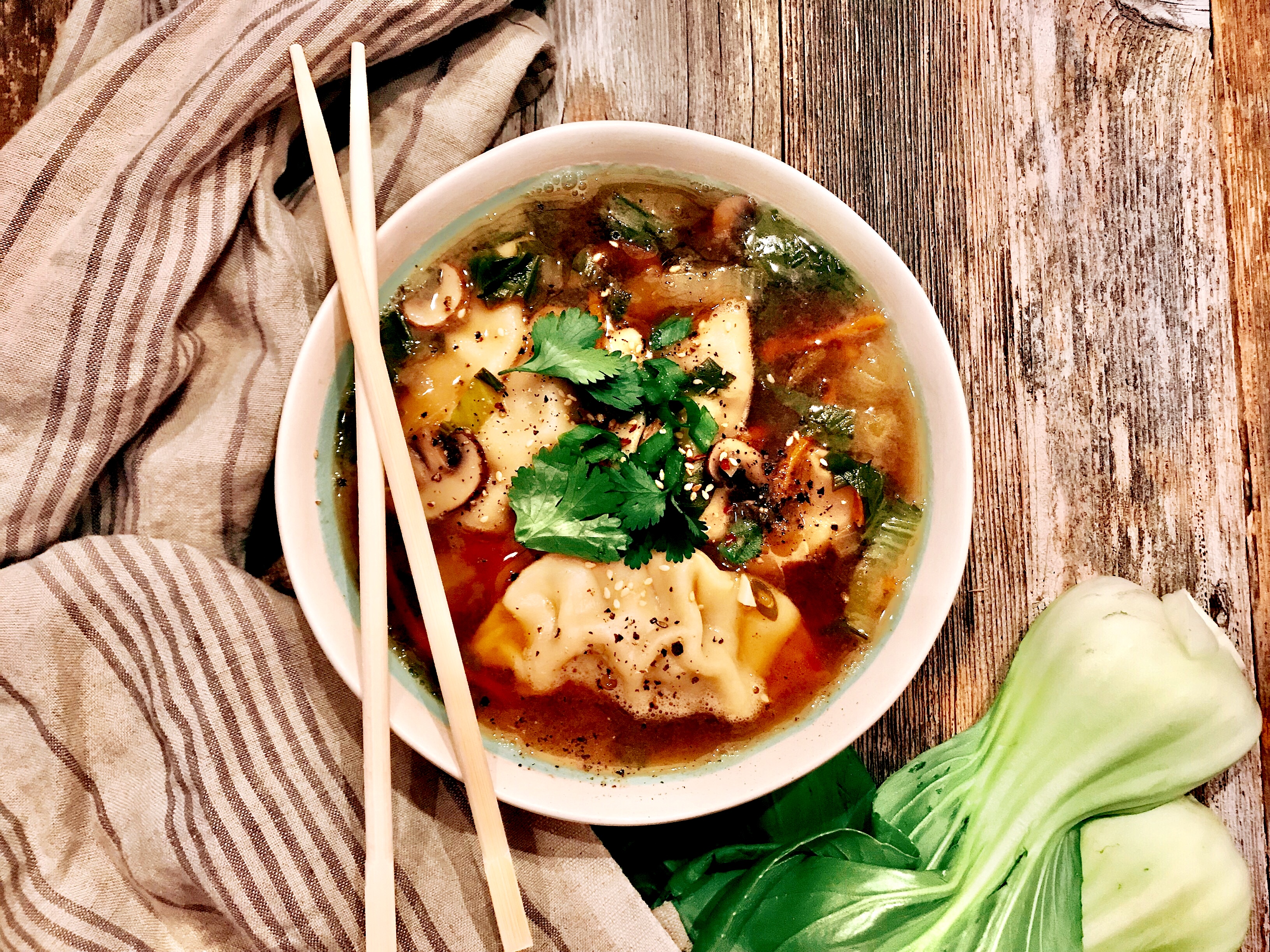 YESSSSS! It's no secret soup is my jam. I'll take a hug in a bowl any day. And with 2018 peeking around the corner, we all know we're going to kick-start that 4 day-long diet/gym routine before we don't see results and immediately revert to old habits [read: exercise = lifting 8 oz. glasses of wine… repeatedly].
BUT, regardless, I'm all about soup — and this soup just happens to be SO low in calories, you can totally up your wine ante. It's also perfect for this brutally cold weather [which, I'm totally in hibernation mode presently]. The sous chef asked me if I wanted to go out to dinner the other night, and I actually said no because of the sheer thought of facing the blistering temperatures… I almost didn't recognize myself. Me? Saying no a delicious restaurant? WHO AM I. It's okay, we stayed home, ordered in, and sipped some vino… so it was clearly all okay in the end.
Also, this soup is so simple and so easy. Funny story: the sous chef always tells me I need to make simple, easy recipes on the blog — so one day, I blogged about lobster ravioli in a creamy tomato sauce, and he totally scoffed at me for using pre-made Trader Joe's ravioli. I told him it was EASY… exactly what he had been telling me to do. He basically considered it cheating, and it ended up being the most popular recipe on here. Boom.
SO, moral of the story, my friends: it's 100% A-okay to use shortcuts every now and then — and since we'll all be spending exactly four days at the gym after work starting Monday, you'll need a quick and easy recipe to make afterward. Enter: frozen dumplings. If you're feeling super ambitious, you can always resort to these amazing pot stickers, but there is exactly zero shame in going the frozen route. Easy peasy. You can't beat that.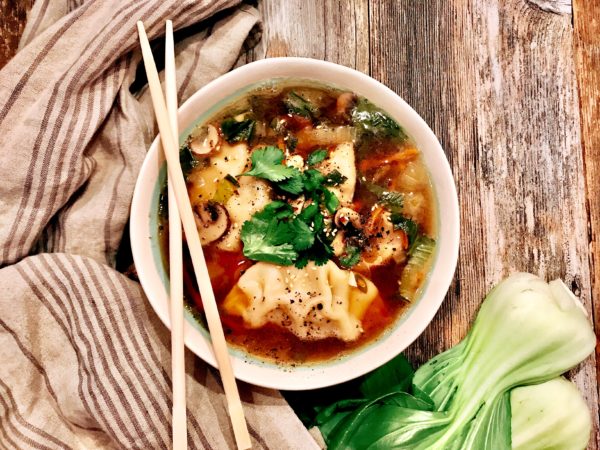 | | |
| --- | --- |
| | |
In a large pot, heat two tablespoons of sesame oil over medium heat. Add your diced onion. Cook for 4-6 minutes until translucent and cooked through. Add the garlic and ginger, cooking an additional 2-3 minutes, until they begin to brown.

Add the chicken stock, scraping up any brown bits on the bottom of the pan. Bring to a boil.

Add the baby bella mushrooms, carrot matchsticks, baby bok choy, scallions, frozen pork dumplings, low-sodium soy sauce, Chinese cooking wine, hoisin sauce, rice wine vinegar, the remaining tablespoon of sesame oil, and red pepper flakes.

Let boil for 10 minutes, or longer according to the frozen dumplings package instructions.
Our wine choice: the 2015 Knebel Riesling Trocken Mosel Terrace. A perfect balance to the heat of the soup, this dry, savory white has notes of grapefruit and a hint of spice. An excellent choice to serve with this delicious soup. Cheers!