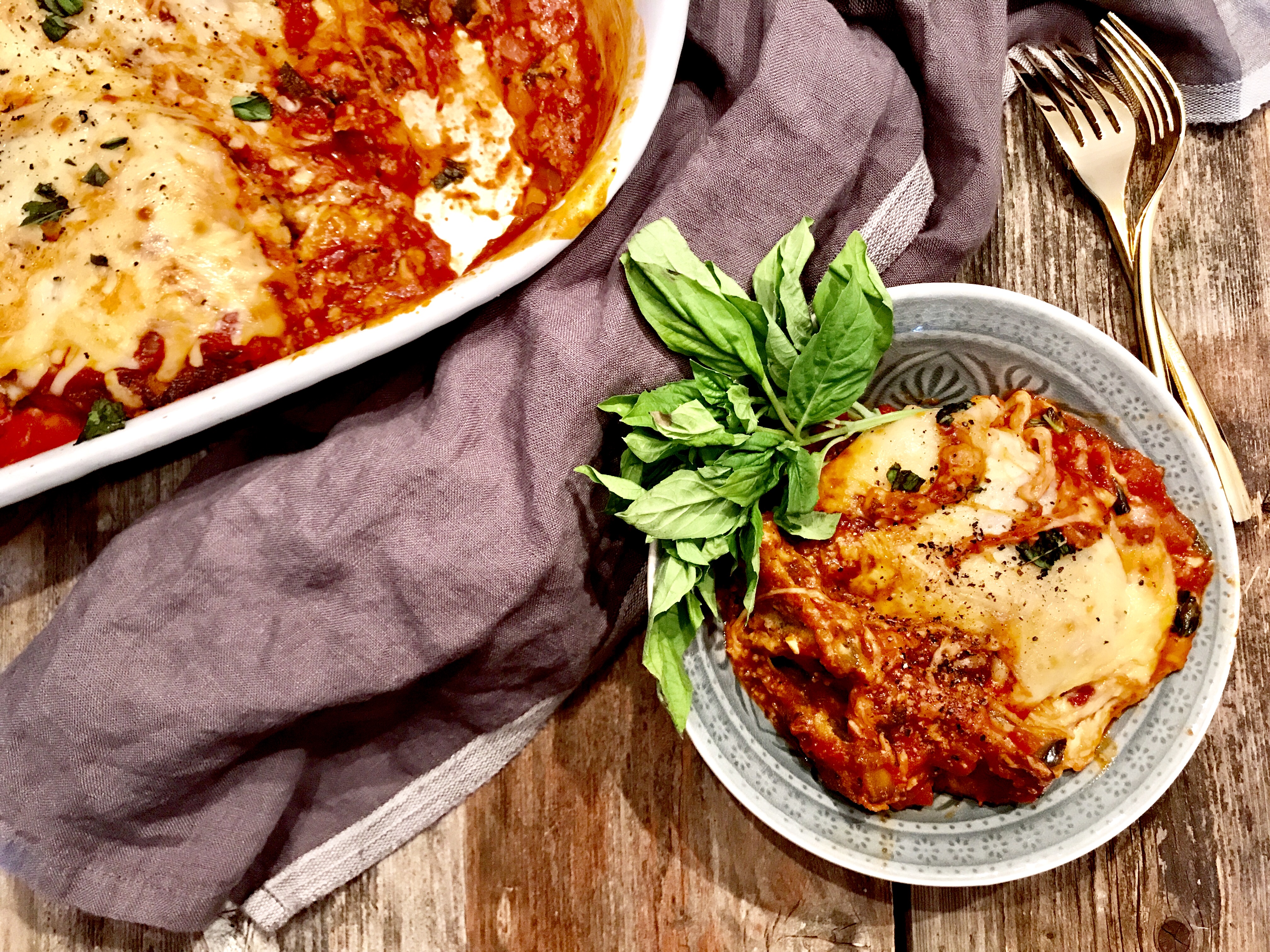 Helloooo, frandsss! It's almost Thanksgiving! A day to give thanks, a day to celebrate family and friends, and oh! oh! Food, too, of course! I am a huge lover of Thanksgiving classics: the bird, the stuffing, the gravy [GIVE ME ALL THE SAUCE]. But y'all. This is a PERFECT vegetarian option to have available — and it does NOT disappoint! This beauteous dish packed with breaded eggplant, enough cheese to feed a village, and a spicy, delicious tomato sauce? Trust me, you'll find this on my plate right alongside the turkey.
The sous chef LOVES eggplant parm — and ironically enough is allergic to eggplant. But it's okay, not in the 'need-a-hospital-asap' allergy. It's more of a 'itchy-mouth-but-give-me-seconds-because-omg' kind of allergy. I think he actually had thirds. Because this eggplant parmesan is e.v.e.r.y.t.h.i.n.g. And let's be honest: It's starting to get so cold outside, this is the perfect cozy dinner — and it's called LAYERING people, you're putting on your layers for the wintertime. A little bit of extra weight to keep you warm. Totally acceptable. And very wise if you ask me.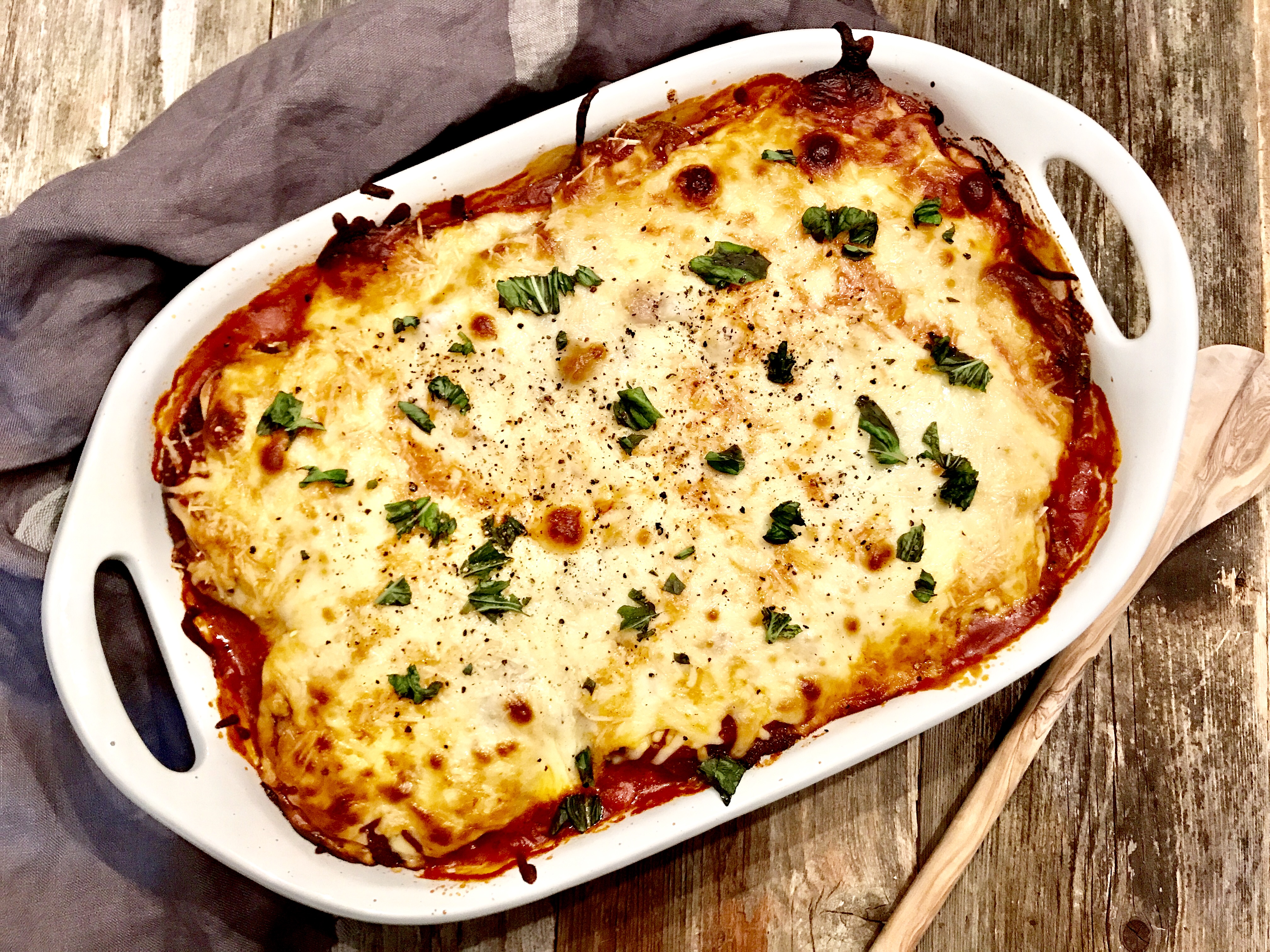 Quick embarrassing aside: the other day I was craving pasta, and honest to goodness I could not for the life of me decide whether I wanted to make it with a bolognese sauce, or a cheesy, gooey bechamel sauce [I know, life problems people, life problems]. So naturally, I made both. Tossed the pasta in the cheesy delicious white sauce, and of course topped it off with my favorite bolognese — WHICH, I can't wait to share this recipe with you [It's basically lasagna in papardelle-form…. YES, PLEASE] and is so dreamy and decadent. And brings me to my point: I love that this eggplant parm has the best of both worlds [when sauce IS your world, it makes a difference, trust me!]: the richness of the cheese, heartiness of the tomato sauce, and salty, crunchy layers of fried eggplant. I.e. heaven in a bowl.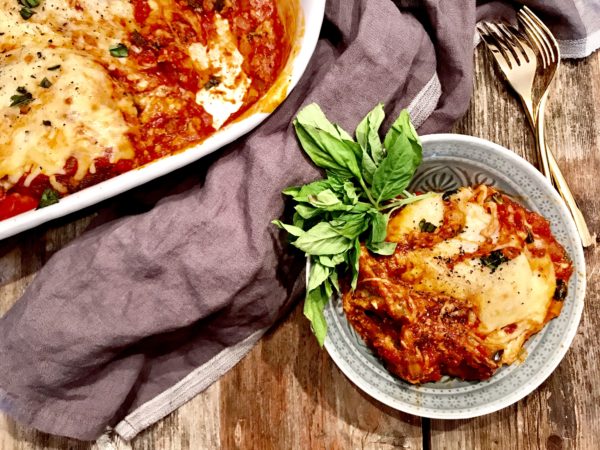 | | |
| --- | --- |
| | |
Place the eggplant slices on cooling racks in a single layer [tip: place the cooling racks on top of baking sheets lined with tinfoil for easy cleanup.].

Put the flour in a medium bowl. Season the flour with salt and pepper. Pour the beaten eggs in a second medium bowl. Put the Italian breadcrumbs in a third medium bowl.

Dip each eggplant slice in the flour, followed by the egg mixture, and finally in the breadcrumbs. Be sure to coat both sides of the eggplant slices. Return them to the cooling racks in a single layer.

Pour a half inch of vegetable oil into a large skillet. Heat the oil until it registers to 375 degrees [or the oil sizzles when you place the eggplant in the skillet]. Using tongs, place a single layer of eggplant slices in the skillet, and cook for 2-3 minutes on each side, or until golden brown. Remove the eggplant with tongs, and return to the cooling racks. Season with the cooked eggplant with salt. Repeat until all eggplant slices are cooked.
Preheat the oven to 350 degrees.

Heat the olive oil and butter over medium heat in a large pan. Add the onion and saute for 8-10 minutes until cooked through, and the onion begins to brown. Add the garlic, and saute for an additional 1-2 minutes.

To the pan, add the crushed tomatoes, fire-roasted diced tomatoes, and tomato sauce. Whisk in the tomato paste until incorporated.

Stir in the white sugar, Worcestershire sauce, crushed red pepper flakes, fresh basil, thyme, garlic salt, and pepper. Simmer on low for 5 minutes.
Add a thin layer of tomato sauce to the bottom of a 9x13 baking dish.

Place a layer of eggplant on top of the tomato sauce [you can cut eggplant slices in half, as needed, to cover the surface area]. Add another layer of tomato sauce on top of the eggplant slices. Sprinkle with 1/3 of the mozzarella, provolone, and Parmesan cheeses. Repeat two more times, ending with the final 1/3 of cheese on top.

Place the baking dish in the oven and cook for 30 to 35 minutes at 350 degrees, until the cheese is bubbly and golden-brown. Serve warm, and enjoy!
Our wine choice: the 2013 Castle Rock Pinot Noir. This medium-bodied, delicate red has notes of dark fruit and a touch of spice - a great choice to pair with this delicious eggplant Parmesan! Cheers!