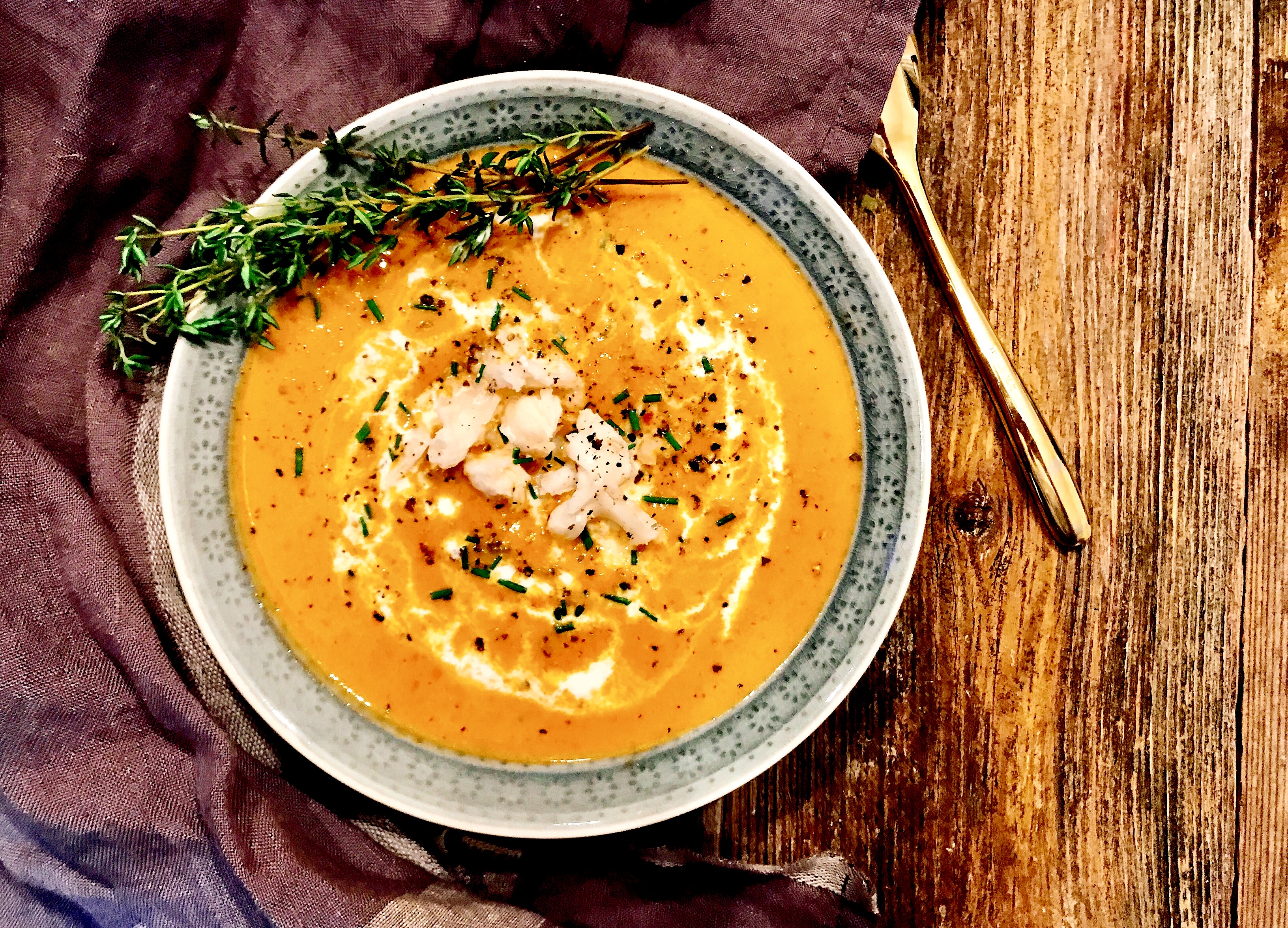 Lobster bisque is one of my absolute FAVORITE things to devour. If it's on the menu, I order it. And naturally compare, judge, and pretend as if I'm the arbiter for all lobster bisques that have ever lived. Totally legit, yeah?
I clearly have an incurable obsession with soup [exhibits A, B, and C + 5308230274 more], and to be honest, I can tell you right now that this RIDICULOUSLY delicious creamy lobster bisque is case in point why. I can't quit soup. In fact, I could swim in a bowl of this and die totally happy. And it just so happens that it's totally acceptable for me to put my soup obsession on full display, because you know, #sweaterweather anyone!? Um, yasssssssssssss.
Tiny little secret, just between me and you? I've got some not-so-tiny issues cooking lobsters whole — I love eating lobster, but cooking them is another story. SO shortcut here: we boiled fresh lobster tails instead of a whole lobster, because, um, hi, anxiety [like, I've heard live lobsters 'scream' when they're submerged in water or something, and I AIN'T ABOUT THAT LIFE]. BUT, that's okay — none of that going on here, my friends — we keep it clean. And scream-less. Also, the lobster tails are super easy. Easier than cooking a steak…. and I know you can cook steak. So there!
But can we just chat about this bisque? It's divine. Rich + creamy + savory chunks of lobster… on second thought, I think I'll just drown in this. If you ask the sous chef, he sums this bisque up in pretty concisely: downright yummy. And after three bowls of soup, I think he's a pretty authoritative voice on this dreamy, delicious soup. It's a perfect special occasion soup — and will undoubtedly impress. Need a first course recipe for thanksgiving or Christmas? You found it. Want to impress your special someone on Valentine's day? Consider it done.
BUT… the best part about this soup? You don't have even have to share. Impress yo' self! Shhhh…. It'll be our little secret.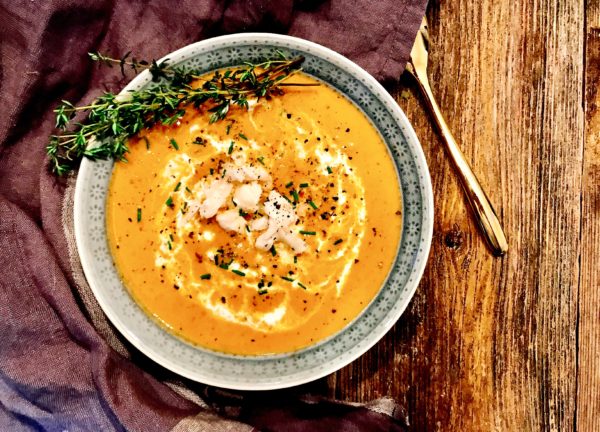 | | |
| --- | --- |
| | |
In a large pot, add the olive oil and one tablespoon of butter over medium heat. Once melted, add the celery, carrots, and onion. Season with salt and pepper. Saute until the vegetables begin to turn golden brown, about 8-10 minutes. Add the garlic and thyme, cooking for an additional 1-2 minutes.

Melt the two remaining tablespoons of butter in the pot. Whisk in the tomato paste, followed by the flour, stirring to incorporate for about 1-2 minutes.

Add the sherry, deglazing the pan, scraping up any brown bits, and simmer for 20-30 seconds. Add the lobster stock followed by the cream. Stir in the paprika, cayenne, salt, and pepper. Using an immersion blender, puree all ingredients until smooth and creamy. Season to taste with additional salt and pepper.

Reduce heat to low. Add the bay leaves. Let simmer for 5-10 minutes. Add the lobster meat to the pot - until heated through - about 1-2 minutes. Serve hot and enjoy!
Our wine choice: the 2015 Louis Jadot Pouilly-Fuisse. This elegant white has notes of hazelnuts, toasted almond, and a touch of lemon -- a smooth, lingering finish that will leave you wanting more! Cheers!