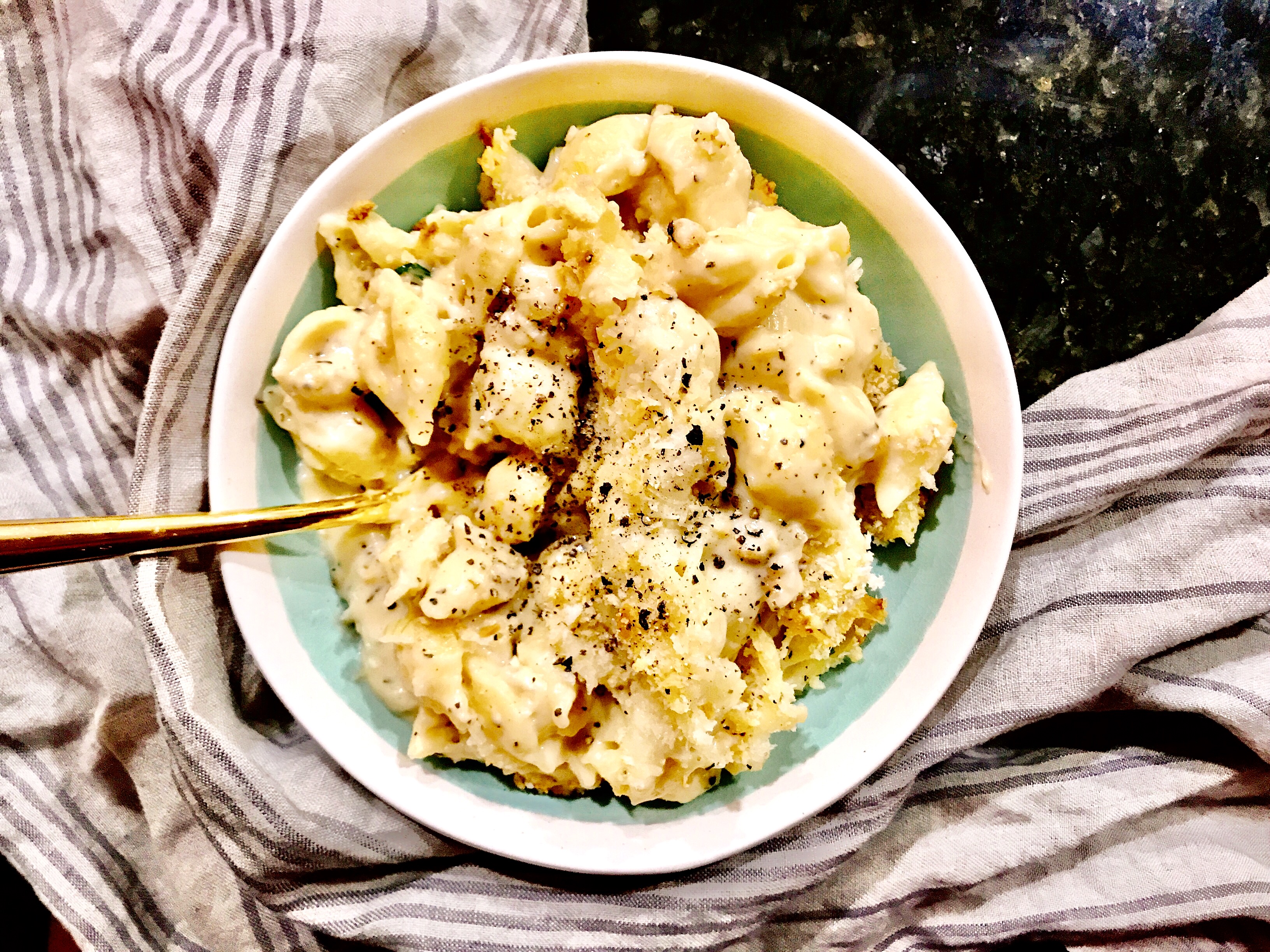 Hellooooo, fraaaaands! I have a big announcement — decision, if you will — and I can't wait to share the gooey deets. I mean, this is big. I've struggled, grappled, waffled, and FINALLY came to a determination: this *ridiculous* macaroni and cheese would hands down be my choice for a final meal on planet earth. Ooey, gooey, creamy, dreamy macaroni [it even rhymes! Ba-dum tshh!] and cheese perfection. And the best part? I don't even have to WAIT for my last breath in life…. I can eat it forever, because #yolo [and trust me, I couldn't wait if I tried]. I know, big news, guys, big news.
It's funny how as a kid my favorite food was macaroni and cheese [and hot dogs… together, naturally.] and things haven't really changed much [except minor things — things like a job, not so much recess any more… *nostalgia sets in*]. But serious biz, this is my total weakness. My achilles heel. There's something about this decadent cheese sauce, baked to bubbly perfection with a cruncy, salty, cheesy golden-brown topping… total texture goals. That's a thing, right?
I mean, I gotta be honest. There are some close runner-ups: hot Italian sausage and caramelized onion pizza, melt-in-your mouth red wine pot roast… but none quite like this mac and cheese. Aside from being incredible, it would also be a killer side dish for Turkey day. You know, *that* day when carbs don't count! Except I've REALLY just felt like I've had to practice leading up to this Thanksgiving [you wouldn't want to look like a rookie or anything… family can be so judgy!] so I've basically just been carbloading on the reg.
The sous chef and I are going to a beach in Mexico this February for a winter getaway, and things are not looking good for the sous chef's view all vacay. I keep tell him I'm working on my shape… it just so happens to be round! *pours a glass of wine*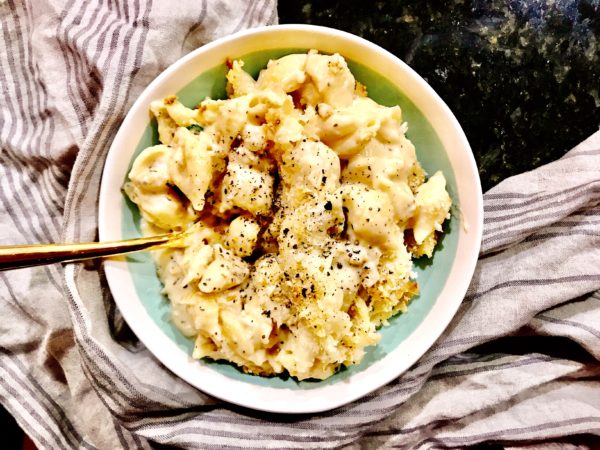 | | |
| --- | --- |
| | |
Preheat the oven to 350 degrees.

Bring a large pot of salted water to a boil over high heat. Cook the pasta according to package directions. Drain. Drizzle a tablespoon of olive oil over top of the pasta to prevent the pasta shells from sticking together.

In the same large pot, add the butter over medium heat. Once melted, add the shallot, garlic, and thyme, stirring until cooked and turn golden-brown, about 3-4 minutes.

Add the flour, and mix well to incorporate, about 1-2 minutes. Gradually whisk in the milk, whisking until combined. Add the garlic salt, pepper, and nutmeg.

Bring the mixture to a boil, whisking frequently until the sauce has thickened, about 2-3 minutes.

Turn heat down low, and whisk in the sharp cheddar cheese, mozzarella cheese, and gruyere cheese until smooth. Return the pasta to the pot, coating in the cheese sauce.

Pour the macaroni and cheese into a 9x13 baking dish. Sprinkle the Parmesan cheese on top, followed by the panko breadcrumbs.

Bake at 350 degrees for 25 minutes or until the breadcrumbs are golden-brown and the macaroni and cheese is bubbling.
Our wine pairing choice: the 2013 Fog Head Reserve Chardonnay. This rich, buttery chardonnay has notes of toasted almond and vanilla, and a smooth, lingering finish. Macaroni & cheese = complete. Cheers!