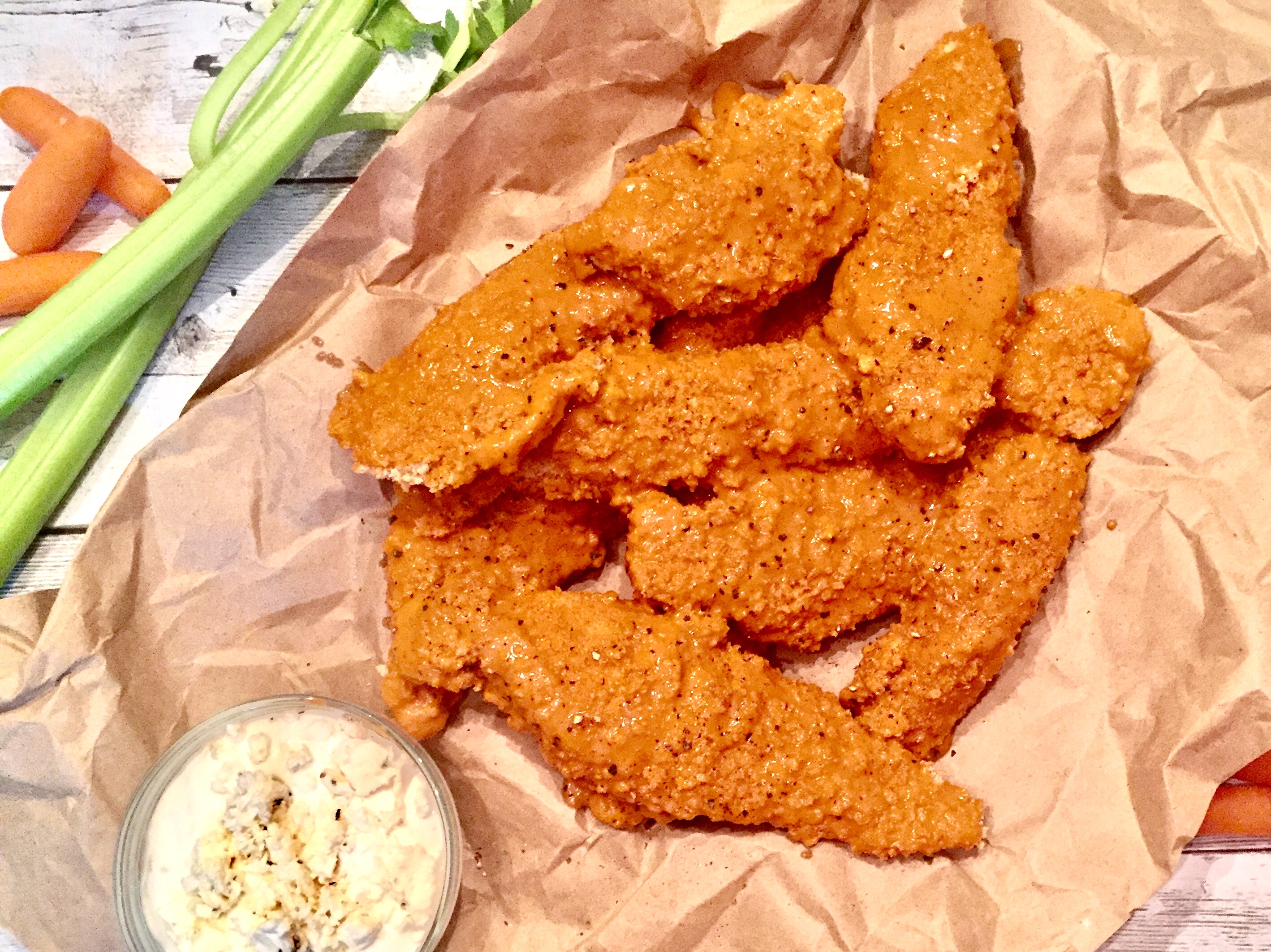 You guys, I have great news. Believe it or not, these baked buffalo chicken tenders are magical. The sous chef is a huge Pittsburgh Steelers fan – born and raised, through and through. And this past Sunday, the Steelers won the divisional round against Kansas City – and guess what we whipped up for a game day snack… that's right, these delicious, healthy (if you're, you know, into that kind of thing…) little nuggets of buffalo joy, and they're even good luck. That's our story, and we're sticking to it!
But let's be honest, I'll take anything that helps the Steelers win (and we all know it wasn't touchdowns or anything! Just kidding, love you babe). Because, you know the saying, "happy husband, happy life." That's how it goes, right? I can assure you, that's how the saying goes in our house after a Steelers game. And if they just happen to be crunchy, tender bites of buffalo goodness, I'll have seconds thirds, thankyouverymuch. And a happy husband. Two-for-one win.
But I kid you not, these are actually a healthy version of buffalo tenders. We used non-fat Greek yogurt, spiced with the seasonings you find in ranch dressing (yes, you can't go wrong with that), as an adhesive for the panko breadcrumbs – and these babies were so crunchy, and so yummy. Give them a quick toss in the buffalo sauce, and serve immediately with blue cheese or ranch dressing, and voila.
Or in our case, you can serve it with both. Because we're a house divided on blue cheese vs. ranch dressing. But hey, I look at it with a half-glass-full attitude – I get my own sauce, and the sous chef get's his. Now that, my friends, is the real win here.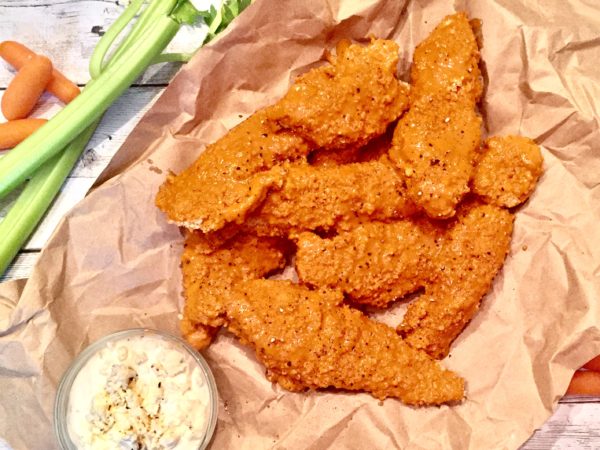 | | |
| --- | --- |
| | |
Preheat your oven to 400 degrees.

In a bowl, combine the non-fat Greek yogurt, parsley, onion powder, dill weed, smoked paprika, garlic salt, and ground pepper. Mix well.

Transfer the yogurt mixture to a large ziploc bag. To the bag, add the chicken breasts (that have been sliced into strips, resembling tenders). Coat the chicken with the yogurt mixture.

Place panko breadcrumbs in a shallow dish starting with one cup, adding additional breadcrumbs as needed. Remove the yogurt-coated chicken strips from the bag, and one-by-one, dredge strips with breadcrumbs, coating generously.

Place a wire rack atop a tinfoil-lined baking sheet. Place the panko-covered chicken strips on the wire rack. Bake at 400 degrees for 22-25 minutes, until the chicken has cooked through.

Pour the wing sauce in a shallow dish, starting with one cup and adding additional sauce as needed. Coat the strips in wing sauce, and serve immediately with blue cheese and/or ranch dressing. Enjoy!
We'll hold on the wine, these spicy tenders deserve an ice cold beer. Cheers!