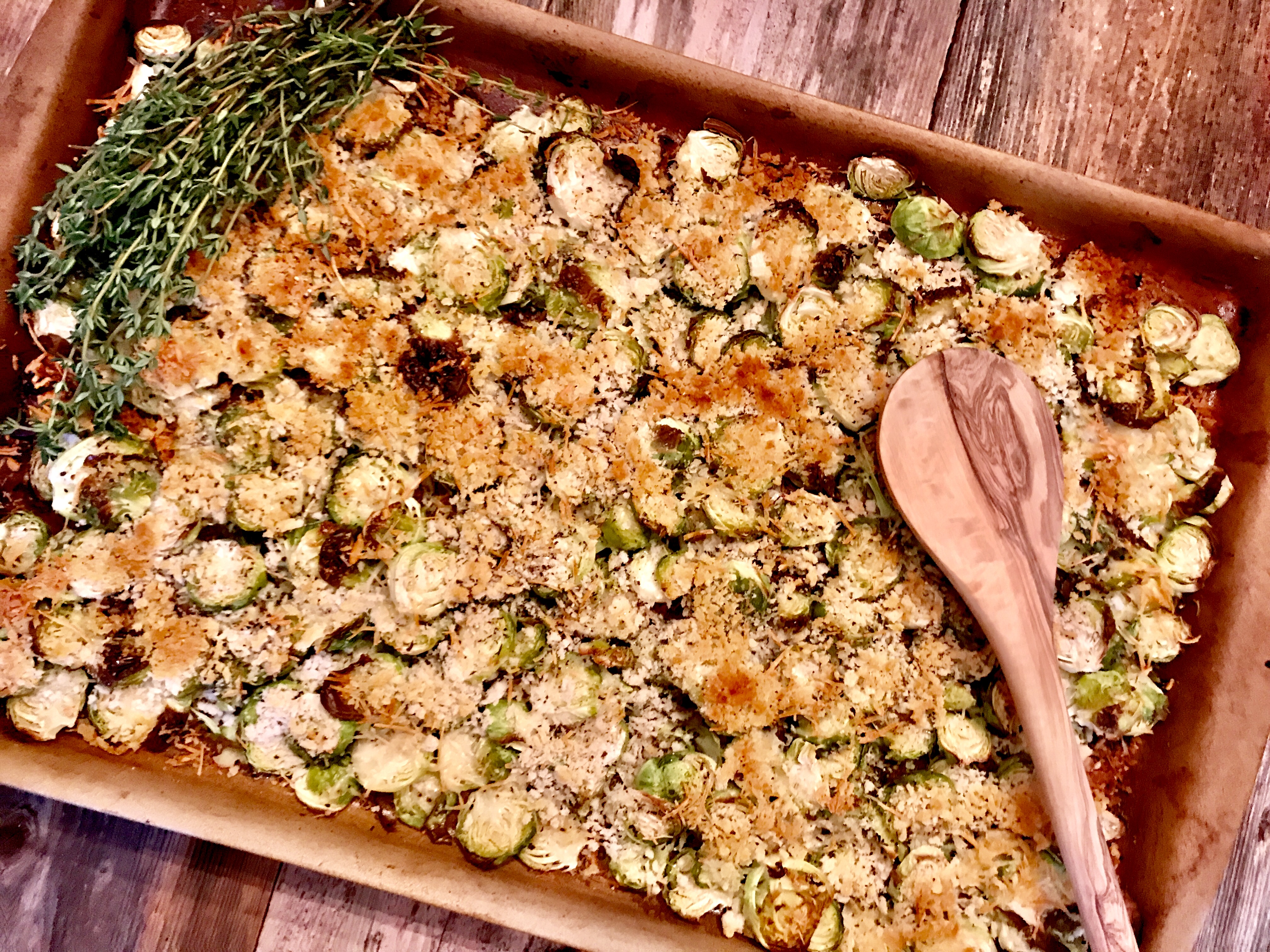 Ya'll, brussels sprouts are my jam. AS THEY DESERVEDLY SHOULD BE. *these crispy parmesan-bread crumb brussels sprouts to be exact* but we'll get to that… And even though they're available year round, I love when they're in season and grocery stores carry the huge, fresh stalks of them!
I get irrationally excited about the stalks — kind of like when I first see pumpkins and chrysanthemums for sale. I just want to buy them in inappropriate quantities and break out the sweaters/scarves/snow shovels even though it's September, which is basically August weather, but I digress. You know, some husbands bring their wives flowers, but the sous chef literally will bring me stalks of brussels sprouts, because he knows just how much I'm obsessed with them [#husbandpoints].
And I will be the first to admit, there are SO many delicious ways to prepare brussels sprouts — but I have to tell you, the crunch on these puppies pretty much puts this recipe at the top of the list. The texture is everything: crunchy, salty, delicious little nuggets… It doesn't get better.
One thing about brussels sprouts — for me, at least — is that I love when they're thinly sliced [as opposed to halved, or even prepared whole] mostly because they're crunchier, and you get all that flavor on more surface area [I know, I'm a total geek…] but it ends of taking so much time to slice them! And as much as I appreciate my b-sprout time [my mom gave them this nickname, and it's pretty much just always stuck], I'd rather spend it, you know, sipping wine or… sipping wine. SO, that brings me to this little trick: Slice these babies on a mandolin, and VOILA, it takes no time flat. Okay, maybe a little bit — but MUCH less. You get it.
Also, side note: you should 100% make these for Thanksgiving, because brussels sprouts basically are Thanksgiving, and it only makes sense. Just don't think about it. You're welcome!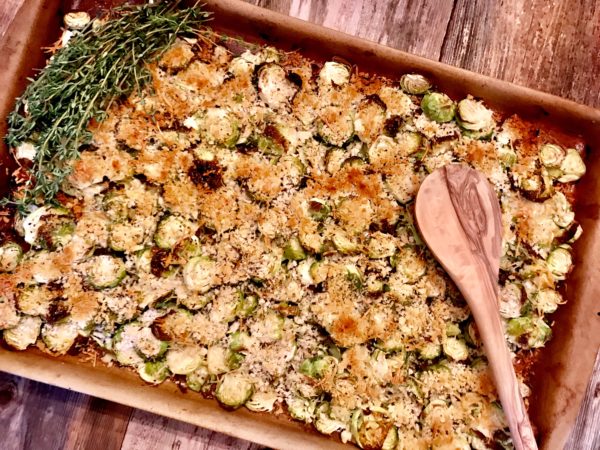 | | |
| --- | --- |
| | |
Preheat the oven to 425 degrees. Spread the brussels sprouts evenly atop a baking stone (or baking sheet).

Drizzle olive oil over the brussels sprouts. Sprinkle with fresh thyme, garlic salt, and pepper. Evenly spread the cheese over top the brussels sprouts, followed by the panko bread crumbs.

Roast for 20-25 minutes, until the brussels sprouts are tender, and the breadcrumbs are golden brown. Serve hot, and enjoy!