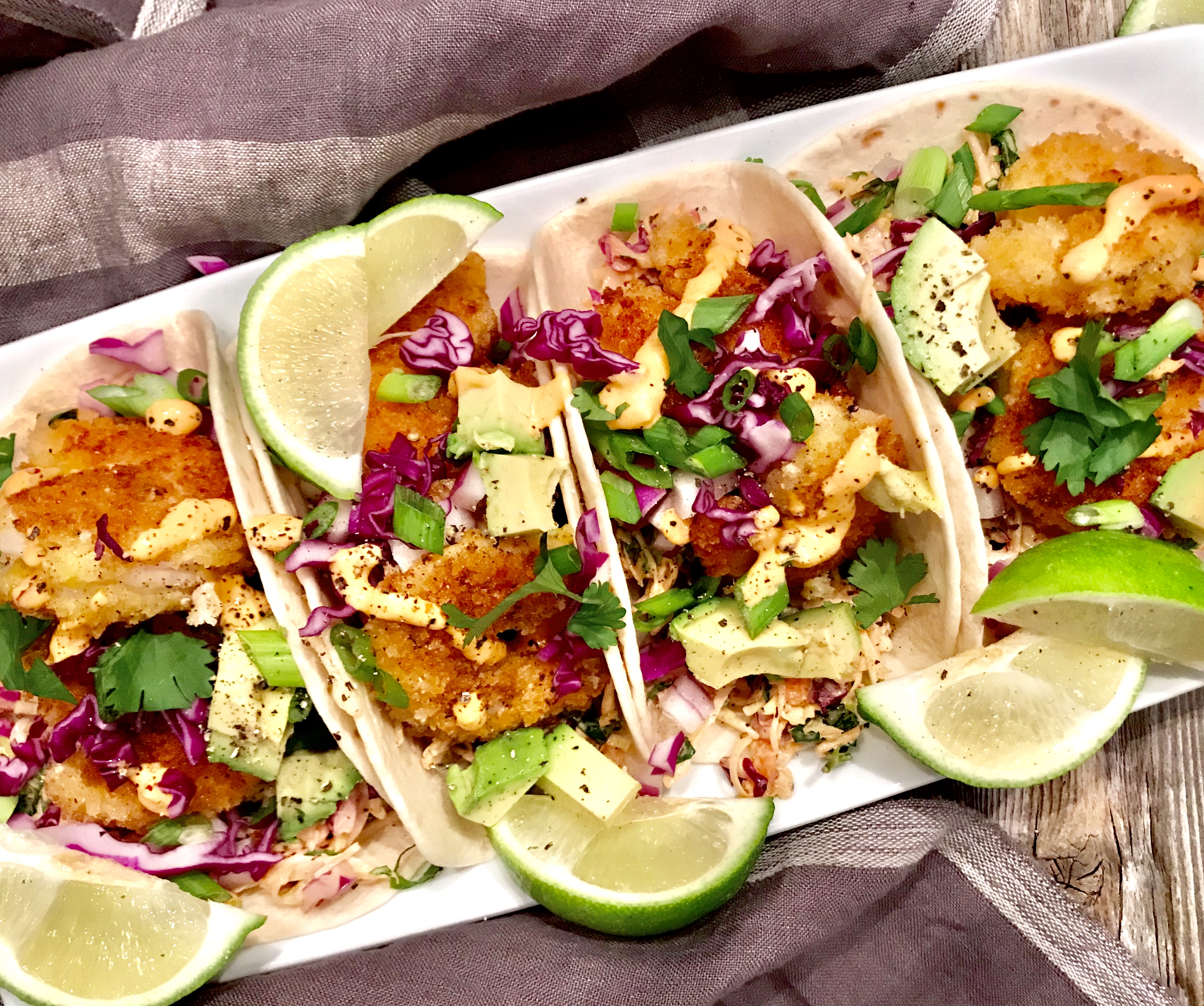 Oh my gosh, ya'll. THESE TACOS. I am at a total loss for words to describe the insane deliciousness of these puppies. I'm talking life-changing tacos. Is that possible? It totally is. I mean, texture and flavor HEAVEN… *hears angels singing* This might actually be the most perfect recipe to ever come out of our kitchen [the sous chef was pretty adamant this was top 3 things he's ever eaten… so there's that].
First of all, it's really hard to go wrong with crispy shrimp, so you know we're off to a good start. And there's a delicious crunchy cabbage slaw, all covered in a MAGICAL sauce, topped with avocado, cilantro, green onions — every. little. fixing. Crunchy, creamy, dreamy. Beautifully messy delicious little flavor bombs is what these are.
Now, you know I can't hardly wait to start blab about this sauce. It is everything #Suuuuurioussaucegoals. And there's one little secret ingredient that you MUST use. No substitutes, no replacements. Trust me here! I wouldn't steer you wrong. It's called 'Spicy Chili Crisp', and it literally makes this sauce what it is. So so so so so good. Did I mention it's so good? I don't even know if I can exist without this sauce in my life and have ZERO understanding of how I made it 29 years without it. But I can rest easy now [and so can you!], knowing that it's only a spoonful away. WHEW.
So I know this is a super summery recipe — and I'm serving it up here at a measly 15 degrees outside in January [well, we ate inside, to be exact] — but it was so good I couldn't even stand the idea of not sharing this STAT.  And I don't know whether these babies call for sake, coronas, margaritas, or my old friend wine, but I do know that you can't go wrong with any of those [pretty much ever]. So without further ado, I bring you mind-blowing tacos.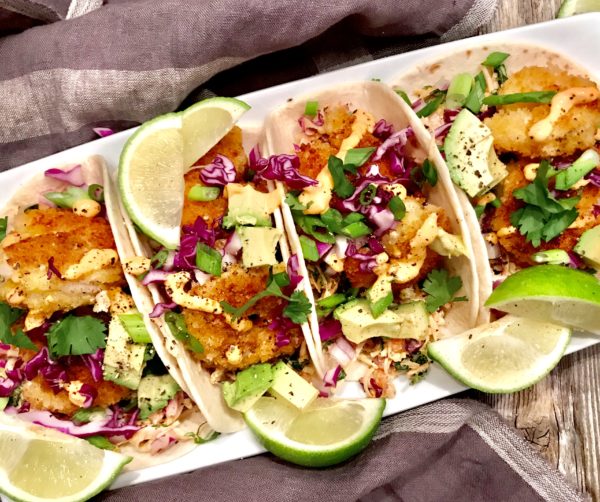 | | |
| --- | --- |
| | |
Add a 1/2 inch of vegetable oil in a large skillet over medium heat.

Season the shrimp with salt and pepper. In three separate shallow bowls, add the flour, lightly-beaten eggs, and panko breadcrumbs.

Coat each shrimp in the flour, followed by the egg mixture, and finally in the breadcrumbs. Be sure to coat both sides of the shrimp.

Place the breaded shrimp into the hot oil for 2-3 minutes on each side, until golden-brown and cooked through. Transfer to a cooling rack.
In a bowl, whisk together the mayonnaise, sour cream, sriracha, spicy chili crisp, and lime juice. Season to taste with salt and pepper.
In a bowl, mix together the green cabbage, red cabbage, cilantro, salt, and pepper. Add three tablespoons of the sriracha-chili aioli, mixing until combined.
Place several shrimp on flour tortillas. Top with cabbage slaw, avocado, green onions, and sriracha-chili aioli.
Our wine choice: the 2012 King Estate Pinot Gris. A beautiful Oregon white that's fruit forward with floral notes. A touch of honey at the end to round out the flavors, and offer perfect contrast with these spicy tacos. Cheers!