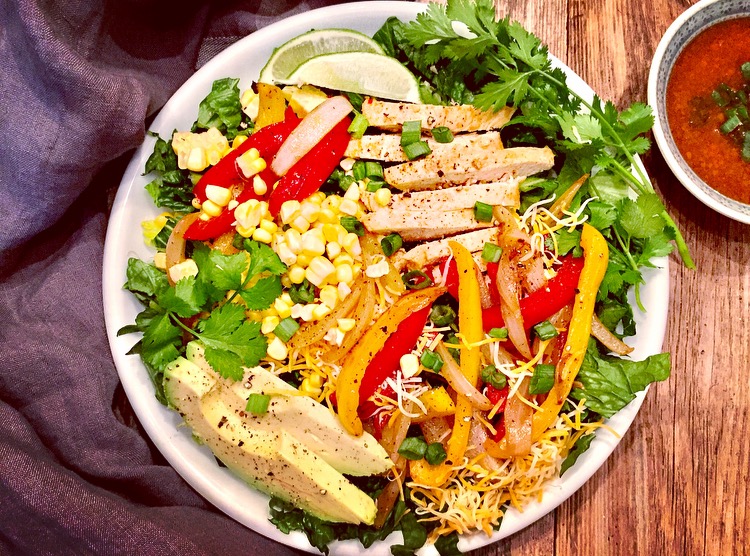 Y'ALL. Beach season is right around the corner. And I can't promise one way or the other whether this is going to help your diet, or hurt your diet.
I have a LEGIT salad problem. And it basically stems from my inability to stop piling on cheese, avocado, and everything else delicious under the sun on top of bountiful salads, followed by not being able to stop eating it.
And then I tell myself life is all about balance. And you can't ONLY have leafy green this and leafy green that on salads. I mean you could, but I totally wouldn't touch it. I wouldn't even give it a second look. Let alone a first look… So naturally, I use an inappropriate amount of cheese. And avocado. And dressing [I know, I don't even need to explain].
So the sous chef and I have a thing where when I'm full, he's more than happy to take on whatever is left on my plate. But literally, like clockwork when we have salad and I finally admit that I'm full, I pick out every last piece of bacon, cheese you name it – and I'm left with a pile of lettuce on my plate. You can imagine when I offer it to the sous chef, he responds with an eye roll and starts dishes [thank goodness – because I have wine to drink].
But listen, because I know that you have way more self control than I do, you can probably go right ahead and do the normal thing: eat this beauteous salad in moderation, and don't completely derail your diet. Brilliant, I know. If only I could take my own advice.
But whatever, it's always good to have goals… right? Unfortunately, my only goals right now basically include eating more cheese. Only to be followed by drinking more wine. So, gotta go 'cause #chasingmydreams.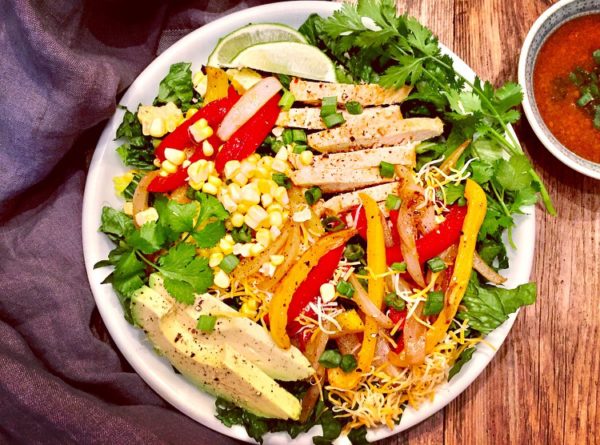 | | |
| --- | --- |
| | |
In a large saute pan, add the olive oil over medium heat. Add the sliced onion and bell pepper. Sprinkle one tablespoon of fajita seasoning over top the onion and bell pepper, and saute for 12-14 minutes, until cooked through. Remove from heat and set aside.

In the same pan, add your sliced chicken breasts. Season the chicken with the remaining tablespoon of fajita seasoning. Saute for 6-8 minutes until cooked through. Remove from heat and set aside.

Divide the romaine, corn, Mexican cheese, cilantro, and avocado among four plates. Top with the bell peppers, onions, and chicken. Drizzle with the chili-lime vinaigrette, and enjoy!
In a bowl, whisk together the olive oil, lime juice, garlic, shallots, honey, ancho chili powder, ground cumin, garlic salt, and pepper.
Our wine choice: the 2015 Ferrari-Carano Fume Blanc. This lively, zesty white has notes of pink grapefruit, lime, and honey - with so much character, it's a great wine to enjoy with our chicken fajita salad. Cheers!