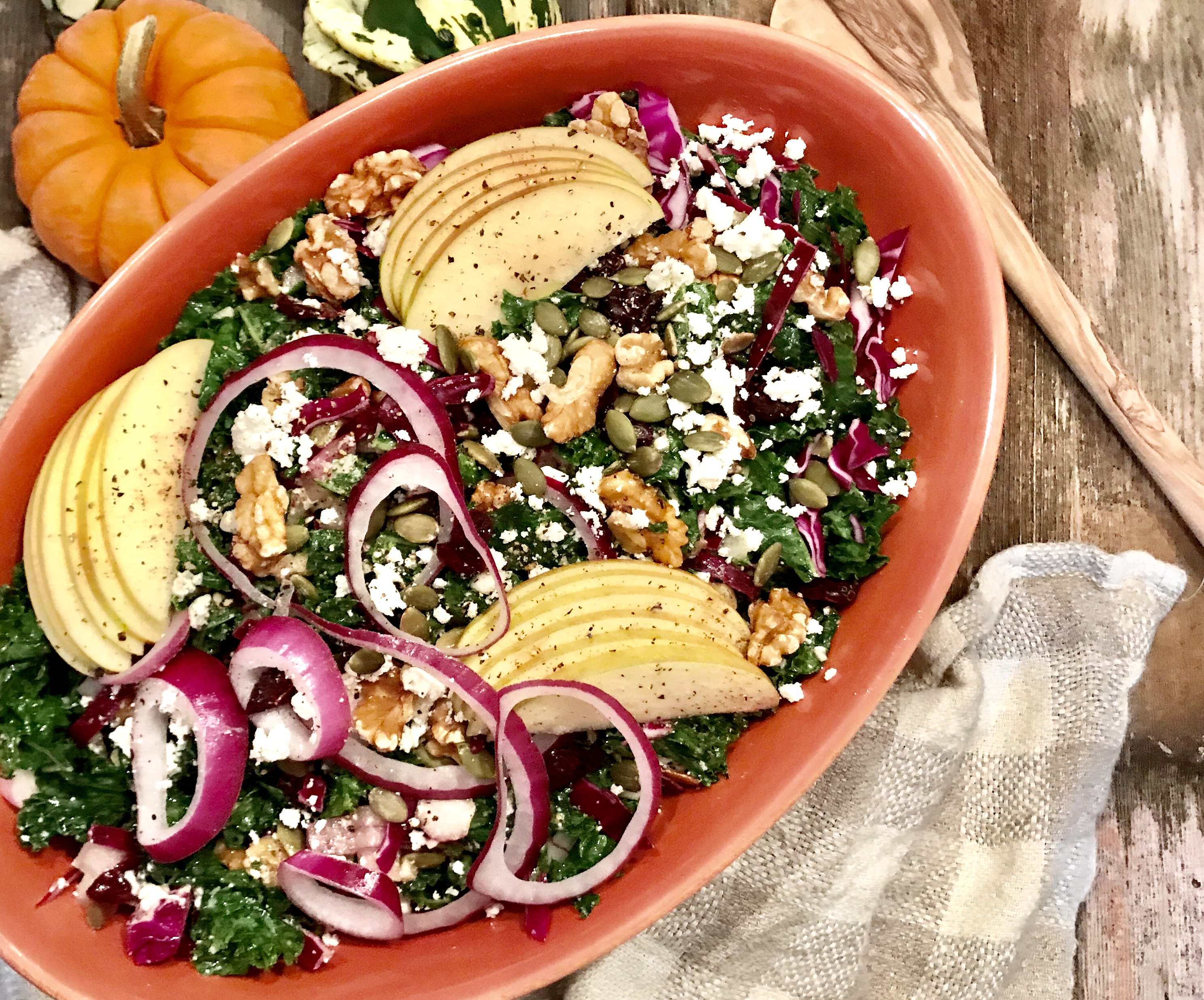 So can we just chat about this *perfect* fall salad? I know fall is supposed to be comfort food everything, and you're probably rolling your eyes, asking yourself how there's such thing as a perfect fall salad. Especially when everyone is pretty much focused on the perfect fall macaroni and cheese right about now [like, hi, 40 degree weather]… yes, I get it. But you just have to trust me on this one — hear me out.
This salad is truly packed with a perfect combination of sweet and salty, PLUS the dressing is a delicious honey-apple cider vinaigrette which is so, so good [#meltsintoputty]. The sweet comes from the dried cranberries, sliced braeburn apples, and dressing — perfectly balanced by the creamy feta cheese and salted pumpkin seeds [See! TELL ME THIS ISN'T FALL!].
ALSO! It's texture heaven. Actually pretty much just heaven in a bowl. The best thing about massaged kale is that becomes softened enough so that it's not at all off-putting, yet can stand to be dressed for a significant period of time without wilting. For someone who loves to take leftover kale salad for lunch, this is KEY. And I adore the crunch from the walnuts and red cabbage, plus the bite from the red onion and feta. Just everything, really [brb, licking the bowl].
This is basically a fall version of my most favorite summer kale salad ever — and you won't go wrong with either! To add, the sous chef is obsessed with both of these salads — and for a guy who pretty much swears by meat, potatoes, and whiskey, it's got to be pretty darn delicious.
Not to mention, it's a pretty perfect surprise side dish for Thanksgiving. I know thanksgiving tables are basically carbs-on-turkey-on-carbs-on-turkey [vegetables can be a hard sell on turkey day, I get it…] but this seasonal, bright, texture-paradise of a salad will be so satisfying and break up the monotony of the typical dishes [#turkeydaygoals].
I foresee a glass of wine or three being served with this beauteous salad, and dinner = complete. Cheers!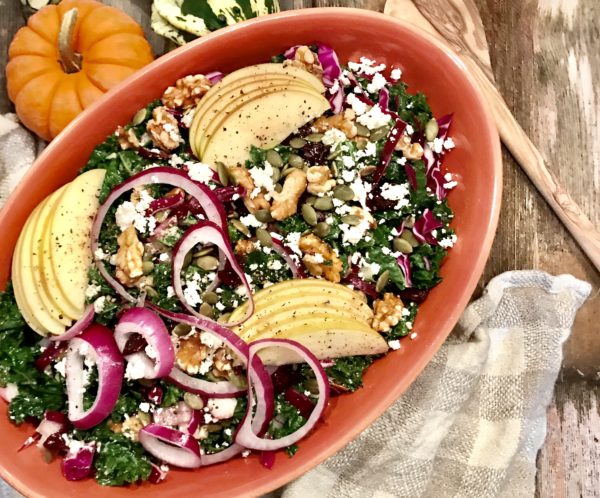 Honey-Apple Cider Vinaigrette
| | |
| --- | --- |
| Honey-Apple Cider Vinaigrette | |
Place the torn (and rinsed) kale in a large bowl. Using your hands, massage the kale for three minutes until the kale is tender and bright green.

To the bowl, add the sliced Braeburn apples, diced red onion, sliced red cabbage, chopped walnuts, dried cranberries, feta cheese, and salted pumpkin seeds. Toss until ingredients are evenly distributed.
Honey-Apple Cider Vinaigrette
In a measuring cup, whisk together the olive oil, apple cider vinegar, honey, dijon mustard, minced shallot, minced garlic, salt, and pepper.

Dress the salad with desired amount of dressing (can be served when dressed immediately; recommended time is to dress 15 minutes prior to serving). Enjoy!
Some may choose a dry or sweet white to pair with this salad, but since it's fall, we're turning to delicious pinot noir. Our wine choice? The 2015 Fowles Wine Farm to Table Pinot Noir -- a lighter bodied red with notes of ripe red fruit and a silky, lingering finish, this is a perfect wine to enjoy with our Fall Harvest Kale Salad. Cheers!