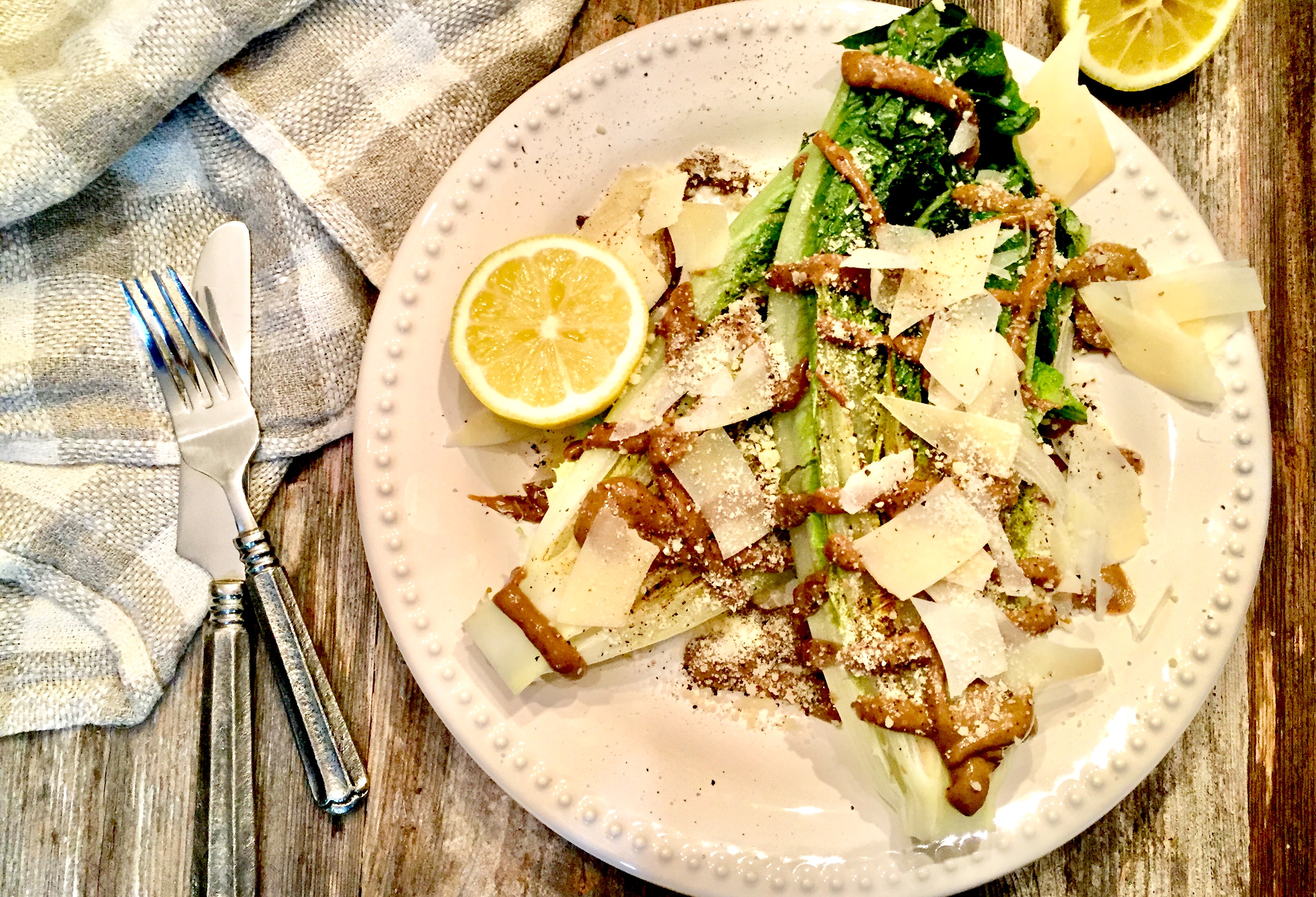 So cooking and baking are really based on trial and error, right? Luckily, for me (and really the sous chef), these grilled hearts of romaine with smoky caesar dressing were spot on delicious – which is exactly why I'm sharing the recipe with you.
I wish I could always say my recipes turn out great – but let's be honest, there are plenty I wouldn't wish on anyone to make… exhibit A: I attempted (I can't even say 'made') Vietnamese spring rolls last night with a peanut dipping sauce – because you can't go wrong with peanut sauce (or sauce, period), right? Wrong.
I actually went wrong with all of it. I promise one day I'll do a post with all of my terrible food photographs (there isn't a shortage of those) and the recipes that were nothing short of fails – a little levity is good for the soul.
The sous chef actually told me dinner was awful, and I laughed as he continued to eat it for whatever godforsaken reason (to be clear: I ate like three bites of it and moved right on to wine).
But my point is (I swear there is one) when they're as good as this salad, you totally deserve the recipe. The dressing is of course homemade, but it's really pretty simple. And if anchovies freak you out – they freak me out – take a sip of wine, power through, and know they're totally worth it. This salad is so, so good – don't just take my word for it, give this baby a whirl.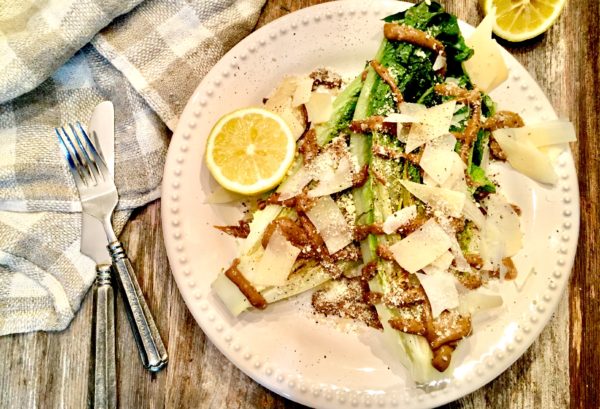 Grilled Hearts of Romaine
In a food processor, add the anchovy fillets, dijon mustard, smoked balsamic vinegar, Worcestershire sauce, garlic, lemon juice, smoked paprika, and ground pepper. Puree until smooth, about 30 seconds. Scrape down the sides of the blender with a spatula.

With the food processor turned on, slowly pour the olive oil into the chute of the processor until the dressing has emulsified.

Add 1/2 cup of Parmesan cheese to food processor and puree until smooth and creamy, about 1 minute. Remove the dressing from the food processor, and set aside in the refrigerator.

Preheat your grill to 375 degrees. Drizzle your hearts of romaine with olive oil, and season with salt and pepper. Once the grill is hot, sear the hearts of romaine, flat side down until charred, 3-4 minutes.

Drizzle the hearts of romaine with the smoky caesar dressing, and top with remaining Parmesan cheese. Eat!
Our choice of wine to pair with this salad: the Valentin Bianchi Malbec 2010. It's well-structured, juicy Malbec with peppery notes.