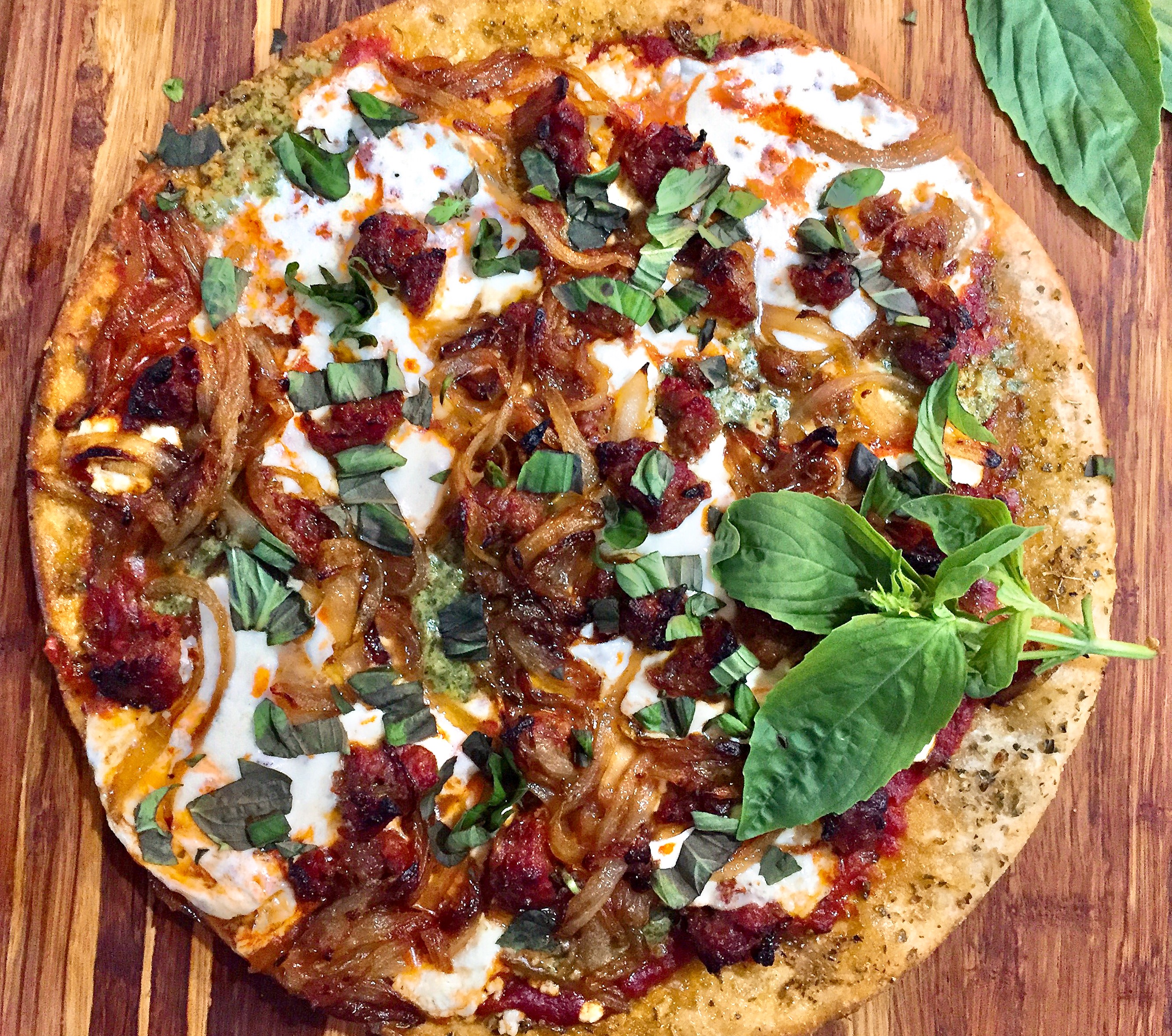 I'm totally going to redeem myself with this pizza after posting so. many. salads. This was ridiculously delicious, and oh so indulgent.
So the sous chef is originally from New Jersey, and whenever we decide to order a pizza, he swears I have a completely unsophisticated pizza palate and like "garbage" pizza.
Because, you know, being from New Jersey and all, he's obviously a pizza connoisseur. No, no, no, people cannot simply have different taste in pizza – I'm clearly wrong and he is right [THERE IS NO SARCASM IN MY VOICE WHATSOEVER…].
So, marriage is all about compromise, right? We've finally decided on those few occasions that we do order pizza, we alternate who gets to choose what/where to order from. And it works out pretty well.
Until this pizza came along. And we both fell in love. Like SO much better than delivery… while still half way cheating. Do you remember our lobster ravioli with the creamy Parmesan tomato sauce? It's one of our most popular recipes on here, and the ravioli is from Trader Joe's. So is this pizza crust. Because while it may be fun once in a while to make your own ravioli, or your own pizza dough, sometimes life just doesn't give you time to do it. You know, we have priorities, like drinking wine.
And I have to say, the pizza crust was perfection: crisp, not too "doughy" and a great texture.
And my friends, the combination of flavors on this pizza is so. so. good. We started with a base of light marinara, added slices of fresh mozzarella and crumbled goat cheese, followed by dollops of pesto, hot Italian sausage, and caramelized onions. Oh, and we grilled this baby. Um, heaven? Yes. Nothing short of it.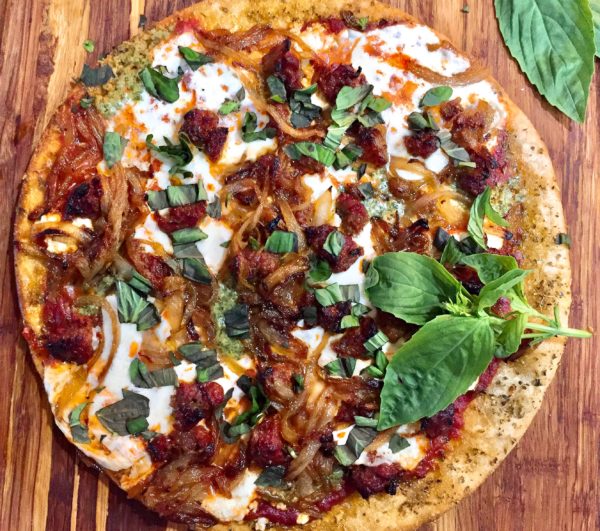 | | |
| --- | --- |
| | |
Preheat your grill to 500 degrees. Place a pizza stone in the grill to preheat with the grill. Remove the pizza crust from the freezer, and allow to dethaw for at least 15 minutes.

In a large saute pan, add the hot Italian sausage over medium heat, breaking up in 1/2 inch size pieces with a spatula. Saute for 8-10 minutes, until cooked through. Remove from heat and set aside.

Discard all but 1 tablespoon of fat from the saute pan. Add the sliced onion. Saute for 12-15 minutes until it turns a golden brown and begins to caramelize. Remove from heat and set aside.

Spread the marinara evenly across the pizza crust. Place the sliced mozzarella cheese on top, follow by the crumbled goat cheese.

Using a spoon, place small dollops of the basil pesto evenly atop the pizza. Add the sausage and caramelized onion.

Carefully place the pizza on top of the heated pizza stone in the grill. Cook at 500 degrees for 8-9 minutes, until the crust is crunchy and golden brown.

Remove from grill, and sprinkle with fresh basil. Serve and enjoy!
Our wine choice: the 2015 Ken Forrester Petit Pinotage. The full-bodied South African red has distinct spice, juicy plum, and dark berries, it's a great choice to pair this bold pizza. Cheers!