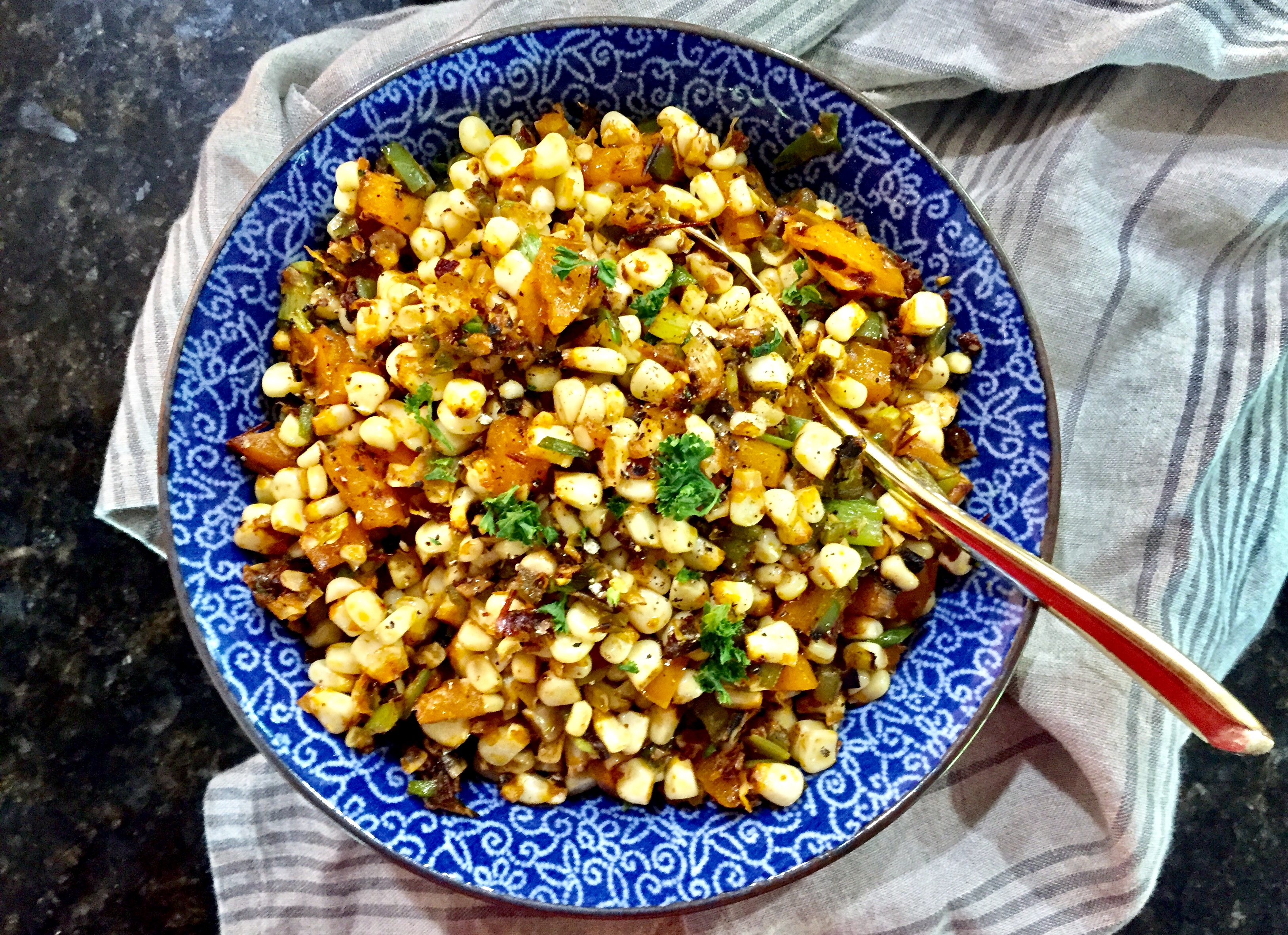 Let me introduce to you one of my most favorite, simple, and embarrassingly easy side dishes. So as a general thing, the sous chef and I don't eat a ton of starchy things — unless of course we're carbloading on pasta to ensure we have enough energy to get through our favorite Netflix show — but for the most part we stick to proteins [bacon] and vegetables [covered in sauce] [the sous chef is quick to remind me that I'm "no longer a spring chicken" so, you know, maybe I shouldn't go for the pasta – such a hopeless romantic, obviously].
But corn. Corn is my total weakness. And every year when summer rolls around, I put it in everything: salads, soups, sauces — you name it, of course I'll put sweet, crunchy kernels of delicious corn in it [and as I'm writing this, I also just realized that like, the next three recipes I'm going to share with you all use corn, so there's that… I clearly don't have a proclivity for diversity].
Now generally, I'm not really a big summertime person. Unless I'm on a beach somewhere, I could really leave the heat and humidity. It was a great when we were kids, and could spend the entire summer being pool rats… but walking around the swamp that is Washington, D.C. in suits and the like at 95 degrees? Um, dueces. Also, I'm just such a sucker for autumn that I pretty much just want to fast-forward any way.
BUT, I will say, the one thing that summer has going for it is the FOOD. Bountiful avocado, corn, tomatoes, peppers — everything I'm totally obsessed with. And we find it so gratifying to cook with all of the vegetables that we grow in our garden, so I'll give that to summer. And only that. And after that, give me fall.
But moving right along, I love this corn salad because it's smoky, spicy, garlicky… basically all of my favorite flavors that I'm not so good at hiding. And it's also super versatile — you can use it as a 'salsa' on top of steak or chicken, a side dish, or hey, you can even throw your corn salad on your favorite leafy green salad and BOOM. Dinner = complete.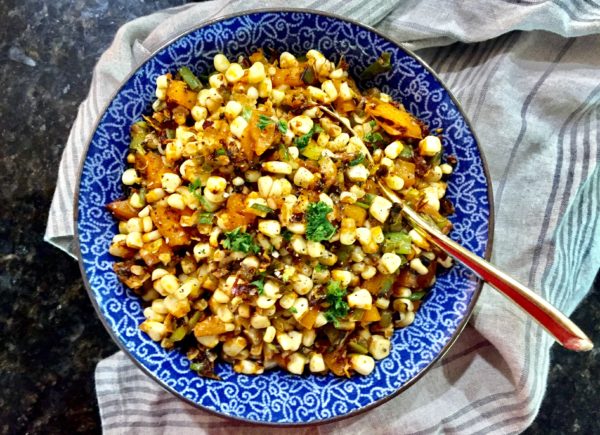 | | |
| --- | --- |
| | |
Preheat your grill to 450 degrees (charcoal recommended). On a pan, drizzle two tablespoons of olive oil over the corn, bell pepper, poblano peppers, and scallions. Season with salt and pepper.

Place the corn on the grill and cook for 15 to 20 minutes rotating occasionally until charred. Place the peppers on the grill and cook for 5-8 minutes until charred. Place the scallions on the grill and cook for 1-3 minutes. Remove the vegetables from the grill and let cool.

Once cool, remove the corn from the cob. Dice the peppers and chop the scallions.

In a large saute pan over medium heat, add your remaining tablespoon of olive oil. Add the garlic and chipotle peppers. Cook until fragrant, about 2-3 minutes. To the pan, add the corn, peppers, and scallions.

Squeeze the lime juice on top. Add the cilantro, smoked paprika, cumin, salt, ancho chili powder, and ground pepper. Mix well. Saute for about 5 minutes, until heated through. EAT!