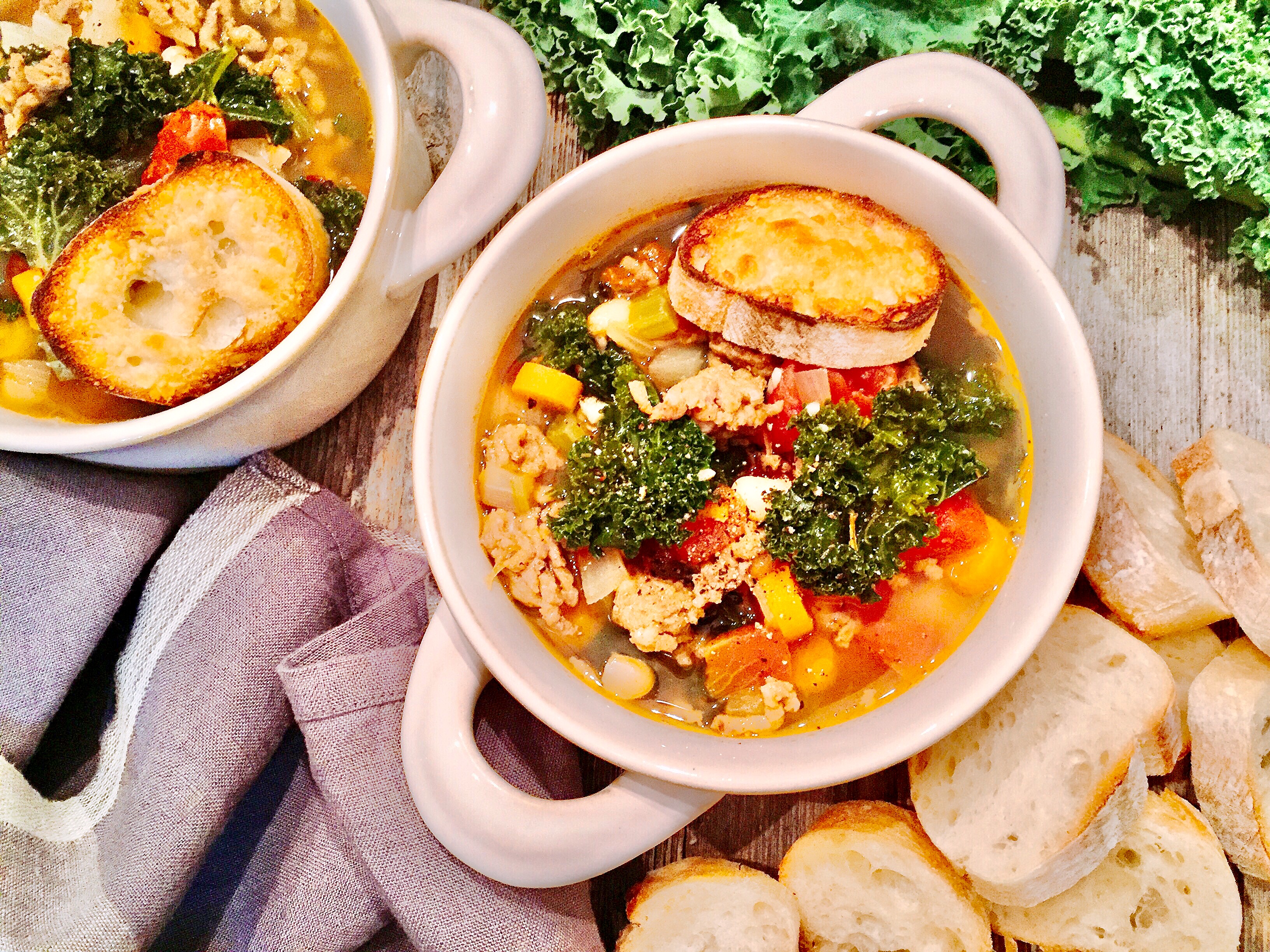 Let's talk about our favorite indulgences. I'll go first. I'm going to go ahead and just skip over soup altogether, because, um, that one was obvious. And wine. I don't even need to go there. Other than that, I've got one word for you: sausage (and bacon, but I'm really focused on the sausage right now, k?). I am literally a crazy person when it comes to sausage. As in, I couldn't stop eating all of the sausage before I even put it in the soup… because, well… SAUSAGE [you pre-cook it, by the way, in case anyone was immediately concerned right there].
Luckily I managed to salvage some of the sausage before I continued to eat every last morsel, because the flavor it added to the soup was ridiculous. Now, I was 100% prepared to top this beautiful bowl of soup with heaping spoonfuls of freshly grated Parmesan cheese. And you totally can – no judgment here, my friends. But after taste-testing the soup [read: eating by the spoonful straight from the pot], it was literally so good, I didn't even think it needed cheese.
I know, I know. Stop the presses, I said no to cheese. It was a dark moment for me, and I began to question if I even knew who I was anymore. But, of course, I was immediately comforted by how insanely delicious the soup was. And that glass of red wine right next to me. Basically my best friends. So we got through it together, naturally.
Alright, enough of my therapy session, we're back to focusing on the most important thing here: the soup. The sous chef literally thought this was the best thing ever, because it was. And I just wanted to swim in it. And if swimming in this soup is wrong, then I don't want to right.
P.S. I just had leftovers, and it was even better. I actually didn't know it was possible.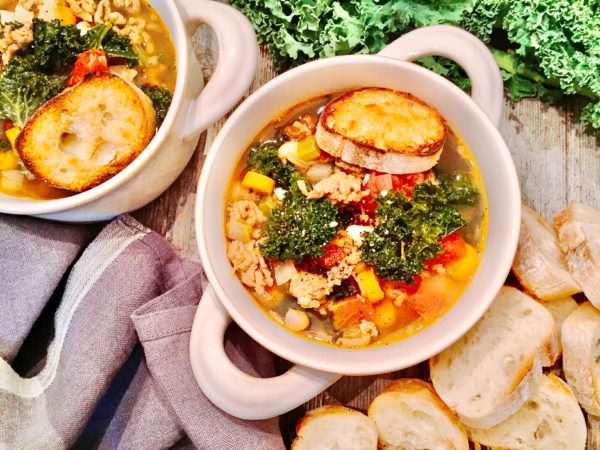 | | |
| --- | --- |
| | |
In a large pot, sear the hot Italian sausage over medium heat, breaking into small pieces, until browned and cooked through. Remove the sausage from the pan and set aside.

In the same pot, reserving the fat from the sausage, add the onion, carrots, and celery. Saute for 10-12 minutes, until cooked through and translucent, stirring occasionally. Add the garlic and cook for an additional 2 minutes.

Deglaze the pan with the white wine. Let simmer for 1-2 minutes.

To the pot, add the chicken broth, rosemary, pepper, crushed red pepper flakes, fire-roasted diced tomatoes, cannellini beans, and kale.

Gently submerge the kale into the soup, allowing the kale to wilt while cooking. Season to taste with salt.

Turn heat to low, and simmer for an additional 15-20 minutes, allowing the flavors to blend. Serve with crusty bread, and enjoy!
Our wine choice: the Monte Antico Rosso 2011. Comprised primarily of the sangiovese grape (85%), it boasts notes of black cherry, licorice, and subtle spice, leaving you with a lingering, silky finish. With the sausage and spice in this delicious soup, this medium-bodied red can certainly stand up to it! Cheers!