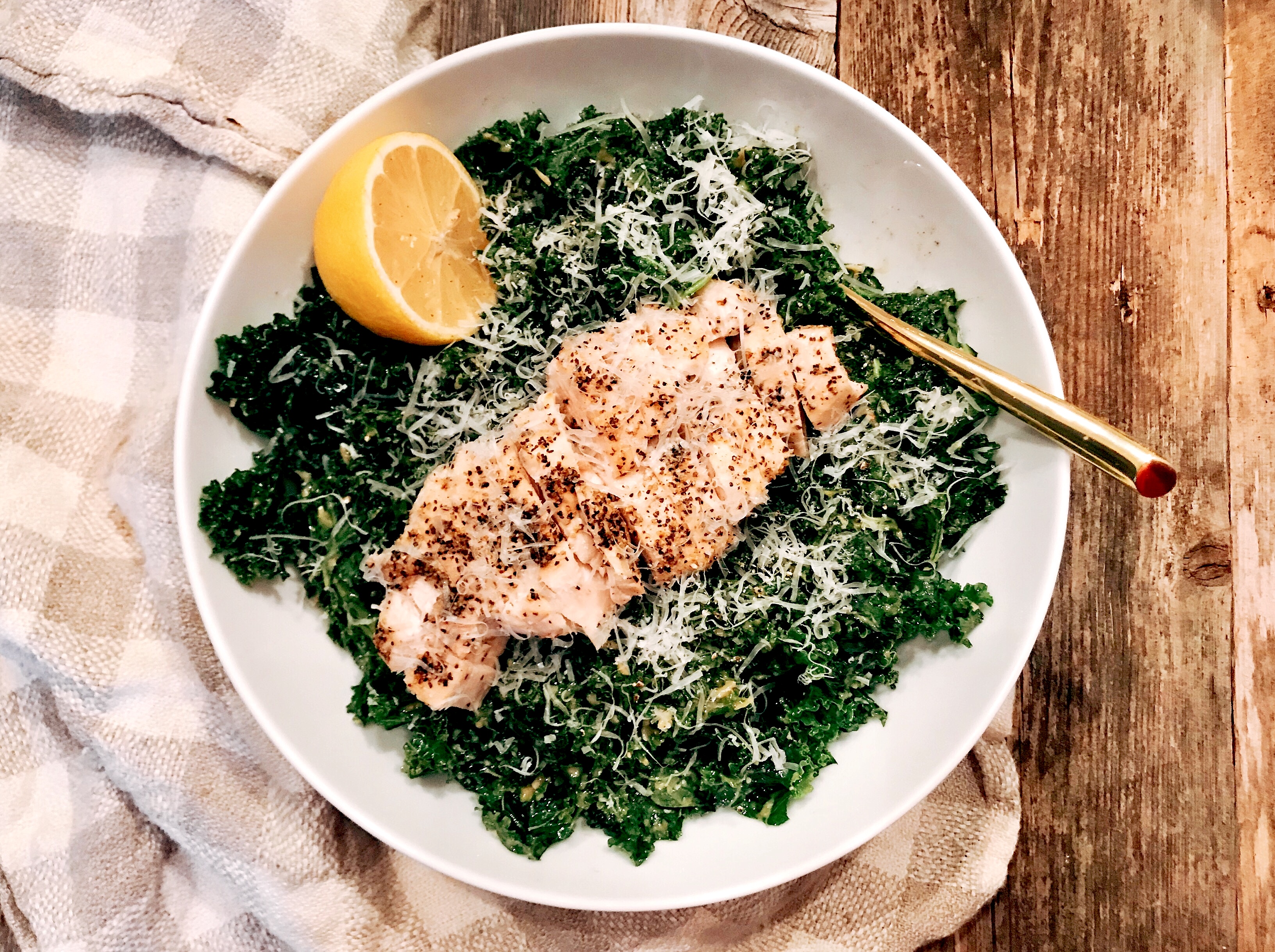 My friends! This is so simple, and so easy. No frills. No bells. No whistles. That is, of course, if you don't consider a dreamy Caesar dressing something to write home about [and it totally is!!]. I, for one, absolutely love Caesar salads. Of course, it's without question because of the salty, smooth, creamy dressing that gives this kale chicken Caesar salad LIFE [and me life… because dressings are e.v.e.r.y.t.h.i.n.g.]. And naturally my favorite nutty, gritty Parmesan cheese.
Quick story: so I was in the kitchen making New Year's Eve dinner [what was supposed to be a decadent rosemary and Parmesan pasta with shrimp] and the sous chef was under the weather and pretty much out for the count [except of course I was the one asleep before midnight! Pretty standard, actually — I always joke around about turning into a pumpkin after 10 p.m. [cinderella, anyone?] because I never manage to stay awake any later!]. Who's with me here?!
So I'm in the kitchen, grating the Parmesan cheese [definitely something the sous chef usually takes care of] and just like butter, I grated the entire outside of my thumb. Yes, major CRINGE. And naturally, I am so paranoid about grating cheese now… [flashback to 2010, I did the EXACT same thing on a mandolin making potatoes au gratin]. I'm thinking maybe a little less wine, a little more focus here! I know, such an appetizing post today [for those of you on a diet, you're welcome!].
But back to this kale Caesar: it was my first time grating cheese since then, and let's just say I was a teensy weensy bit more careful. And the freshly grated Parmesan cheese is SO worth it. I know I've talked about this before — but I love that kale is such a hearty green that you can dress it the night you're having it for dinner, and still take it for lunch the next day without being soggy [even with massaging it!]. The flavors just get better. So simple. So easy. So healthy. Just don't count the calories in the dressing. It tastes better that way, too!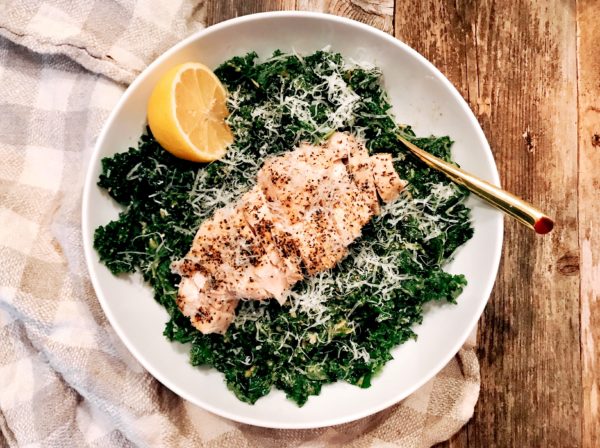 | | |
| --- | --- |
| | |
Preheat the broiler to 500 degrees. Place the seasoned chicken breasts on a baking stone or sheet. Broil for 6 minutes on each side, or until the chicken breasts are cooked through and the internal temperature reaches 165 degrees. Remove the chicken from the oven and let cool. Once cool, slice the chicken.

Place the kale in large bowl. Using your hands, massage the kale until tender and bright green, about 3-5 minutes.

Drizzle with desired amount of Caesar dressing, and toss with Parmesan cheese. Top with cooled chicken. Eat!
In a food processor, add the anchovy fillets, dijon mustard, balsamic vinegar, Worcestershire sauce, garlic, lemon juice, and ground pepper. Puree until smooth, about 30 seconds. Scrape down the sides of the blender with a spatula.

With the food processor turned on, slowly pour the olive oil into the chute of the processor until the dressing has emulsified.

Add 1/2 cup of Parmesan cheese to food processor and puree until smooth and creamy, about 1 minute. Remove the dressing from the food processor. Drizzle over top kale salad, and enjoy!
Our wine choice is the 2014 La Crema Chardonnay. With layers of flavor, this buttery, juicy, and fruit forward Chardonnay is a perfect pairing for the rich and creamy Caesar dressing. Cheers!