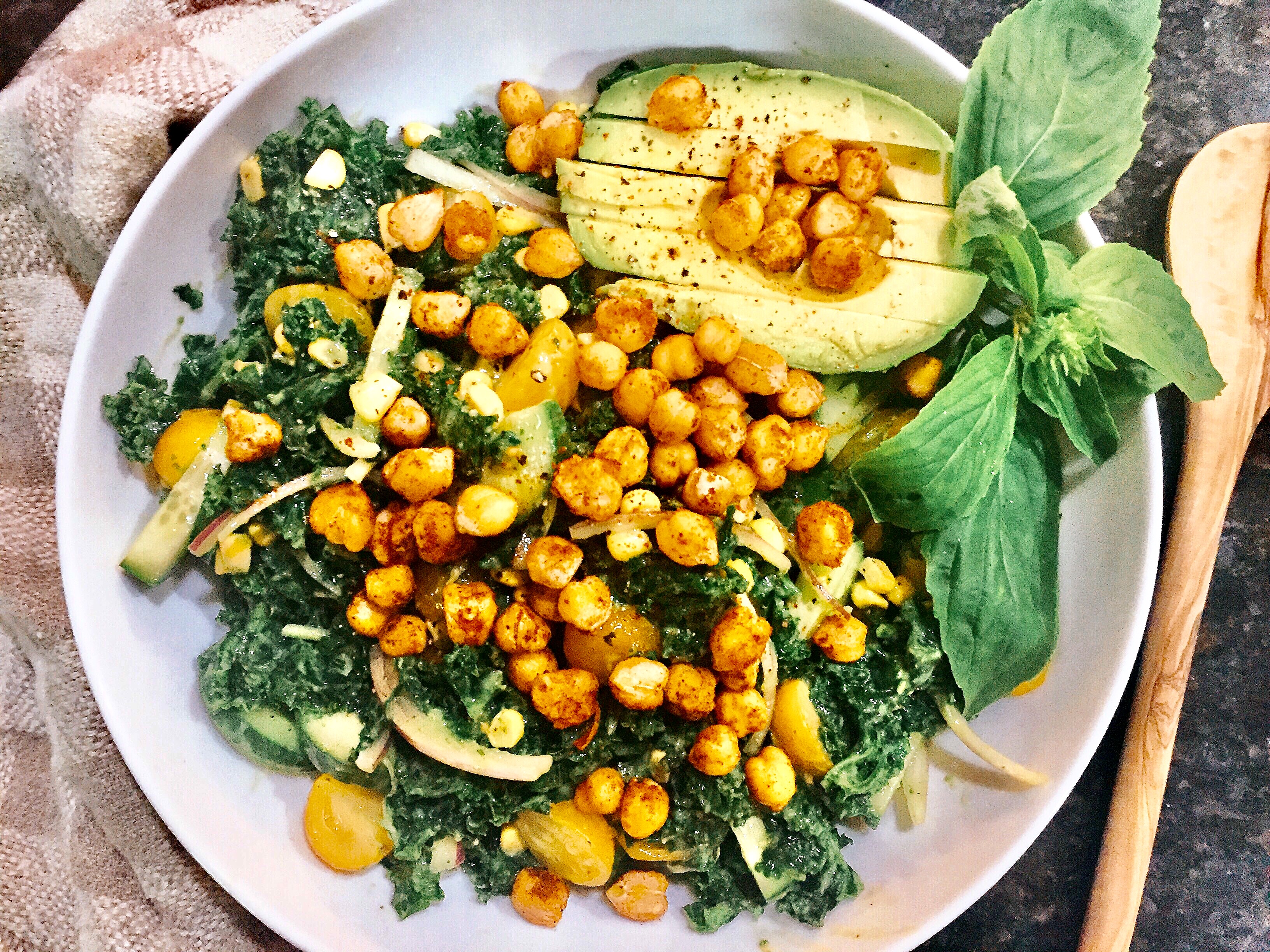 WAITTTTT! Please don't run away. I know this is scary [the salad doesn't even have cheese]. And… it's another salad. We've been on such a salad kick – similar to our soup habit this past winter that we haven't seemed to kick just yet – but we're going to get through this together, and I think you may end up loving me for this. So hold tight, grab yourself a glass of wine, and deep breaths.
Kale can be scary. Frankly, if it's not done the right way, it can be totally gross. And disclaimer: that's exactly what the sous chef thought, too. And he LOVED this salad.  I believe his exact reaction was "wow". That doesn't happen often… he's pretty much a meet and potatoes kind of guy if you know what I mean.
The key to this salad is massaging the kale… I SWEAR PLEASE HEAR ME OUT [I see you giving me the side eye]. You simply remove the stems, rinse the kale, and give it a good chop. Place it in a bowl, and massage it using your hands for about 3 minutes. It breaks down the fibrous and tough texture of the kale leaving it much more palatable and less pungent. It'll also turn a bright green and will reduce in size.
And then you dress it up in this creamy basil dressing and ermahgawd. It literally is heaven in a bowl. And then there are all the other fixin's that we threw in this baby to give it a little something extra: corn, cucumber, red onion, tomato, avocado. So. Stinkin'. Good. And anything but boring.
Oh, and the crispy chickpeas? They're perfectly crunchy, salty little nuggets that make each bite so yummy. You won't go wrong.
And whatever, if you're feeling like this might be just a teensy weensy bit too healthy for ya? Throw some bacon in here. Boom. Problem solved.
Also, can we still be friends if I promise you something overindulgent next time? PHEW. Kthankstalksoon.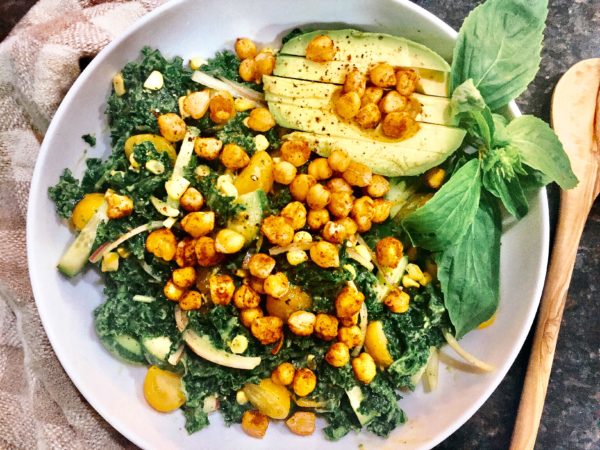 | | |
| --- | --- |
| | |
Preheat the oven to 400 degrees. Place the rinsed chickpeas in a 9x13 baking dish. Sprinkle the chickpeas with garlic salt, pepper, and paprika. Roast for 20 minutes, until the chickpeas crisp and turn golden brown. Set aside and let cool.
Place the chopped kale in a large bowl. Using your hands, massage the kale for three minutes until the kale is tender and bright green. To the kale, add the English cucumber, grape tomatoes, red onion, corn, and avocado. Top with the crispy chickpeas, and toss in the creamy basil dressing. Divide the salad between plates, and enjoy!
In a food processor, add the buttermilk, avocado, garlic, packed basil leaves, shallot, apple cider vinegar, garlic salt, and pepper. Process until smooth and creamy.

With the food processor turned on, slowly pour the olive oil into the chute of the processor until the dressing has emulsified.
Our wine choice: the 2014 MacRostie Sonoma Coast Chardonnay. Bursting with lemon and melon, this soft, smooth white will pair beautifully with this salad. Cheers!