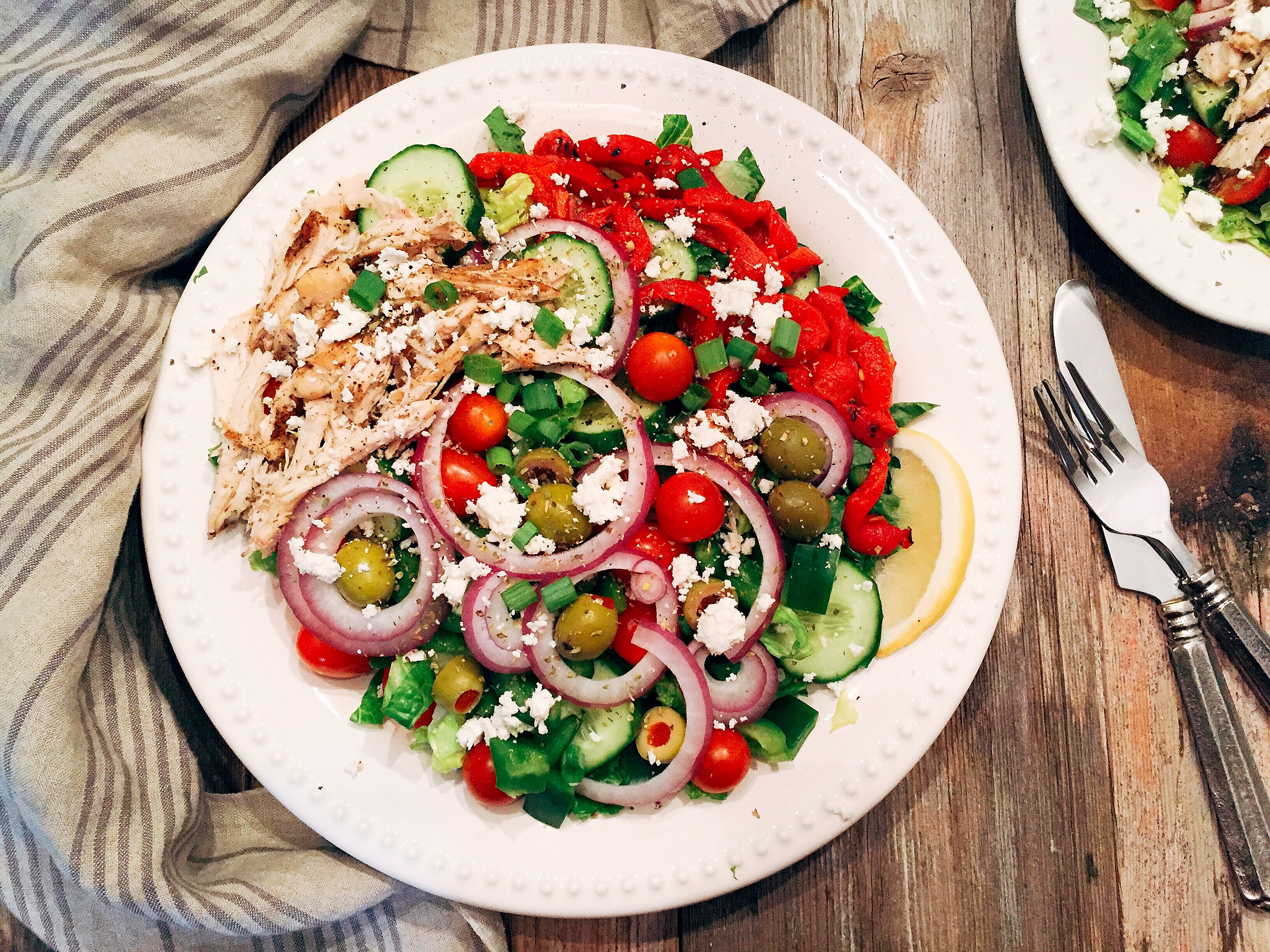 Sooooo it's Thursday, and I have a totally beauteous salad to share with you – bursting with color and texture – that's going to give you that extra umph to get through the rest of the week. And maybe springtime generally. Because it's that good.
And I know exactly what you're thinking: this is the best news ever. I totally agree [I know, I can't believe I read minds now, either]. Supes impressive [supes as in: super. Like, totes as in totally. Amiright?].
Okay, I'll stop.
But actually, we make this salad at home all. the. time. And it's not that I've been holding out on you – swear! – I was just waiting for the perfect reveal. And with all of this warm weather, I'm 99.99999% confident there's no better time.
I do have one disclaimer: I absolutely wanted you to see all of the gorgeous vegetables in this salad – and as soon as the pictures were over, truth be told, you couldn't see any of them because of the amount of feta cheese I piled on top. Because #yolo. But if you don't want to have a 2:1 ratio of cheese to salad, that's okay too. But know that I'm totally judging. Just kidding. Kind of.
But honestly – we really do love this Mediterranean beauty. And whenever my best friend comes over, its the first thing she requests. It's really. really. yummy. I mean, I think the sous chef used the terms 'salady' and 'full of salad' – maybe even 'salad to the max' – none of which do this thing justice. So you can pretty much ignore those adjectives, and simply take my word for it.
Now eat up!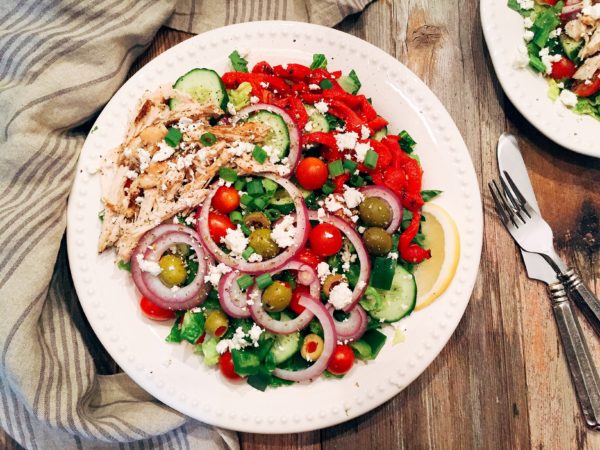 Mediterranean Chicken Salad
| | |
| --- | --- |
| Mediterranean Chicken Salad | |
Mediterranean Chicken Salad
In a saute pan, add the olive oil over medium heat. Once hot, add the seasoned chicken breasts and sear on each side for 6-7 minutes, until golden brown and cooked through.

Remove from heat and let cool. Once cool, shred or slice the chicken for serving. Set aside.

Divide the romaine lettuce between the plates. Top the romaine with the green peppers, grape tomatoes, English cucumbers, roasted red peppers, green olives, red onion, feta cheese, dried oregano, and shredded chicken. Drizzle red wine vinaigrette, and enjoy!
In a bowl, whisk together the red wine vinegar, olive oil, dijon mustard, garlic, shallot, oregano salt and pepper.
Our wine choice: the 2015 Dog Point Sauvignon Blanc. The citrus and floral notes in this crisp white will pair exceptionally well with this gorgeous salad. Cheers!