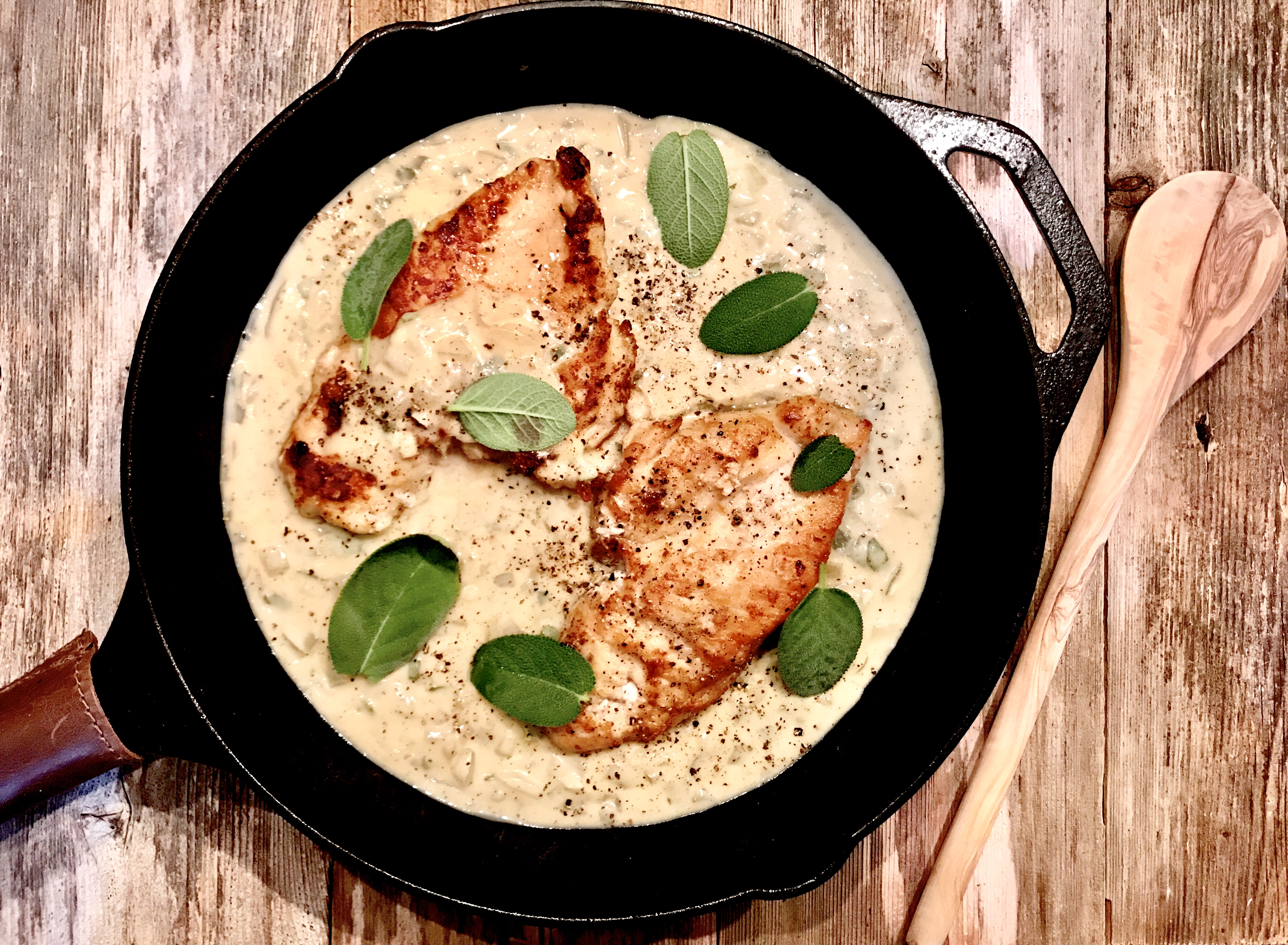 Hellooooo, friend! This is the feel good, heartwarming, hug-for-dinner comfort food you've been looking for – and it will not disappoint. It is so so good. And so so simple. I have a motto in life that I hold near and dear to my heart [but closer to my stomach, obviously], and it goes something like this: extra sauce, always. I know, so profound… I think it's like a quote by Nietzsche or something. Seriously wise words to live by, my friends.
My adoration for sauce knows no bounds, which is certainly no secret here. I mean, there's something about plain old boring chicken, beef, pork — you name it — that is… yes, SO BORING… until you add sauce, of course. Each forkful [read: spoon in real life, but I'm trying to be relatable] is truly a science: it should be two parts sauce to one part chicken […now you understand why I need a spoon], which especially holds true when the sauce is as good as this one.
Sage just screams fall and winter to me —  it's such a perfect earthy herb to complement stuffings, sauces, and soups — I mean, is it really even fall if you're not cooking with sage? [it's not, believe me]… throw some white wine into the mix, a dash of dijon mustard, a touch of cream + shallot and garlic = heaven in a pan.
My favorite part of cooking this entire dish: taste testing the sauce the entire time, until it's been reduced by about half [this is not a cooking instruction, it's merely an incidental consequence] — so safe to say, go ahead and make smidge extra [read: double it]. My second favorite part of cooking this dish: sipping the leftover wine. You really can't go wrong here, clearly.
Think I'll leave it on that note [obviously a high one]. With that, cheers!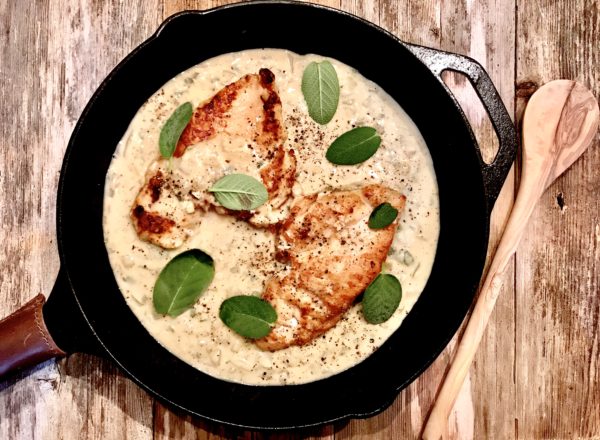 | | |
| --- | --- |
| | |
Pound the chicken breasts until they're 3/4 of an inch thick. Season the chicken with salt and pepper.

In a large saute pan, add one tablespoon of butter and olive oil each over medium heat. Once the pan is hot, add the chicken breasts and sear on each side for 4-5 minutes, until cooked through (and the internal temperature reaches 165 degrees).

Remove from heat, and tent with tinfoil to keep warm.

In the same pan, add the remaining tablespoon of butter and olive oil. Add the shallot and saute for 3-4 minutes. Add the garlic and sage, cooking for an additional 1-2 minutes.

Deglaze the pan with the white wine, scraping up any brown bits. Let simmer for 1-2 minutes. Whisk in the dijon mustard.

Add the chicken stock and heavy cream and let simmer for 2-3 minutes. Season to taste with salt and pepper.

In a small bowl, mix the cornstarch and water together. While the sauce is simmering, slowly whisk in the cornstarch mixture to achieve your desired thickness.

Return the chicken to the pan, coating in the sauce. Serve hot and enjoy!
Our wine choice: the 2015 Montevina Chardonnay. This is literally a perfect white to pair [and cook with in the sauce!] -- it's rich and buttery with notes of vanilla and toasted almond. So delicious! Cheers!