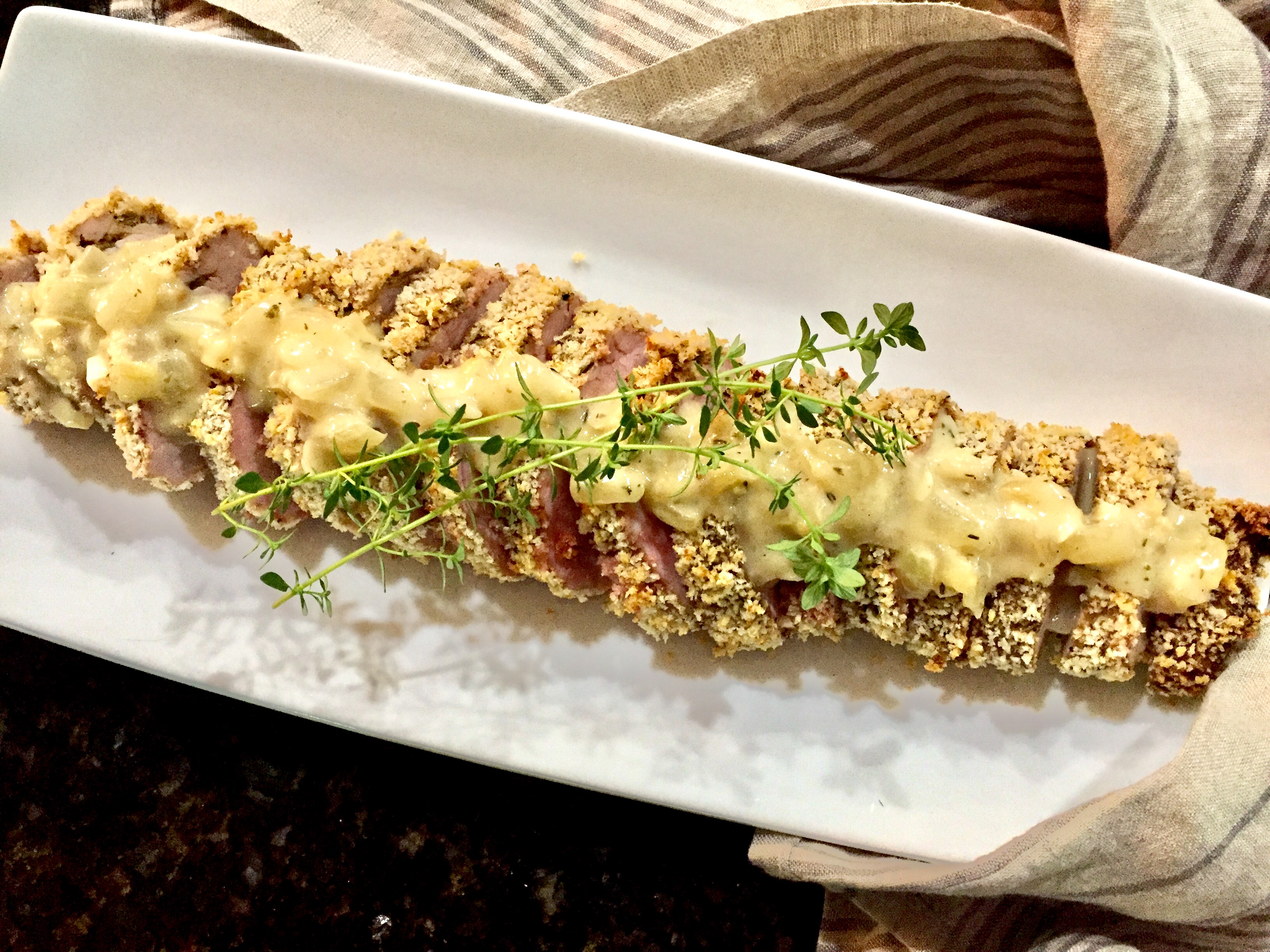 So the sous chef and I are pretty much permanently scarred from having leather-like pork chops as kids […love you, mom]. So in all the time we've known each other, pork chops are just not something we've ever had the desire to cook – probably because no amount of sauce could have saved them, and that's an unfortunate deal breaker ['cause you know how we roll #kneedeepinsauce].
But don't get me wrong – we've made no secret of our love for pork, because, you know, #baconislyfe. So it's not like we've totally ruled out pork my friends, and I have to say, this pork tenderloin was ah-mazinggg.
The panko gives such good texture and the pork itself is so tender. In fact, I almost went so far as to say that you don't even need the sauce here [yes, GASP]… but then I started to question whether I even know who I was anymore, and quickly decided I would never do something like that and betray one of my most core basic values. WHEW, crisis averted.
Not to mention, this sauce is soooo good [and, um, made with all the wine… and naturally you should drink the rest]. And so let's just say that the combination of a crispy, tender pork and savory, creamy sauce = what my dreams are made of.
Now I if you're all asking youself "but wait, I don't get it, it's like summer and this is like fall…." stop yourself right there, my friend, because recipes like this just can't be tamed. Recipes this good know no bounds, and should be made every. damn. season.
That's all, folks.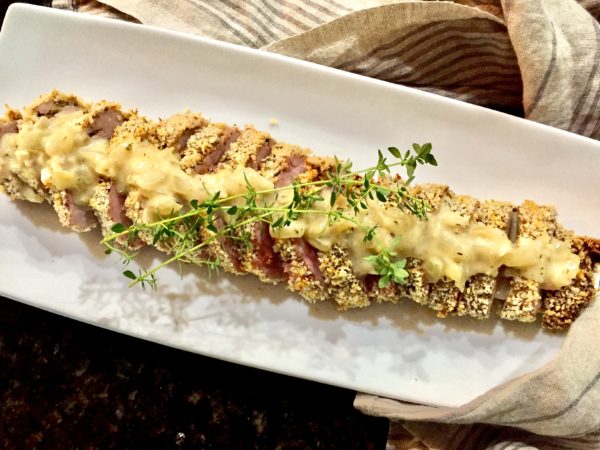 | | |
| --- | --- |
| | |
Preheat your oven to 425 degrees.

In a medium saute pan, add one tablespoon of olive oil. Add two cloves of garlic and saute for 1-2 minutes. Add the breadcrumbs and saute for an additional 2-3 minutes, until crisp and golden brown. Remove from heat and spread evenly in an oblong rimmed pan.

Remove the pork tenderloin from packaging, and trim any excess fat (add a dash of olive oil where trimmed, if needed for adhesion of the breadcrumbs).

Place the tenderloin in the rimmed pan and coat thoroughly with the breadcrumbs, using your hands to adhere them to the pork.

Place the breadcrumb-coated tenderloin on a roasting rack (in a roasting pan). Roast in the oven at 425 degrees for 35-40 minutes, or until the thickest part of the tenderloin reaches and internal temperature of 145-150 degrees (for medium). Let rest for 10 minutes before slicing and serving.

While the tenderloin is roasting, add the butter to a medium saute pan over medium heat. Add the onion and cook for 6-8 minutes, or until the onion turns golden-brown. Add the remaining garlic, and cook for an additional 1-2 minutes.

Whisk in the mustard, followed by the flour. Let simmer for 1 minute. Whisk in the white wine and let simmer for 30 seconds.

Add the chicken stock, heavy cream, and dried thyme. Season to taste with salt and pepper. Let simmer on low and thicken until ready to serve with the tenderloin. EAT!
Our wine choice: the 2013 Fog Head Reserve Chardonnay. This buttery chardonnay has notes of vanilla and melon, a rich white that will be an excellent pairing with our decadent pork tenderloin. Cheers!