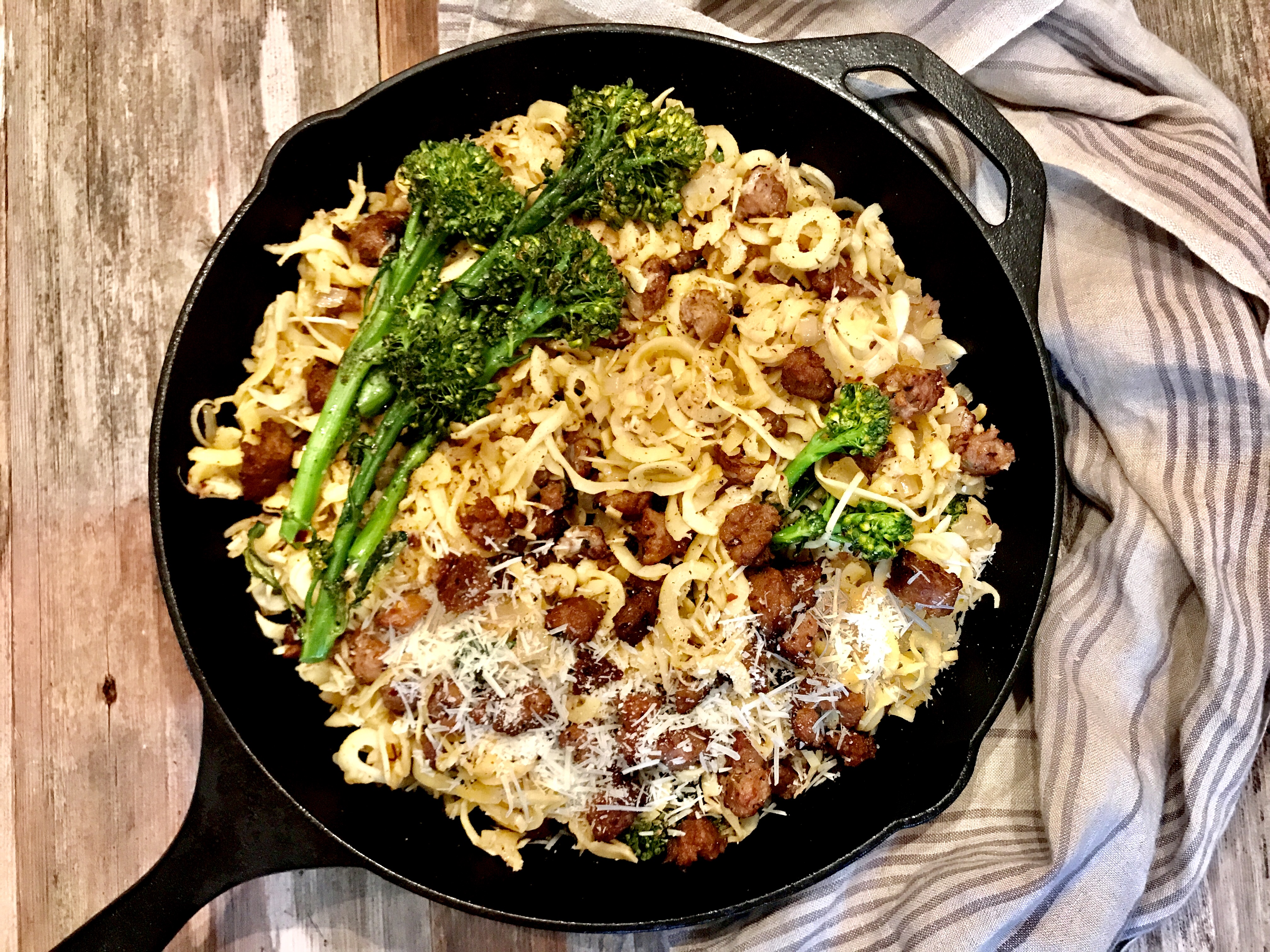 So the sous chef and I were grocery shopping this past weekend – and he has this thing where he swears I keep the list secretive [I TOTALLY DON'T. I just don't want soft and mushy cucumbers.], so I delegate where it makes sense. Like onions. Hard to go wrong with onions. Or lemons. He's really good at picking out lemons.
But peppers, tomatoes, etc. I just have this thing about texture and like to make sure that the vegetables are crisp and fresh [Honey, if you're reading this, you're really good at so many things, like sealing the driveway! And killing flies. Even getting turkey from the deli! xoxoxo]. The good news is that he isn't reading this, because he's learned to ignore my blog babble, and probably just my babbling in general — so we're safe. WHEW.
But moving right along, I asked him to find parsnips at the store. He looked at me like I was crazy, and told me he had never had parsnips before. I proceeded to lift my jaw from the floor, because parsnips are SO delicious. They remind me of the holidays, actually, because we always had some form of roasted parsnips on Christmas eve.
I told him they look like cream-colored carrots, and desperately tried to use this as an opportunity to demonstrate my confidence in his vegetable-picking-out ability (lololol). Long story short, he didn't find them…. but clearly one of us did, and I won't name names…
ANYWHO. I have to say, the parsnips were SO good in this dish. They are a bit nutty and a touch sweet, and it just worked so well with the contrast from the heat of the Italian sausage/crushed red pepper flakes and the saltiness Parmesan cheese. This dish is seriously worthy of your weeknight dinner rotation – and you know, I'd tell you to enjoy, but you'll legit have no choice. And paired with a glass of wine or three? #Swoonworthy.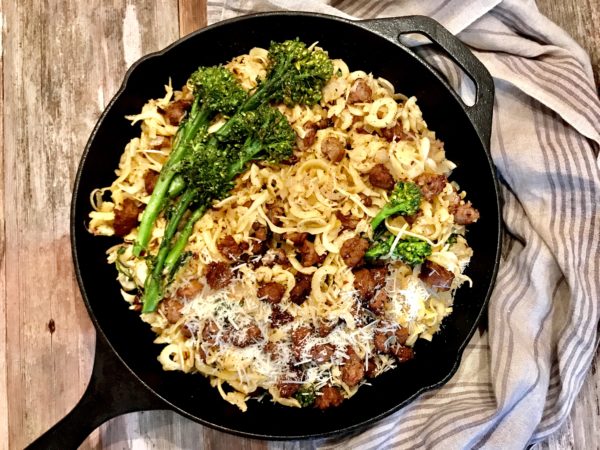 | | |
| --- | --- |
| | |
Peel and slice off ends of the parsnips. Using a spiralizer (we have a paderno spiralizer, used blade C), create parsnip noodles (place skinnier end against the blade, and the thicker end against the grip for best results. If you don't have a spiralizer, feel free to use a vegetable peeler to make papardelle-style noodles) . Set aside.

Preheat your broiler. Place the broccolini on a baking sheet lined with tin foil. Drizzle with 2 tablespoons of olive oil, and season with salt and pepper.

Once the broiler is preheated, place under the broiler for 6 minutes, until bright green and just cooked through. Remove from oven and set aside.

In a large saute pan, add the hot Italian sausage over medium heat, breaking up in 1/2 inch size pieces with a spatula. Saute for 8-10 minutes, until cooked through. Remove from heat and set aside.

To the same pan, add the diced onion. Saute for 8-10 minutes until it begins to caramelize. Add the garlic and saute for an additional 1-2 minutes.

Add the parsnip noodles to the pan, and saute for 7-8 minutes, until 'al dente'. Drizzle in remaining olive oil. Add the Parmesan cheese, crushed red pepper flakes, and salt and pepper to taste. Return the broccolini and hot Italian sausage to the pan. Saute until warmed through, about 3-4 minutes.

Serve hot, and top with extra Parmesan cheese. Enjoy!
Our wine choice: the Casa Smith Cervo Barbera 2014. This luscious red from Washington state is well-structured, full-bodied and has notable cherry and black pepper undertones -- an excellent choice to pair with our parsnip noodles. Cheers!