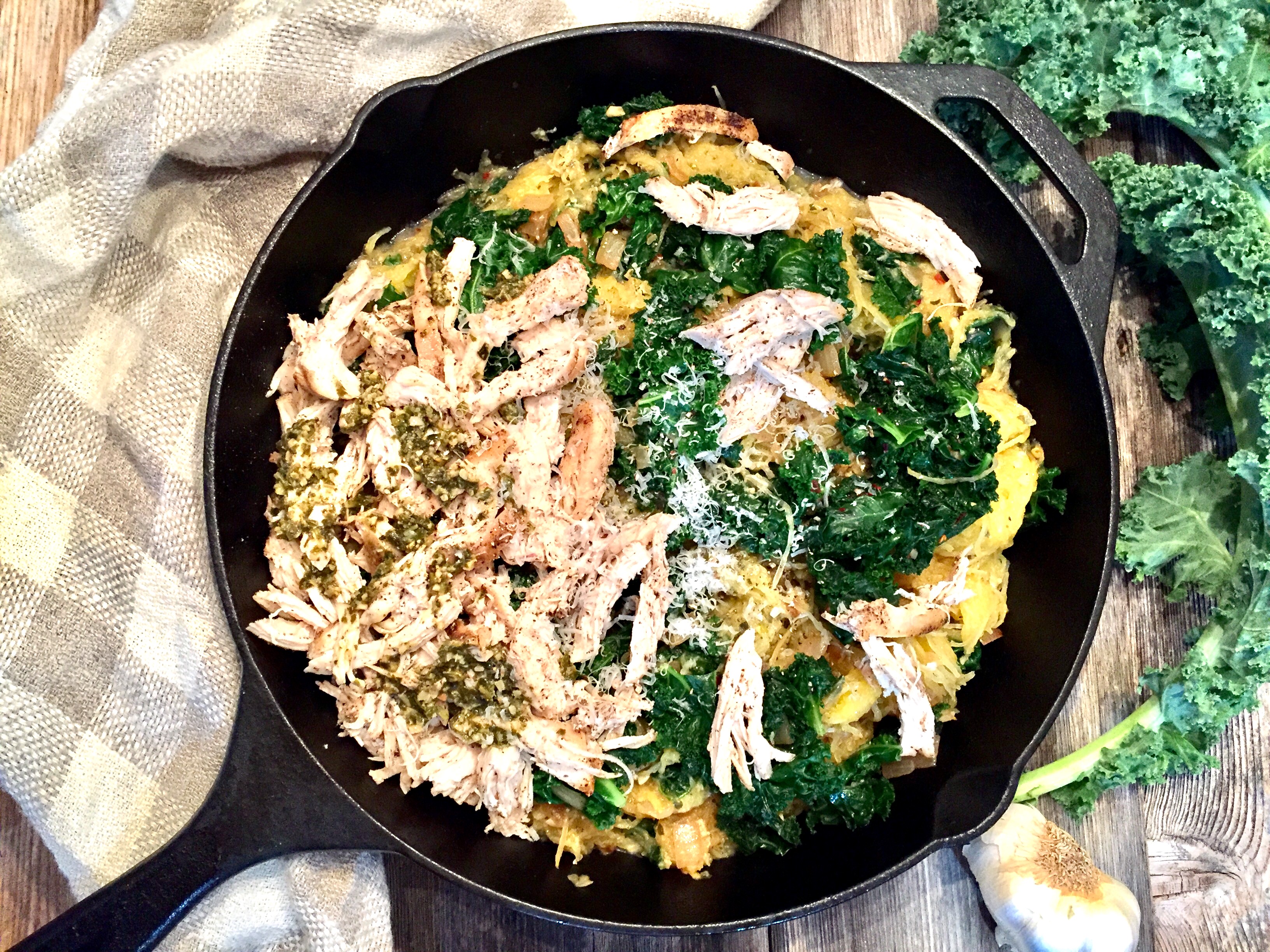 So, I've made no secret of my love for pesto. In fact, I profess it quite often: take exhibit A. But I insist on basil pesto. I love arugula, kale, and spinach – you name it – as much as the next person. But it shouldn't go in pesto. Basil goes in pesto. That's my story, and I'm sticking to it.
And add a little bit of gorgeous pesto to this dish? It is RIDICULOUSLY good. I don't mean to be all shouty and everything [read: yes I do], but this literally deserves it. And honestly, the pesto just adds so. much. flavor. You don't even need a sauce or anything. I mean, if you wanted to add one, more power to you. You do know that I will support any sauce undertaking of any kind, obviously. Always.
Also, as a testament to how good this was: I called the sous chef when he was on his way home from work, and asked him how hungry he was [so, you know, make two spaghetti squashes or one. Because my husband can eat. Seriously eat. And I love him for that. Because I seriously like to cook]. He insisted he wasn't that hungry, and added that he would only take a protein shake for lunch, didn't need leftovers. So naturally, I make both spaghetti squashes. And he has seconds. And asks for lunch the next day. So there you have it. Delicious, clearly [#souschefapproved].
Oh, by the way, whip this baby up and you've just consumed your vegetable quota for the week. In the most delectable of ways, might I add. So go ahead. Have pizza every single other night. Or wine [invite me over for some? K, thanks.]. You earned it. You're welcome.
P.S. don't worry about the loads of Parmesan cheese in here. It's like, protein, or something.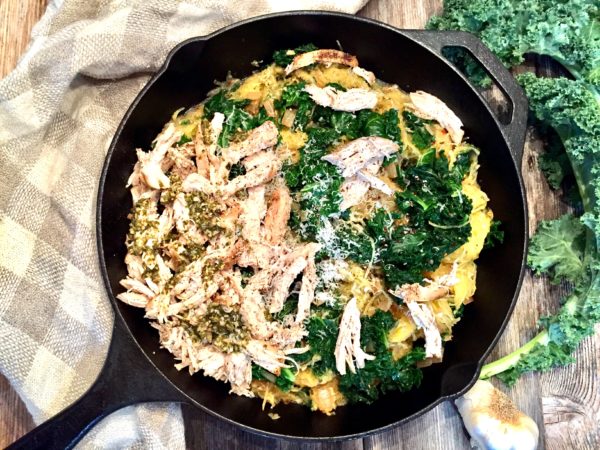 | | |
| --- | --- |
| | |
Preheat your oven to 425 degrees. Slice the spaghetti squashes in half, remove the seeds. Drizzle with 1 tablespoon of olive oil, and season with the salt and pepper.

Roast for 35-40 minutes at 425 degrees. Once finished, set aside and let cool.

While the spaghetti squash is roasting, season your chicken breasts with salt and pepper. Heat a large saute pan over medium heat. To the pan, add two tablespoons of olive oil.

Once hot, sear the chicken breasts on each side for 4-6 minutes (depending on the thickness), until golden brown and cooked through. Remove from pan and set aside. Once cool, shred the chicken using a fork.

Add the final remaining tablespoon of olive oil to the same pan. Add the onion, and saute for 4-5 minutes, until the onion is cooked through and begins to brown. Add the garlic, and cook for an additional minute.

Deglaze the pan with the chicken broth, scraping up the brown bits with a spatula. Add the kale, and saute until cooked and bright green, about 6-8 minutes.

Using a fork, scrape the flesh of the spaghetti squash into the pan. Add the shredded chicken, crushed red pepper flakes, basil pesto, a Parmesan cheese. Mix well, and saute for several minutes, until heated through. Serve and enjoy!
Our wine choice: the 2013 Domaine Trapet Alsace Pinot Auxxerois Ox. This delightful French white is well-structued and creamy - an excellent choice to pair with the delicious dish. Cheers!