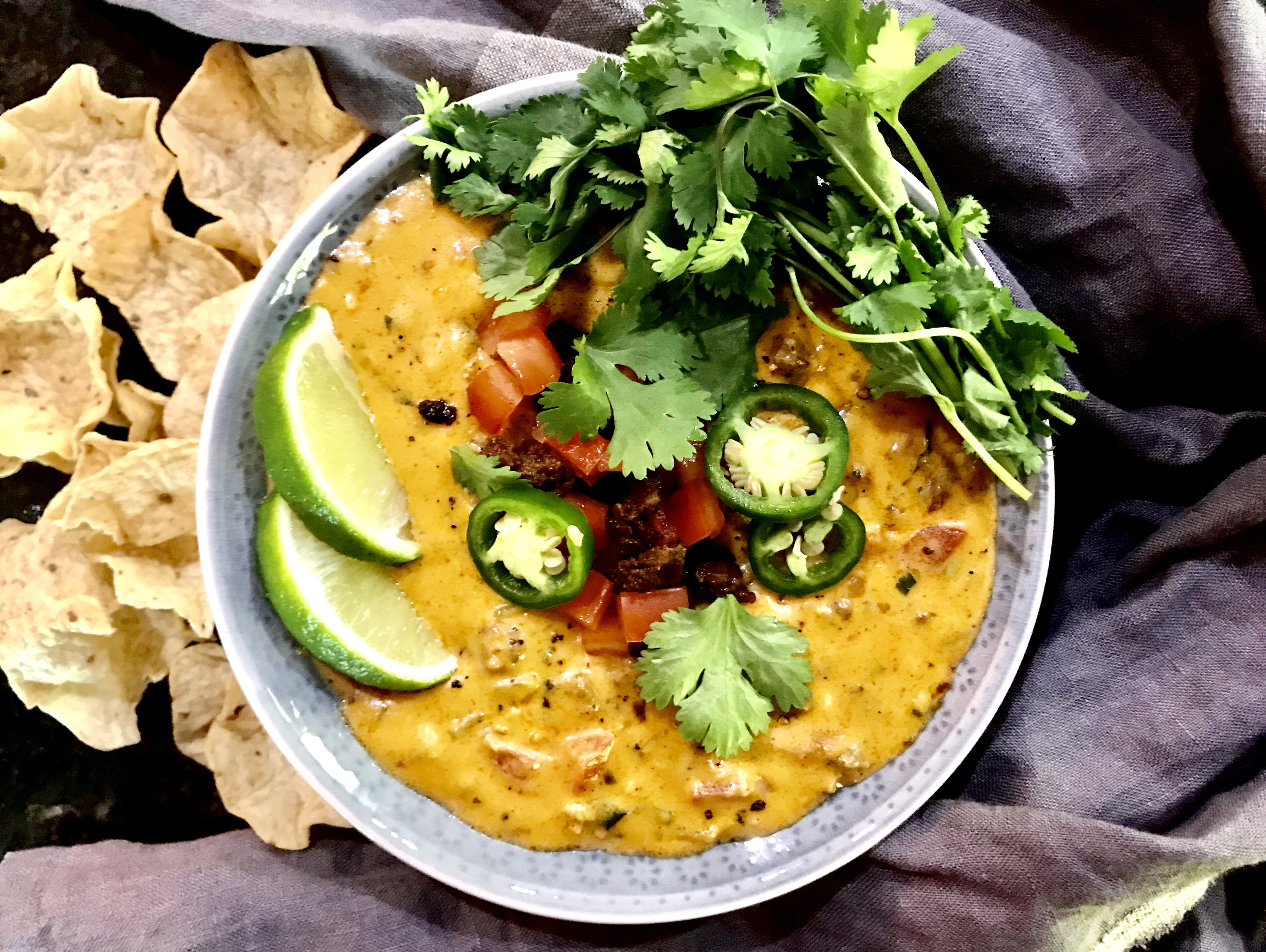 First of all, queso is lyfe #wordsofwisdom. While that pretty much sums up just about everything for me, I can blab about queso probably forever… And ever. So of course when the sous chef and I order Mexican food, I naturally order an inappropriate amount of queso, and you know, my side order is basically the entree [which I never eat, because I'm too busy drowning in queso]. Because that's just how I roll — and literally, if I ate as much Mexican as I wanted, I could only roll… and no longer walk.
The sous chef is a huge Steelers football fan [he'll proceed to claim that I, too, am a Steelers fan — but trust me, I married into it], and it will come as little surprise that my favorite thing about football is making game day food. Some [read: the sous chef] may say that I get a bit overly excited for it [hi babe, you love game day food… xoxo], but let's be serious: what is NOT to love about queso! And needless to say this is a *perfect* game day recipe for a crowd [or just yourself #noshame]; it's actually pretty perfect for breakfastlunchdinneranddessert any time. Like, literally, I will gobble this down for breakfast on the 4th of July. Or cinco de mayo. A wee bit more appropriate, if your into that kind of thing.
And while I love all queso, this queso recipe is near and dear to my heart [and tummy, of course]. It's packed with crispy pan-fried chorizo [casually begins drooling…] THEN, there's the jalapeno, smoky chipotle peppers, fresh tomato, green chiles.. and oh! oh! CHEESE. Gooey, melty, savory CHEESE. Three cheeses, to be exact. Need I say more? Okay, okay one last word: Margaritas! Duh.
Pro tip: while Tostitos are great, we recommend dunking Fritos' crunchy, yummy corn chips in this hearty queso *AMEN* [I know, I know, false advertising in the picture]!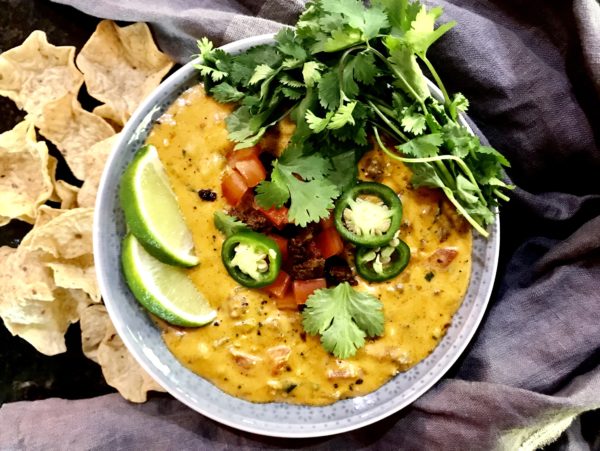 | | |
| --- | --- |
| | |
In a medium pan, add chorizo links and cook, stirring and breaking the chorizo into small pieces, until browned, 6-8 minutes. Remove from heat and set aside.

In the same pan, add the shallots, garlic, jalapeno pepper, chipotle pepper and adobo sauce. Saute for 3-4 minutes. Add the flour to the pan, and continue to cook for an additional minute.

Slowly whisk in the half and half. Let simmer for 1-2 minutes. Add the cheddar cheese, pepper jack cheese, and cream cheese, stirring until melted.

Return the chorizo to the pan, followed by the roma tomatoes, green chiles, cilantro, ground cumin, smoked paprika, chili powder, garlic salt, and pepper. Mix well.

Serve hot with tortilla chips (or Fritos)! Enjoy!
Our drink of choice: Margaritas! No vino today, my friends. Cheers!