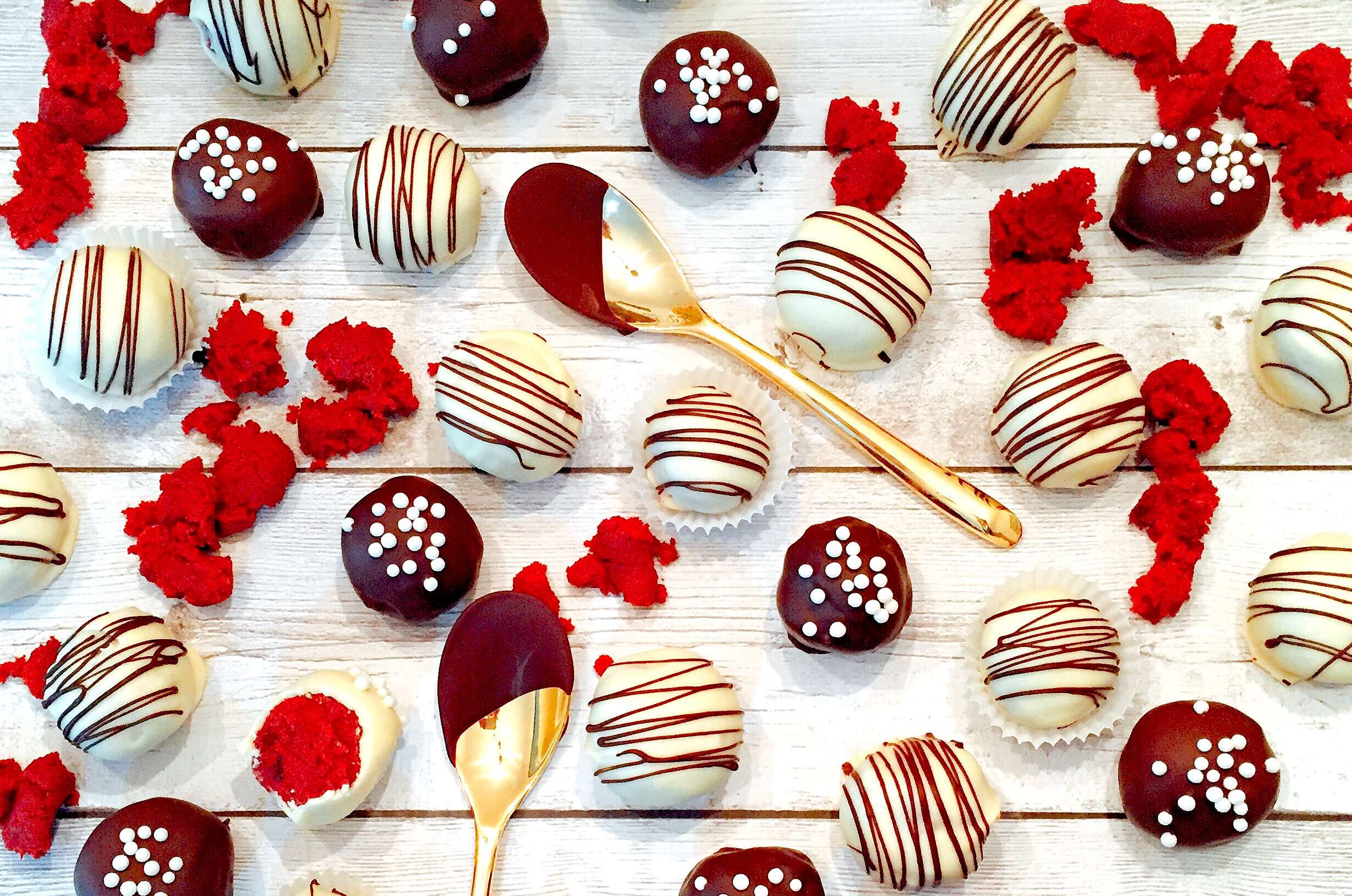 Roses are red, violets are blue, these sweet little nuggets were made just for you!
Okay, okay, my next career may not be in poetry, but I'm alright with that. I just turned 29, and am completely accepting of the fact that my favorite hobby includes photographing food and mastering the art of writing about food in both run-on and incomplete sentences.
I'll save my mental breakdown for next February when I turn th.. threoh. Ugh, 3-0. I can't even say the word because I'm absolutely terrified of it. I'm pretty sure, when I was a kid, I told myself I'd be so old when I turned 19, that I should avoid 19 at all costs. And now I'm 29. So there's that.
But the good news is I have the sweetest little family (the sous chef and our Swissy puppy whom I love more than wine) and wouldn't want to grow older with anyone else in the world. But this is getting a little too mushy for my liking, so let's get back on track here.
Red velvet + cream cheese frosting = match made in heaven. It's kind of like me and wine, we're going to be forever together. And with Valentine's Day [a.k.a my most favorite Hallmark holiday ever] right around the corner, these little nuggets will be the sweetest surprise for your someone special. And the best part? They're homemade [I mean, obviously I wouldn't post a recipe for store-bought truffles… step 1) get in your car… ha.] but I guarantee your special someone will totally appreciate the thoughtfulness and time you dedicated to making these tiny treasures.
And they're totally adorable. Almost too adorable to eat. But only almost, so definitely eat them!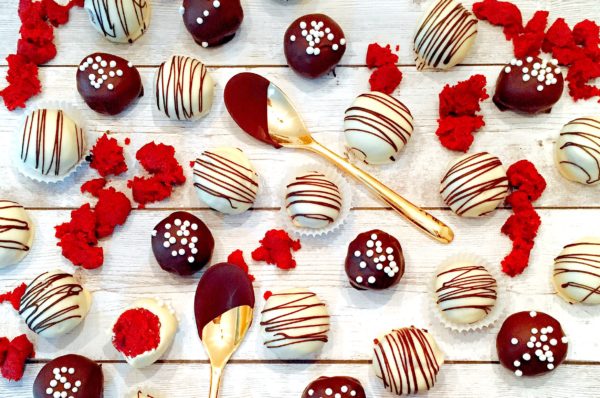 | | |
| --- | --- |
| | |
Bake the cake in a 9x13 inch pan according to instructions on the box. Allow the cake to cool.

Once cool, crumble the cake with your hands into a large bowl.

Add the cream cheese frosting to the crumbled cake, mixing well.

Line a baking sheet with parchment paper or tinfoil. Using your hands, roll the cake mixture into 1 inch balls, and place the truffles on the lined baking sheet. Place in the freezer for one hour.

Once ready to dip the truffles, melt the candy melts according to the directions on the package.

Using a spoon cover each truffle with the chocolate. Remove the truffle with a fork, brushing the underside of the fork on the edge of bowl, allowing excess chocolate to drip off. Place back on the lined backing sheet.

With a spoon (or small plastic bag with tip cut off), drizzle the alternate chocolate atop the truffles. Decorate with sprinkles if desired.

Place in the refrigerator for 30 minutes, allowing the chocolate to cool completely.

Store in an airtight container for up to 3 days in the refrigerator until ready to serve. Enjoy!
Our wine choice: Red wine. That's all. Chocolate's best friend. Mine too. Cheers!