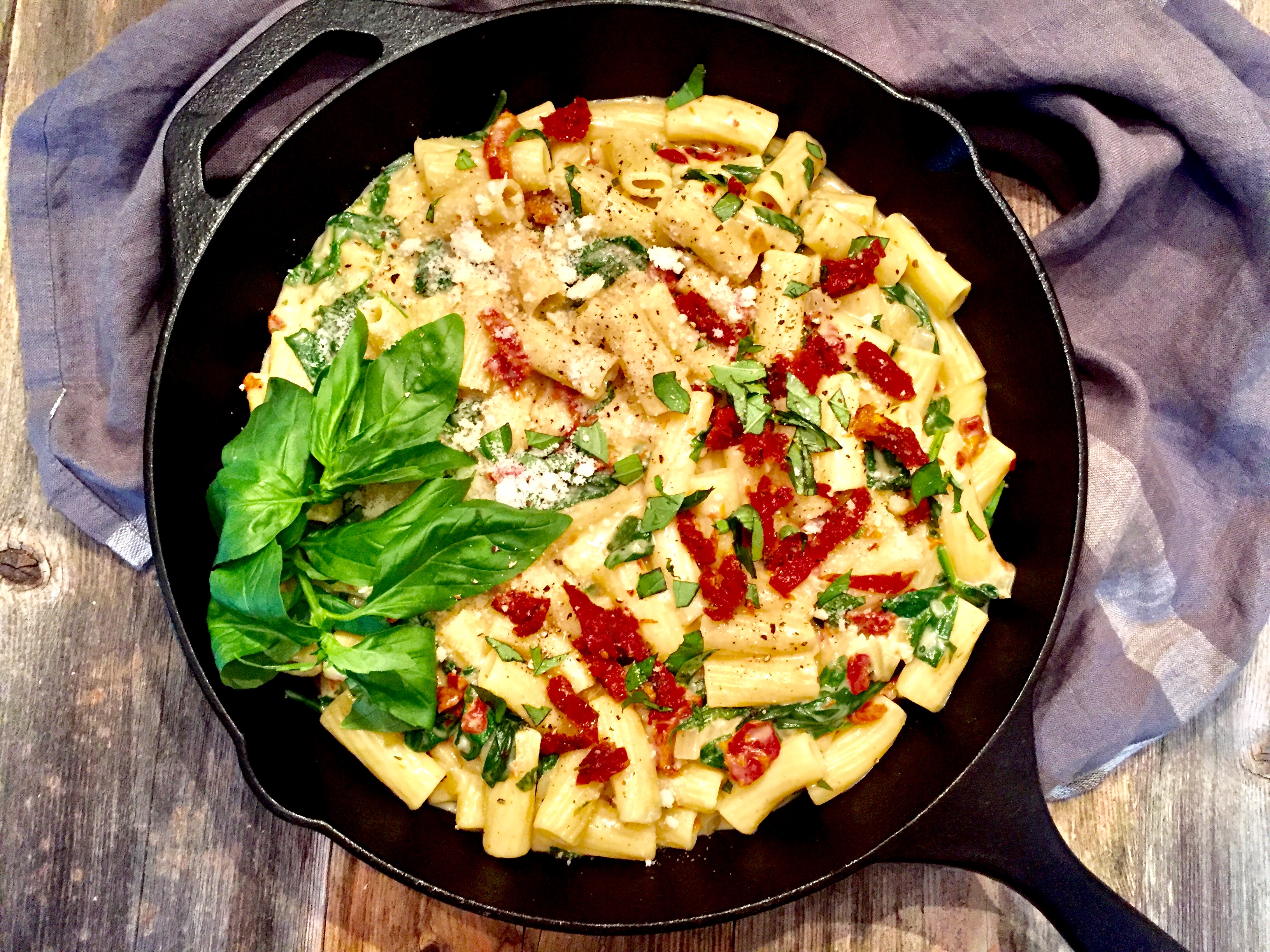 Oh, hi! Fancy seeing you here… when there just happens to be the best ever dreamy pasta recipe… fortuity, I'm sure…
Now they say there are pros and cons in every situation, right? So can we just chat about it for a hot second? When it comes to this pasta dish, the pro is pretty self-evident: this is unbelievably decadent and delicious. Slight con: this isn't exactly what I'd call 'bathing suit friendly'. But c'mon, live a little. We all know the beach is for fish.
Now when I told the sous chef I was making pasta for dinner, he first asked me whether I was feeling okay [because I almost never make pasta-anything… except for my latest tex-mex pasta salad. But this is pure coincidence. SWEAR.]. And of course I was feeling okay. More like I was feeling like a gosh darn genius, thankyouverymuch. I mean I wouldn't want to speak for the sous chef or anything [read: I have no reservations whatsoever speaking for the sous chef], but I'm pretty sure he fell in love with me all over again after eating this [#notsohumblebrag, anyone?].
It is seriously so satisfying. I may have snuck some spinach in here — for the sole purpose of trying to convince myself eating this was justifiable because it included something green [aside from the basil, which totally doesn't count]. But in the end, I think I came to accept that there is no redemption after gobbling down this creamy, cheesy pasta dish. And I don't need redemption. After a taste of this sinful pasta life, I realized I'm better off curling up in a bowl of dreamy pasta with a bottle of wine. I tell ya, Italians are on to something…
So if anyone needs me, you can probably find me in Tuscany, buried beneath wine barrels downing pasta [#carbloading].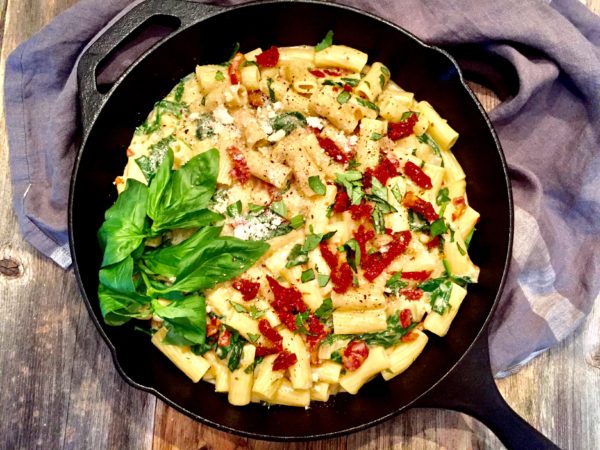 | | |
| --- | --- |
| | |
In a large saute pan, heat the butter and oil from the sun dried tomato jar over medium heat. Once hot, add the onion and cook for 8-10 minutes, until cooked through and they begin to brown. Add your minced garlic, and cook for an additional 1-2 minutes.

Deglaze the plan with your chicken stock, scraping up any brown bits. Add the heavy cream, sun dried tomatoes, basil, garlic salt, crushed red pepper, Parmesan cheese, and Pecorino Romano cheese. Let simmer for 2-3 minutes.

If the sauce is too thin, mix one tablespoon of cornstarch with one tablespoon of water until combined. Slowly pour the cornstarch slurry into the sauce, while whisking quickly. Let simmer for an additional minute, as it will continue to thicken.

Lastly, add your spinach to the sauce, stirring until wilted, about 3-5 minutes.

Add the cooked rigatoni to the sauce, stirring until combined. Serve hot, and top with additional Parmesan cheese. EAT!
Our wine choice: the 2013 Au Contraire Russian River Valley Chardonnay. This well-balanced, white has plenty of lemony and floral notes, followed by creamy, rich finish and a hint of spice. A beautiful white to enjoy with this decadent pasta. Cheers!