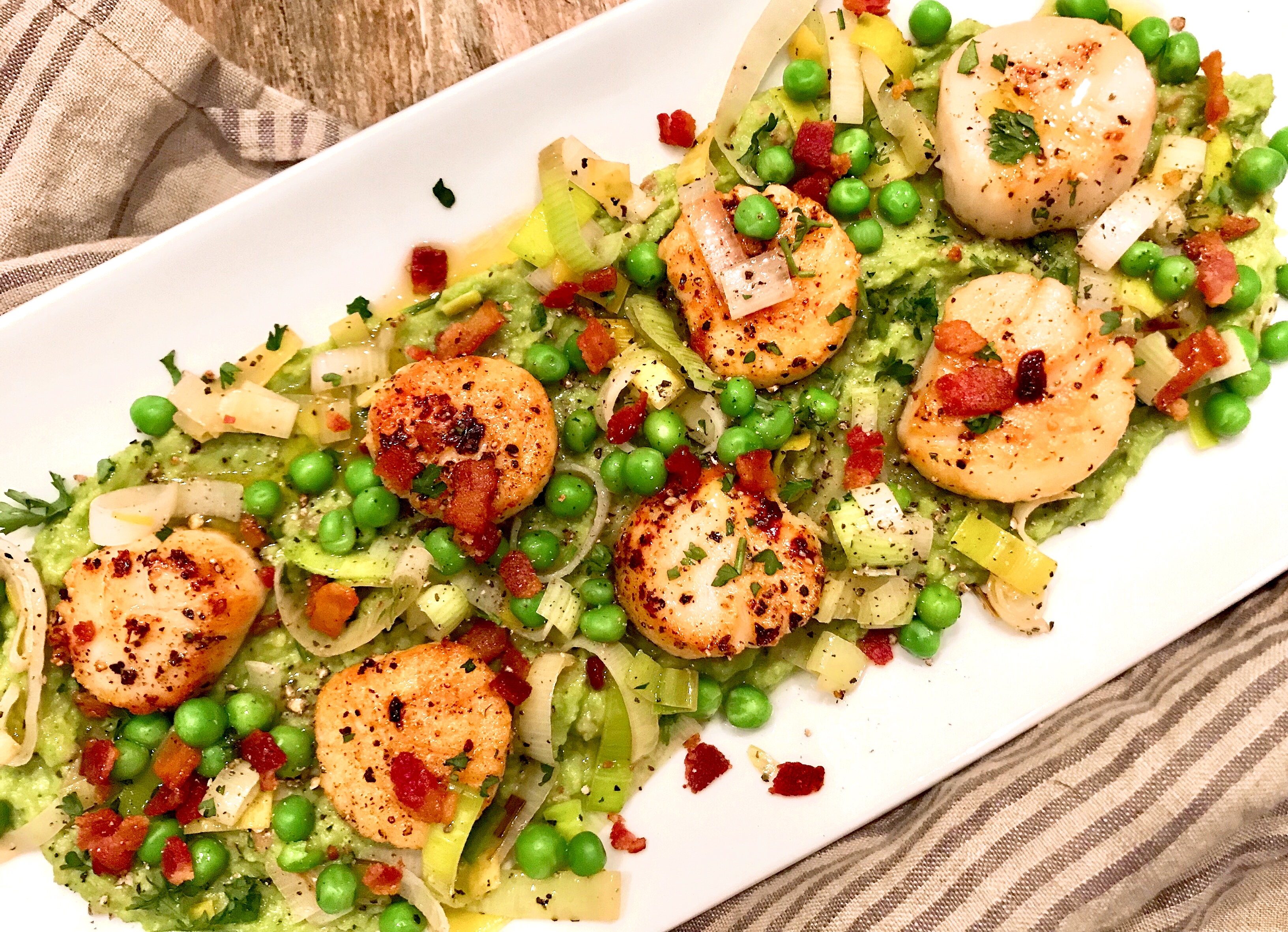 Hi, hi! So spring is just around the corner, right [or so I tell myself, with miserably cold weather and no sign of snow… [unacceptable, I know!]]? These bacon fat-seared sea scallops are the *perfect* recipe to jump start springtime — even if mother nature isn't on board [YES, mother nature, we're all looking at you].
This pea puree is melt-in-your-mouth amazing — and would honestly be brilliant with almost any fish, too [pirhana, guppy? I kid.]. But the caramelized leeks, salty little morsels of bacon, nutty Parmesan cheese, and bright. green. peas. Nothing but scrumptiousness. Is that a word?
I don't know about you — but I totally am one of those people who goes on and off of certain foods. You know, like the time the sous chef and I were vacationing in Maine, and I asked him to go out pick up some scallops for dinner [and some buttery Maine lobster to top the puppies off with] and he comes back with TWO POUNDS of scallops and TWO POUNDS of lobster, no shells, just meat [?!?!?!?!]. Yes. Four pounds of seafood for just the two of us. Also, I'm pretty sure we were leaving the next day. And I'm pretty sure he felt so guilty after getting all of that seafood he ate until he was sick [I'm clearly on a roll with appetizing posts].
Nevertheless, I don't think we had scallops and lobster for like, a year. And have joked about it for eternity. He stills wonders why I'm circumspect about sending him grocery shopping alone [when I do send him, I use *pretty* explicit descriptors… i.e. two large honey crisp apples [slightly yellow, mostly pink], firm, no bruises]. He calls it nueroticism, I call it quality control. To be honest, it's both. But that's our little secret…
But these scallops are amazing. You know, now that we're eating scallops again, and all. Seared in bacon fat, dressed up in this beautiful pea puree. For serving, I love keeping a handful of the whole peas, leeks, and crumbled bacon just for garnish — and it couldn't be more of a stunner. With a glass of white wine? Voila. Dinner is served.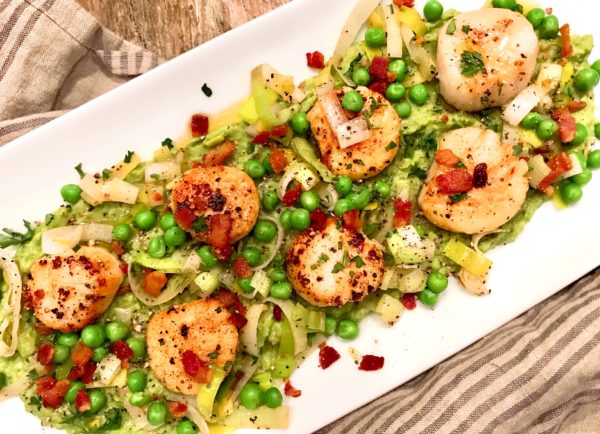 | | |
| --- | --- |
| | |
In a large pan, cook the bacon over medium heat until brown and crispy, about 7-8 minutes. Remove from heat and set aside. Once cool, crumble the bacon. Reserve 4 tablespoons of bacon fat, and discard any excess.

Using 2 of the 4 tablespoons, saute the leeks over medium heat until caramelized and golden brown, about 8-10 minutes. Add garlic and saute for an additional minute. Remove from pan and set aside.

In a food processor, combine the crumbled bacon, leeks and garlic, Parmesan cheese, and peas. Process for 30-45 seconds. The mixture will be thick. Add chicken stock 1/4 cup at a time, processing for 15-20 seconds in between, until smooth and creamy, and the desired consistency has been achieved. Season to taste with salt and pepper.

Pour the pea puree into a bowl, and tent with aluminum foil to keep warm (remove aluminum foil and heat through in the microwave as desired).

Season the scallops to taste with salt and pepper on both sides. In a large pan, add remaining two tablespoons of bacon fat over medium high heat. Once smoking hot, sear the scallops for 1 1/2 minutes on each side. The outer edges should develop a golden-brown crust, with the center of the scallop remaining translucent.

Serve immediately with the pea puree, and enjoy!
Our wine choice: the 2016 Bogle Chardonnay. This creamy, fruit-forward white has notes of apple and pear followed by a buttery, toasty finish -- a great wine to enjoy with these scallops. Cheers!