So first things first – after trying this beef and broccoli, the sous chef immediately states that this "tastes like real beef and broccoli…" I couldn't help but laugh, because it is really, really difficult to make beef and broccoli taste like chicken, cupcakes, seafood, or anything other than beef and broccoli – because, you know. It's beef and broccoli. If it tasted like anything else, I'd be concerned…
Okay, okay, I kid – I will stop being dense [read: don't count on it.]. But I actually appreciate the commendation from the sous chef, because of course he meant like the beef and broccoli you'd order for Chinese takeout. Whew! So mission accomplished.
But I need to be clear: if I make chicken, and the sous chef exclaims, "Wow, honey! This tastes just like chicken!" I need you to rest assured that's not a golden seal of approval, and I wouldn't bolt to the computer to share the recipe with you. And I don't know if I'd question my cooking ability or the sous chef's bewildering acknowledgement first. But that's okay. Because we haven't crossed that bridge thankyoujesus.
Buttttttt, back to the meat and potatoes broccoli here, this really was super yummy – and of course, of course, the sauce is m-o-n-e-y. As in, I'd be okay if you passed me a straw. Yes, to drink it… was that not obvious? What kind of savage do you think I am that I'd slurp it straight from the bowl? I've never done that.
Also, quick thing – the beef was super tender (which is a big thing for me!). And the trick is to not overcook the beef. No one likes tough beef. Amiright? See, we're always on the same page.
And oh, oh – the best part is how quick and easy this comes together. Like, I'm talking ordering Chinese is going to take longer. So, you know, you should probably just make this.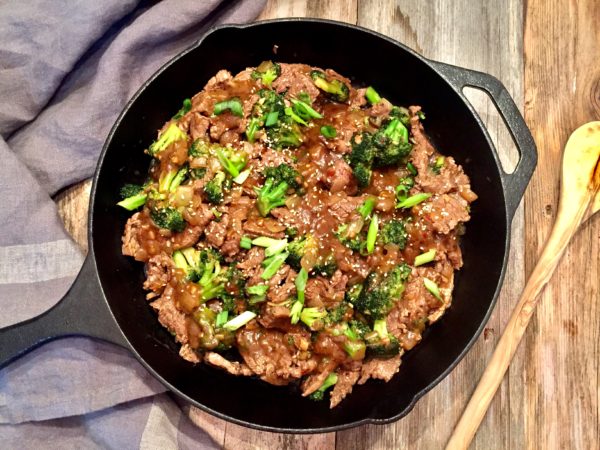 | | |
| --- | --- |
| | |
In a bowl, whisk together the soy sauce, beef broth, rice wine vinegar, honey, hoisin sauce, sriracha sauce, crushed red pepper flakes, and cornstarch. Set aside.

In a large skillet or wok, heat two tablespoons of sesame soil over medium-high heat. Once very hot, add the sliced flank steak and sear until it begins to brown and you've reached the desired doneness, about 5 minutes. Remove from heat and set aside.

Drain any excess liquid that may have accumulated in the skillet. Add the remaining tablespoon of sesame oil over medium heat. Add the onion and cook for 5-7 minutes until they begin to brown. Add the garlic and ginger, and cook for an additional 1-2 minutes.

Add the broccoli to the skillet, place a lid over top, and let steam for 2-3 minutes. Remove the lid and pour the sauce mixture over top. Return the beef to the pan. Let sauce thicken for an additional minute.
Our wine choice: the 2012 Susana Balbo Signature Malbec. This rich and ripe red has notes of dark berries, oak - with a well-rounded body and lingering finish, it'd make an excellent accompaniment for this beef and broccoli. Cheers!