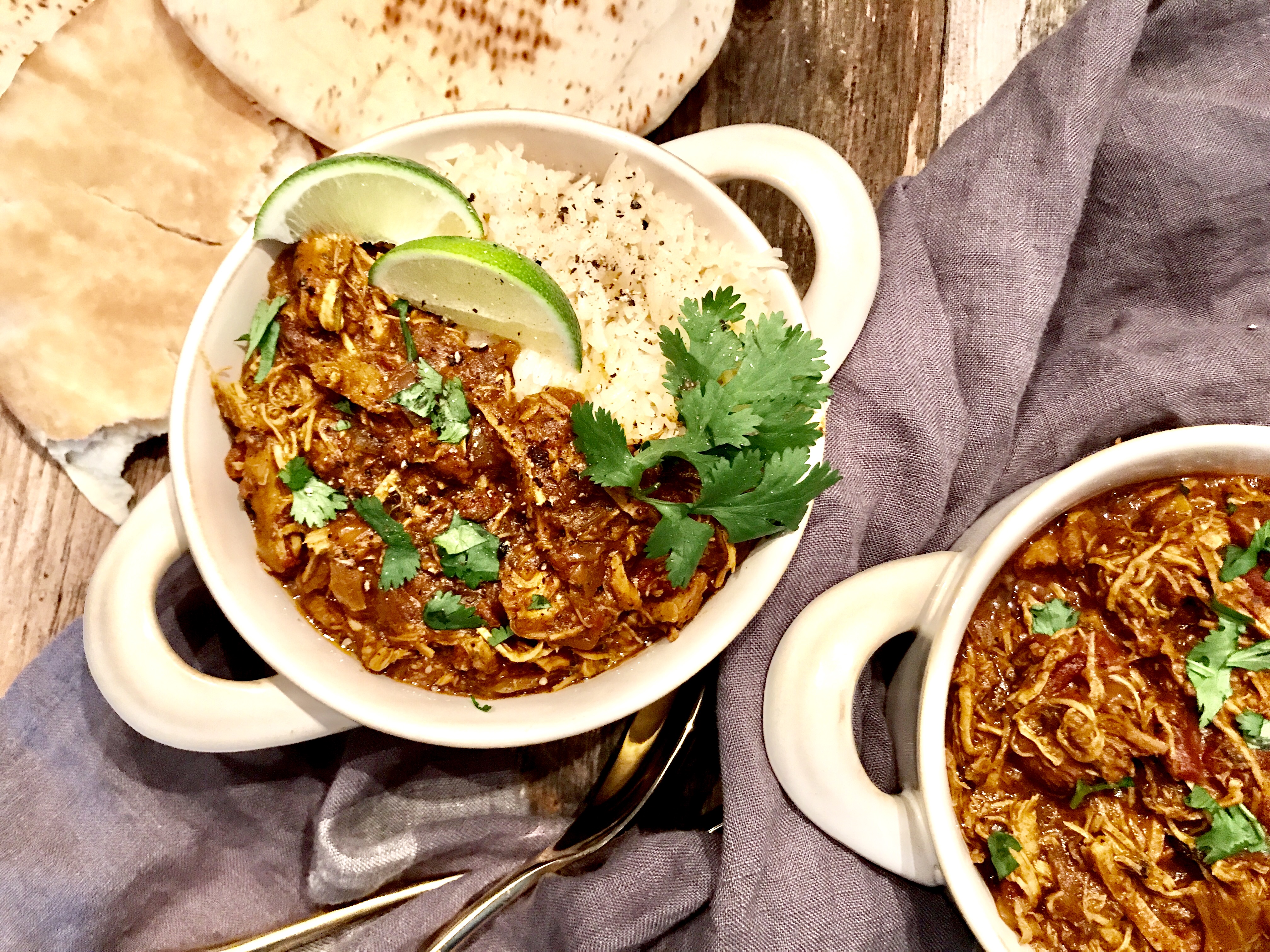 FRIENDS! I feel like I'm on a comfort food bender and let's just say I wouldn't have it any other way. My pants, on the other hand, may feel slightly different — just a hunch I have — but I wouldn't want to jump to conclusions [#spandexforlyfe]. Also, pro tip for the holidays: you don't have to worry about pants fitting if you don't wear any… AMIRITE!
It's been cold and rainy, and to be honest, I'll take any excuse I can to make comfort food-everything. Pretty much always. And this. This is SO delicious. There's something about the spices in Indian food that warms the soul. Truly.
The sous chef was so excited when I made this — I mean, Indian food is basically his favorite and he swears I deprive him of it [such a rough life, I know] — and this did not disappoint. It's SO easy and SO delicious. It's done in the slow cooker, and the chicken literally just falls apart, soaking up all of the flavorful sauce…. and my goodness, the flavor is ridiculous. It almost becomes stew-like — just absolute melt-in-your-mouth deliciousness, literally.
We served it over top of basmati rice, with a side of naan bread [because #yolo #carbloading #wintercoatinthemaking], and it was basically what my comfort food dreams are made of.
We recently visited one a very highly rated Indian restaurant in the D.C. area [see, the sous chef is not deprived *rolls eyes*], and I kid you not, we were in complete agreement that this rivaled some of the food we tried there [dare I say it was better?]. And for someone who doesn't make Indian food on the regular, it's safe to say I was pretty proud of myself — BUT, this also means that you, my friend, can also make ah-mazing Indian right at home with this recipe. Cheers to that [*clinks giant bowls of chicken curry together*]!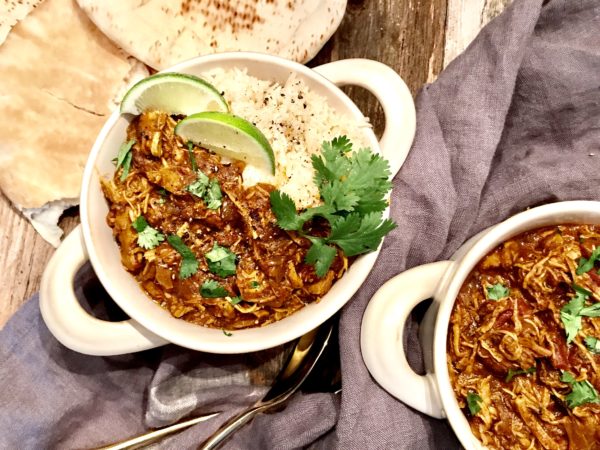 | | |
| --- | --- |
| | |
To the slow cooker, add the chicken breasts, onion, garlic, ginger, fire-roasted diced tomatoes, light coconut milk, crushed tomatoes, whole-fat yogurt, cilantro, garam masala, curry powder, turmeric, smoked paprika, coriander, tomato paste, salt, pepper, and cayenne. Stir until incorporated.

Cook on low for eight hours, until the chicken begins to fall apart.

Serve over basmati rice and with a side of naan bread. EAT!
You could certainly serve a white wine (chardonnay would be delicious) with this curry chicken -- but given that it's tomato-based (and my heart always says red wine), our suggested wine is the 2013 Shoofly Pinot Noir. This fruit forward red has notes of warm spice and vanilla -- a great choice to pair with this chicken curry. Cheers!