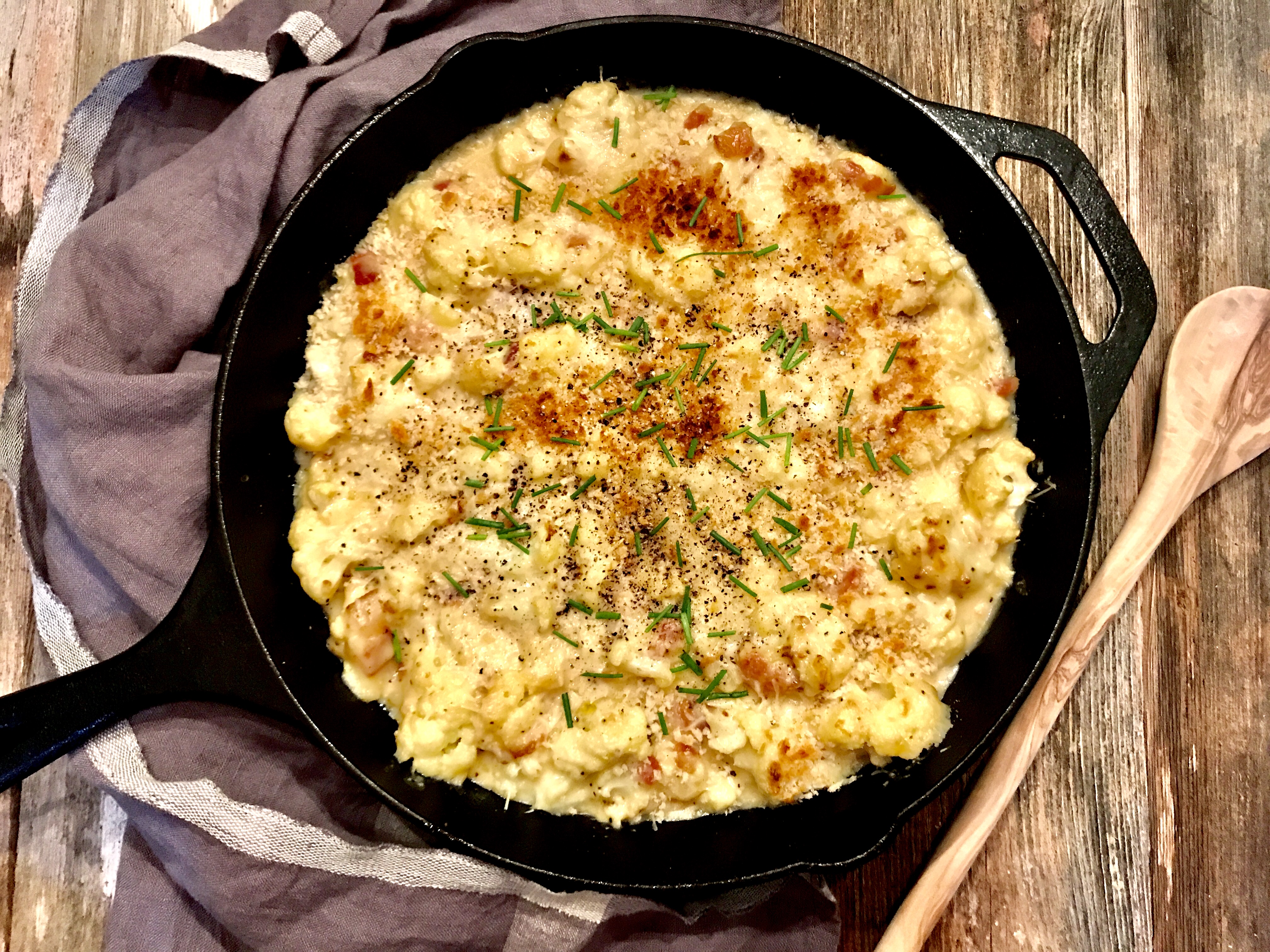 Fraaanndsssss, hello! Happy hibernation! No? That's just me who wants to sit in the corner, eating heaping spoonfuls of this drool-worthy cauliflower gratin this winter? Well, if you haven't already gotten on board with this extreme sport [that I'm clearly a huge proponent of], you're welcome to take part in this glory with me any day [obviously most effective when carried out as a team sport… i.e. I'd basically welcome anyone who's willing to spoon feed this to me…].
Words cannot even do justice the rich decadence of this smoked Gouda and bacon cheese sauce. In keeping with practice, I could not even help myself from literally taste-testing this sauce until it got to the point where I finally had to come to terms with the fact that there still needed to be some left for the cauliflower. But wow, was it ah-mazing. Smoky, salty, creamy… I'm wishing I could teleport back in time righttttttt about now. Yep.
And for those of you skeptics who may be questioning how insanely delicious cauliflower can be, look no further. Because all of those itty-bitty roasted golden nuggets of cauliflower are doused in this ridiculous smoky bacon cheese sauce, topped with crispy breadcrumbs and MORE cheese… can you go wrong? I KNOW not. Like, I may or may not have had this for breakfast the next day. Just sayin'.
The sous chef was also obsessed with this — he smoked a gorgeous brisket to go with this, and the combination was a ridiculously delicious southern-inspired treat.  This gratin is a seriously perfect holiday side dish — would go *perfectly* with a baked ham [I mean… #porkonporkonpork #whatmydreamsaremadeof], and importantly, is ideal for a crowd. Or just you… 'cause YOLO.
Welp, wait no further, grab that holiday menu and PUT THIS ON IT. No questions allowed. You're welcome!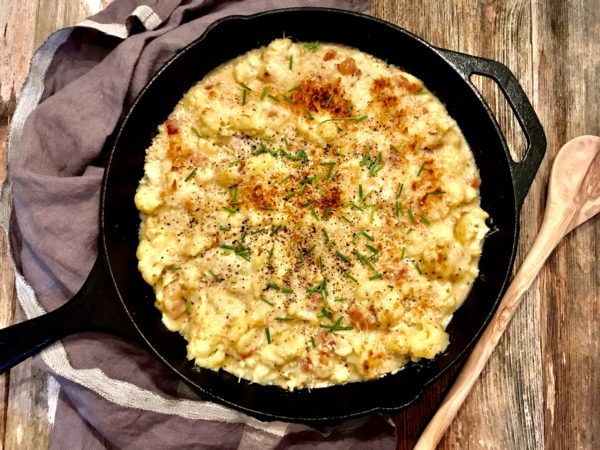 | | |
| --- | --- |
| | |
Preheat the oven to 425. Place the cauliflower florets on a baking stone or sheet. Drizzle with olive oil, and season with salt and pepper. Roast for 25 minutes, or until tender. Remove from heat and set aside.

While the cauliflower is roasting, add the butter to a cast iron skillet over medium heat. Once hot, add the shallots and garlic. Saute until they begin to turn golden-brown, about 4-5 minutes. Whisk in the flour, and let cook for 2-3 minutes.

Slowly pour the milk into the skillet, whisking quickly to smooth any lumps. Let the sauce simmer for 3-4 minutes, until it begins to thicken.

Add the grated Gouda cheese and 1/2 cup of Parmesan cheese to the sauce. Stir until melted. Add the crumbled bacon to the sauce. Season to taste with salt and pepper.

Add the roasted cauliflower to the skillet, tossing in the cheese sauce until coated. Sprinkle the remaining 1/2 cup of Parmesan cheese and panko bread crumbs on top.

Place under the broiler until bubbly and brown, about 2-3 minutes. Serve hot, and enjoy!