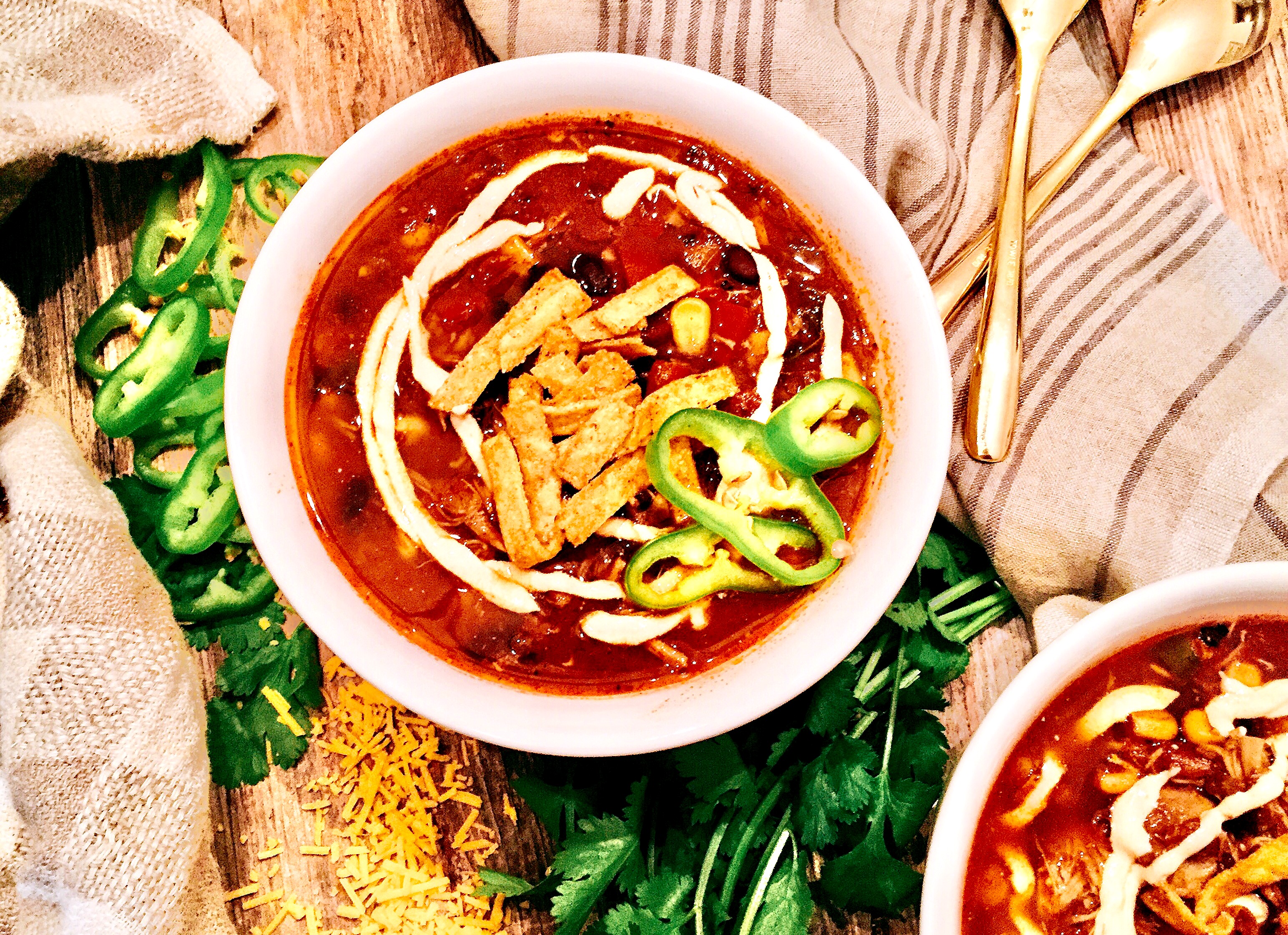 I love everything about Mexican food, period. Tacos, burritos, ceviche, taquitos, fajitas, every kind of salsa under the sun, and enchiladas are no exception. You name it, I'll eat it.  But what's equally as delicious as enchiladas, and just a teensy weensy bit healthier? This smoky chicken enchilada soup.
Because, well, it's low-carb, and pretty low-cal [that is, until you top these glorious bowls of spicy soup with cheese and sour cream. But c'mon, my friends… #yolo]. But in all seriousness, for those of you entertaining the strange, foreign concept of a "diet" right about now [read: the sous chef… *rolls eyes*], this probably fits the bill. And you don't even have to sacrifice on flavor [another recipe that I can't get enough of is the Mexican cauliflower rice, which incidentally happens to be healthy, too]. All the flavors are there. Trust me.
Is it because I accidentally happened to put an entire cup of enchilada sauce in this baby [#sorryimnotsorry]? Maybe. But it is enchilada soup, after all, so it seemed fitting at the time. Or perhaps it's the smoky, delicious adobo sauce that gives it the depth of flavor. Who knows. I'm going to err on the side of caution, and just say it's everything. All I do know is that I'd literally bathe in this soup. And would ask for a straw at the same time. Too far? Maybe. Don't judge.
But can we just talk about the chicken in this, for just a sec? It is literally the best part. And me, saying chicken is the best part, is not normal. After slow cooking this baby for 8 hours, the chicken is literally falling apart, and melts in your mouth. Like, SO good.
Okay, last thing – swear – before I let you sprint to the store to get all of the ingredients for this incredible soup: this is such an easy recipe. You literally throw all of the ingredients in the slow cooker, and voila. The sous chef has been insistent on me making easy recipes, and it doesn't get easier than this. Not to mention, this soup will make you look like an actual genius.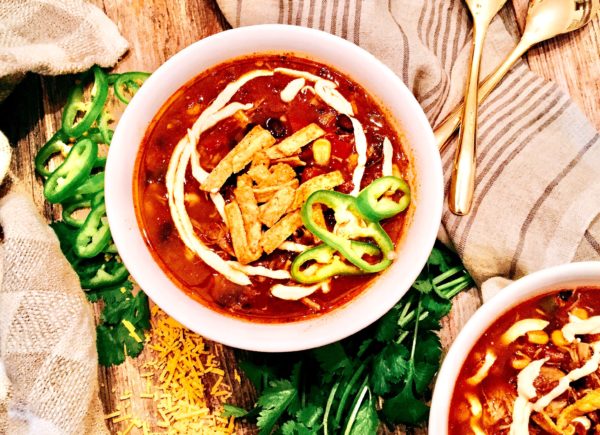 | | |
| --- | --- |
| | |
To the slow cooker, add the chicken stock, black beans, fire-roasted diced tomatoes, frozen corn, enchilada sauce, fire-roasted green chiles, boneless chicken thighs, cilantro, onion, bell pepper, garlic, adobo sauce, chili powder, ancho chili powder, smoked paprika, cumin, oregano, garlic salt, and chicken bouillion.

Place the lid on the slow cooker, and cook on low for 8 hours.

Remove the chicken thighs, and shred the chicken using a fork. Return the shredded chicken to the slow cooker. Mix well, and serve.

Optional: top with sour cream, cheddar cheese, and tortilla strips. Enjoy!
Our wine choice: The 2009 Crios de Susana Balbo Torrentes from Argentina. This crisp, refreshing white has succulent notes of fresh fruit, and has a slightly spicy finish. Cheers!