My friends, this is the stuff that dreams are made of. The smokiness of the chicken, the crispiness of the skin…. and yes, you know exactly where I'm going with this: the sauce. It is 100% acceptable [read: expected] that you use an inappropriate amount of sauce with this chicken. Because the sauce is just that good.
I mean, I'm not trying to be dramatic [….this sauce DESERVES dramatic….], but this is legit in my top three sauces ever. Do I have a running list? Maybe [some things are just better left unsaid]. But seriously — it's slightly spicy, smoky, creamy, garlicky… words just can't even do it justice.
We grilled the chicken on charcoal — but if you don't have a charcoal grill you can of course use a gas grill. The charcoal just adds to the smoky goodness. And there are many different ways to grill a spatchcock chicken: some call for flipping it the last five minutes to crisp the skin, some flip a quarter of the way through — but we kept it skin-side up the whole way through, and the skin was perfectly crispy and the chicken was super succulent.
If you're wondering what 'spatchcocking' is, it's a technique referring to the removal of the chicken's spine, effectively butterflying it, and allowing it to lay flat (and therefore cooking faster).
And I've been wanting to share a spatchcock chicken with you for some time now. It started with a pesto-rubbed spatchcock chicken, and it was SO good. But after taking it off the grill, the pesto had charred and sadly the chicken just wasn't appetizing looking enough to photograph! Those are the absolute worst… when the recipe itself is hands down delicious… and yet I still can't bring myself to share the shameful photos with you. *insert pouty face here*
But back to the bird at hand here. This was so good. And let me be clear: I'm not exactly the biggest fan of chicken, period. For me, chicken can be boring, and so I gravitate toward ways that I can spice it up [ummm… and sauce it up], literally. And as a testament to how much we enjoyed this recipe, the sous chef even said this was worthy of making for guests — which for me, making chicken for guests is like having guests over and not serving wine. It just doesn't happen. And YET, I was in complete agreement.
So there you have it. A chicken recipe worthy of a dinner party. Just please invite me, and I'll bring the wine.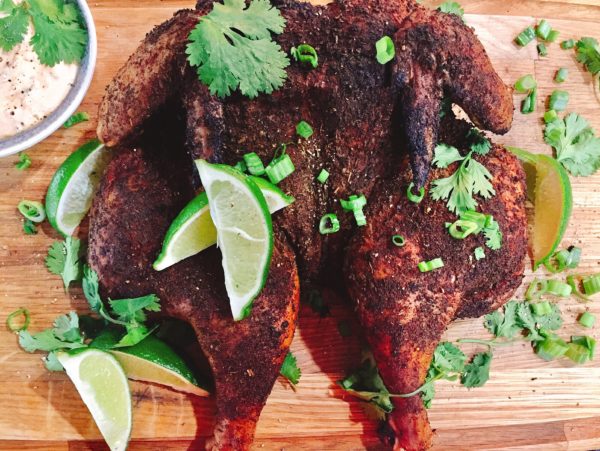 Southwest Spatchcock Chicken
| | |
| --- | --- |
| Southwest Spatchcock Chicken | |
Southwest Spatchcock Chicken
Heat your charcoal grill to 450 degrees.

In a bowl, whisk together the salt, chili powder, oregano, garlic powder, smoked paprika, dried thyme, onion powder, ground pepper, and ground cayenne.

Rinse the chicken and pat dry. Place chicken, breast side down, on a cutting board. Using poultry shears, cut along both sides of backbone, and remove backbone. Turn chicken breast side up, and open the underside of chicken like a book. Using the palm of your hand, press firmly against breastbone until it cracks. The chicken should lay flat.

Season the bird generously with the spice mixture.

Once the charcoal grill is preheated, place the chicken on the grill (skin-side up). Grill for 45 minutes to 1 hour, until the internal temperature of the chicken breast reaches 165 degrees (NOT thigh, which is different than typical - as the chicken is butterflied, the breasts are farther away from the heat than the thighs). Serve with sauce, and enjoy!
In a bowl, whisk together the sour cream, garlic, adobo sauce, lime juice, cilantro, salt, and pepper. Refrigerate until ready to serve.
Our wine choice: the 2015 Forest Estate Sauvignon Blanc. This fruit forward crisp white has notes of guava and is packed with citrus and lime flavors -- it's a perfect cool white to pair with this zesty chicken. Cheers!