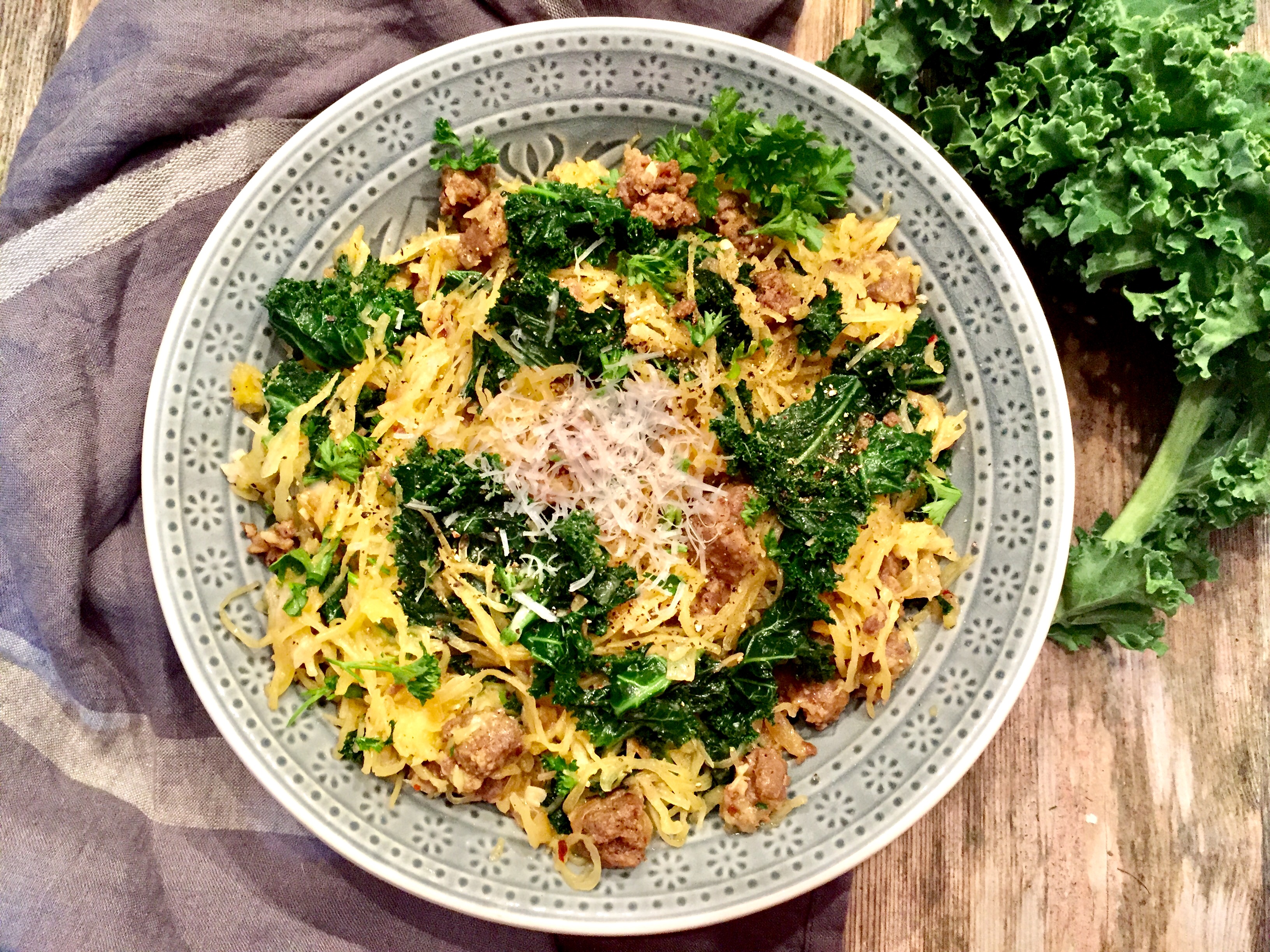 My friends, the struggle is real. My heart says pasta, and my diet says wine no. This is one of my favorite lightened up versions of aglio e olio to make. And in my opinion, it's just. as. satisfying. Is it because there's three pounds a [very generous] cup of cheese in it? Maybe. And salty little bits of hot Italian sausage? Probably. But you know what, there's no pasta. And the net carbs in this baby is virtually negative. So go forth, have an extra glass of wine [er, or three] with this.
Now I'm kind of a garlic addict, and put way to much garlic in everything, so of course this is right up my alley – a justifiable excuse to use 8 cloves in a single dish. Just make sure you brush your teeth afterward… #PSA for your someone special.
In case you're asking yourself what 'aglio e olio' actually translates into, it's "spaghetti with garlic and oil" in Italian. Sauteed garlic + olive oil + goblets of Parmesan + a touch of crushed red pepper = dreamy. And what better guilt-free vehicle to use to get all of that scrumptiousness into your mouth than spaghetti squash? Answer: none.
For me, the trick to spaghetti squash is simply not roasting it into oblivion. If you cook it until it's just tender enough to scrape into pasta-like strands, it's perfect — and still has it's texture. I feel the exact same way about zucchini noodles. When using pasta substitutes, texture is king, and let's be honest, nobody likes mush.
So for those of you out there feeling like you still need all of the comfort food feels without nearly as much guilt, this is right up your alley. And I mean really, there's kale in this. Doesn't that offset any calories from cheese and olive oil?
Pair this with a nice glass of wine = life complete.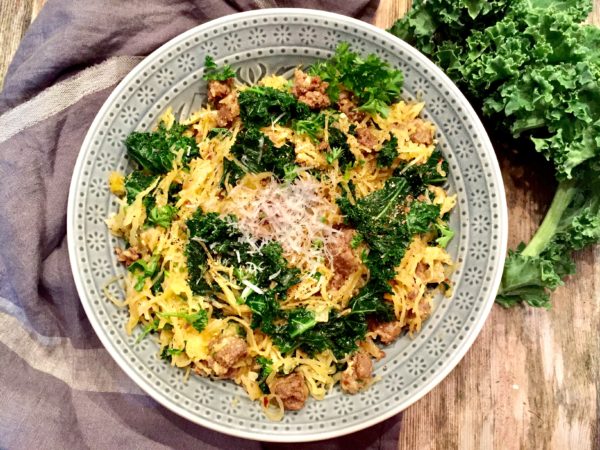 | | |
| --- | --- |
| | |
Preheat the oven to 425 degrees. Slice the spaghetti squash in half, removing the seeds from the center. Place the halves cut-side up. Drizzle each half with a tablespoon of olive oil, and season with salt and pepper.

Roast for 35-40 minutes, until just tender and you're able to remove the spaghetti squash strands with a fork. Once finished, let cool. Scrape out the spaghetti squash with a fork, and set aside.

While the spaghetti squash is roasting, place a large pan on the stove top over medium heat. Add the hot Italian sausage, breaking it up into small bite size pieces with a spatula. Cook through until golden brown on the edges, about 8 to 10 minutes. Remove from heat and set aside.

Discard all but 2-3 tablespoons of fat from the pan. Still over medium heat, add the onion and cook for 8-10 minutes until cooked through and the onion begins to brown. Add the garlic, and saute for an additional 1-2 minutes.

Add the kale to the pan, and cook down until the kale has wilted and turns bright green, about 6-8 minutes. Add the crushed red pepper. Season to taste with salt and pepper.

Return the cooked sausage to the pan, followed by the cooked spaghetti squash. Mix well.

Drizzle the remaining 1/4 cup of olive oil over the spaghetti squash, and add the Parmesan and Pecorino Romano cheeses, stirring until combined. Season to taste. Serve hot and enjoy!
Our wine choice: the 2013 Oak Ridge Zinfandel. This voluptuous red is one of our favorite go-tos -- a full-bodied zinfandel with notes of blackberry, caramel, and subtle pepper with a lingering and velvety finish. While this is a great wine anytime, we think it'd go particularly well with this dish. Cheers!