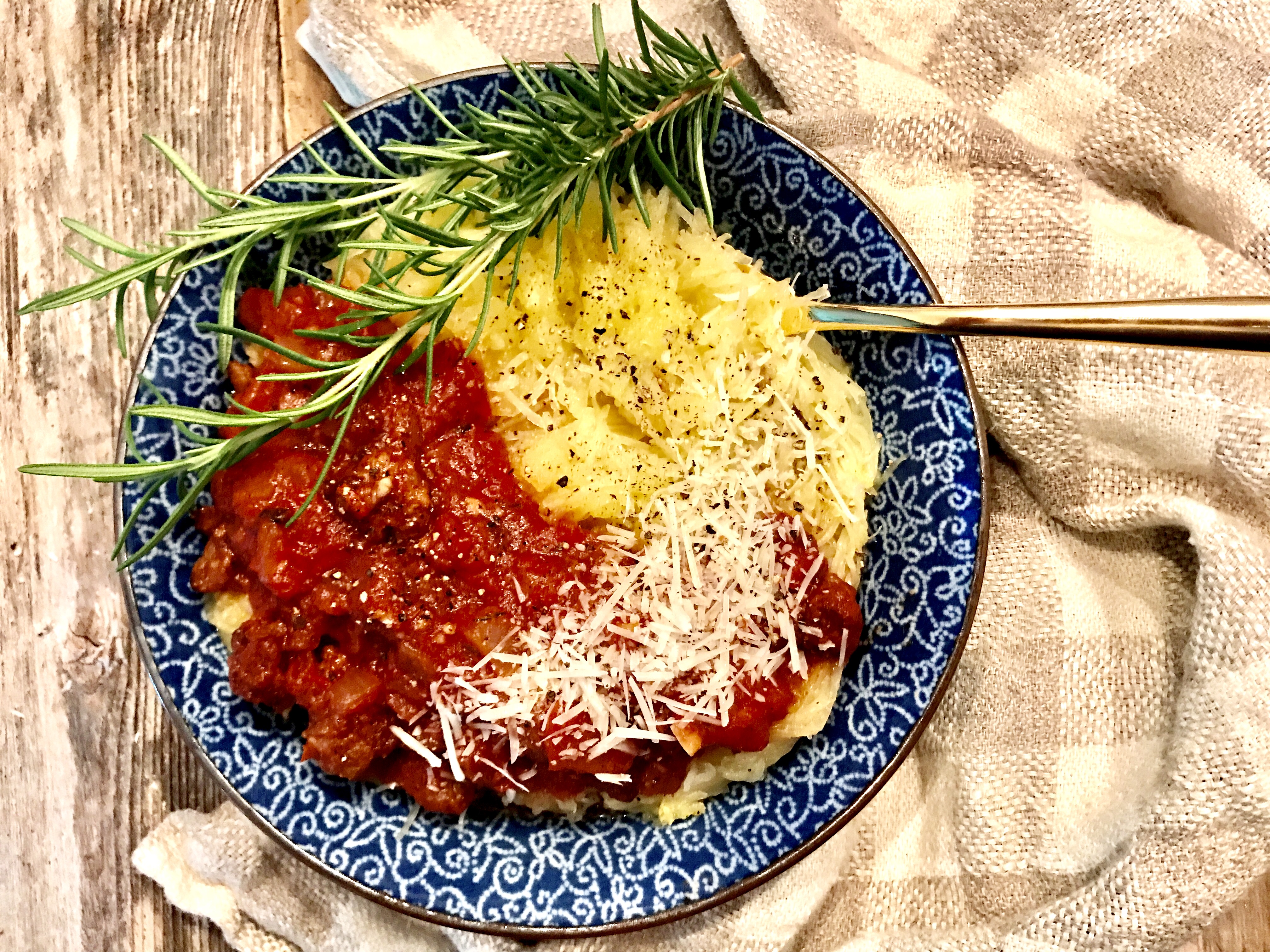 Ya'll. I know it's still August, but I'm so overly excited for fall that it's probably bad form — but I'm totally alright with that. I'm basically over here sitting in a hay field waiting for a tractor full of pumpkins in a chunky scarf and boots, sipping on wine pumpkin-flavored coffee, frolicking in the leaves. Are hay fields full of leaves? No idea, but it sounds legit.
Alright, real life update: inappropriately cooking bolognese on a 103 degree August day, telling myself it's totally fine because my readers [hi, mom!] need to start thinking about their go-to fall recipes. But listen. It really is okay, because we obviously made this with spaghetti squash instead of spaghetti, spaghetti. So it's still bathing suit friendly, right? You know, for those of you weirdos hot weather fans who are still hung up on summer [BYE]…
So let's get down to the meat of this bolognese: it's of course hot Italian sausage, because, um, we're all here for flavor! I've never understood the rationale behind using ground beef in bolognese. Hot Italian sausage > ground beef. Always. And then there's the beef bouillon and Worcestershire which add so much depth to this sauce. Honestly, the longer you can simmer this baby, the better, too. Finished off with some crushed red pepper flakes, and fresh rosemary and thyme? WHERE'S THE DOTTED LINE, because, sign me up [I have terrible, terrible jokes].
This is seriously one of those recipes you need to keep in your back pocket all fall/winter long. It comes together in 45 minutes, and is seriously impressive. And I know I'm basically biased because I have an unhealthy addiction to sauces, and tomato sauce more specifically [exhibits A, B, and C, to name a few] — but the sous chef was ALL about this, too.
And last, but never least! Enjoy this with a glass of red wine or three, and voila: cool weather ready. Boom.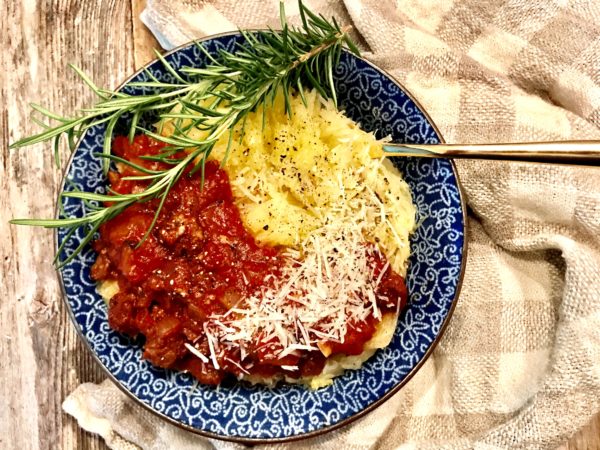 | | |
| --- | --- |
| | |
Preheat your oven to 425 degrees. In a large pyrex pan (or roasting pan), place your spaghetti squash flesh side-up. Drizzle two tablespoons of olive oil over all four halves, and season with salt and pepper.

Roast the spaghetti squash for 45 minutes. Once finished roasting, remove the squash from the oven and let cool.

While the spaghetti squash is roasting, place a large pan on the stove top over medium heat. Add the hot Italian sausage, breaking it up into small bite size pieces with a spatula. Cook through until golden brown on the edges, about 8 to 10 minutes. Remove from heat and set aside.

Still over medium heat, add the onion to the same pan and saute for 8-10 minutes until cooked through, and the onion begins to brown. Add the garlic, and saute for an additional 1-2 minutes.

Add the red wine to the pan. Let simmer until reduced by half, about 5 minutes. Add the crushed tomatoes, fire-roasted diced tomatoes, beef bouillon cubes, tomato paste, white sugar, Worcestershire sauce, rosemary, thyme, dried oregano, crushed red pepper flakes, and cooked sausage. Season to taste with salt and pepper.

Reduce heat to low, and let simmer until the spaghetti squash has finished roasting. Serve over spaghetti squash, and top with Parmesan cheese. EAT!
Our wine choice: the 2014 Federalist Lodi Zinfandel. This smooth red is well-balanced and full of toasted oak and dark berry flavors. A touch of cinnamon adds warmth to its lingering, dry finish. A great wine to pair with this beautiful bolognese. Cheers!