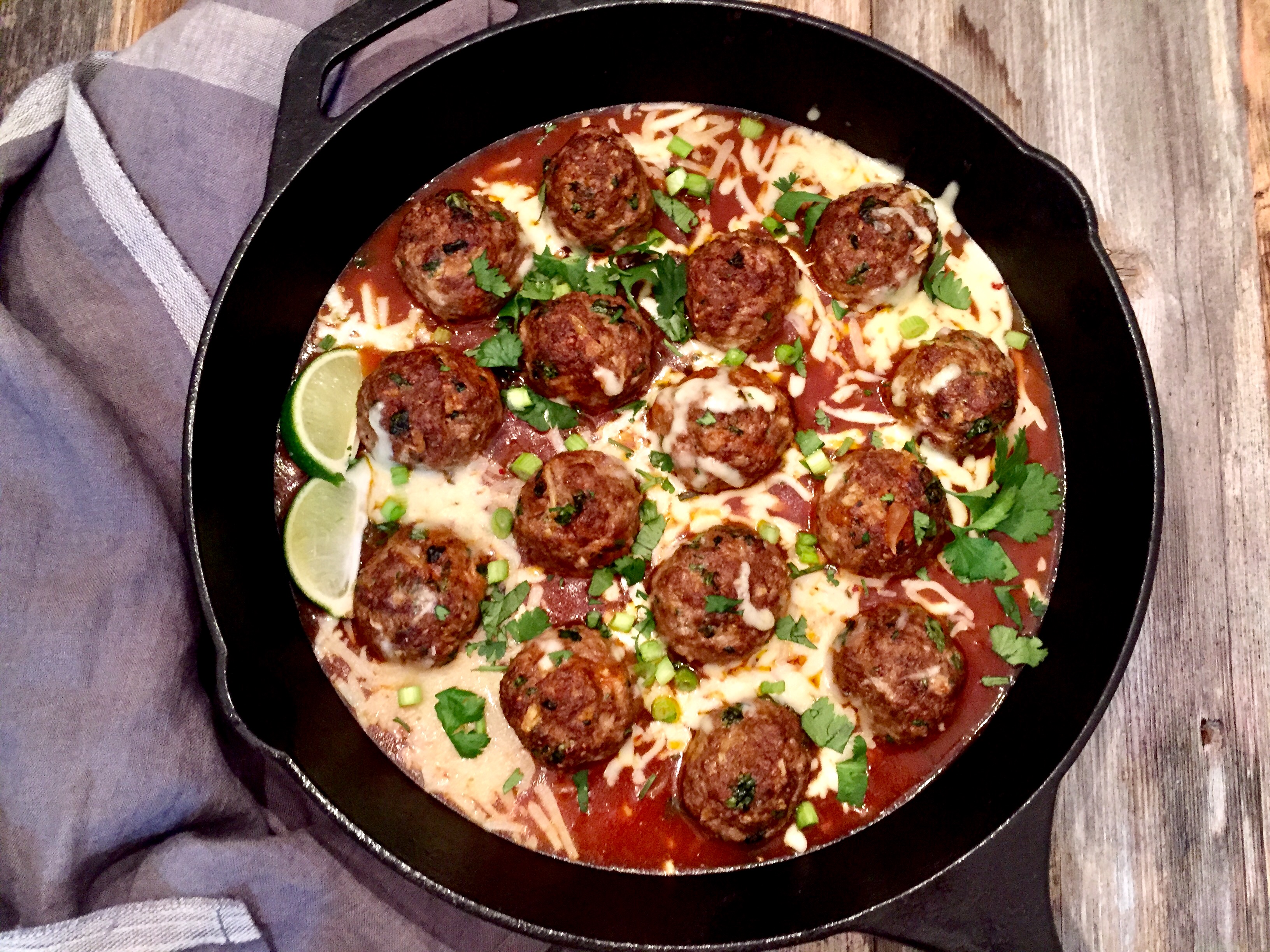 My favorite dishes are ones that are most practical to eat with a spoon rather than a fork. Because, you know, the spoon's a vehicle for sauce, duh [um, #saucegamegoals]. And be still my heart, the sous chef suggested the spoons. So many reasons why I married this guy. This one is up there.
I was actually starting to wonder if I even know how to make a recipe without sauce, or a condiments – and then I quickly came to my senses and remembered that I have absolutely no interest in doing that, and I moved on pretty quickly [reveling in how delicious these saucy meatballs are].
The best part about these little nuggets is how easy they are to whip up. And they're basically flavorbombs. Packed with tons of spices and herbs, simmered in spicy enchilada sauce, topped with pepper jack cheese: this is clearly a recipe for success… oh, and with your name written all over it [pinky promise!]. And by the way, we had this for dinner – but these would be great party appetizers, too!
So I fully intended to make this with zoodles, or some-other-something-green, as I pretty much always do – but this was totally one of those days where time got away, and honestly was just too lazy – that said, I did NOT think I'd catch flak from the sous chef about not serving anything green! But I did. Go figure.
I tried to play it off as meat-Monday [I think the trend is meatless Monday – but I was close?]. He didn't buy it. And wasn't about to believe me that the cilantro or green onions counted [they don't, I know]. But these would be great with zoodles, so don't shy away [read: don't be lazy like me]. Go forth and do great things.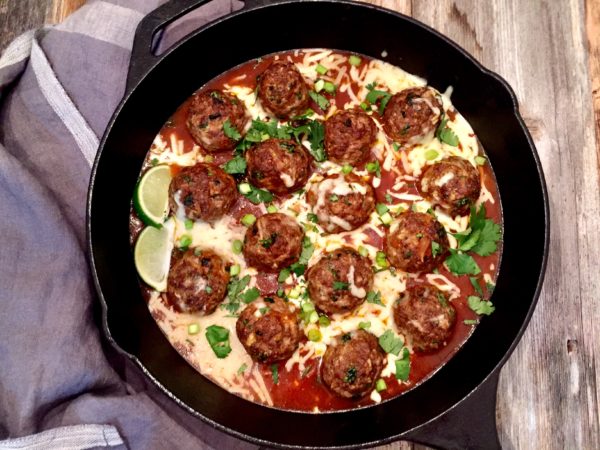 Spicy Enchilada Meatballs
| | |
| --- | --- |
| Spicy Enchilada Meatballs | |
Spicy Enchilada Meatballs
Preheat the oven to 400 degrees.

In a large bowl, combine the ground beef, grated onion, garlic, egg, cilantro, oregano, smoked paprika, ancho chili powder, cumin, garlic salt, pepper, hot sauce, panko, and 1/4 cup of the pepper jack cheese.

Using your hands, combine the ground beef mixture until well incorporated.

Shape the mixture into golf-ball sized meatballs (about an inch and a half in diameter).

Place the meatballs in a 9x13 inch pan lined with tin foil. Bake for 18 minutes. While the meatballs bake, prepare the enchilada sauce.

Once the meatballs have finished baking, transfer to a skillet, discarding all fat. Turn the broiler on in the oven.

Pour the enchilada sauce over the meatballs, followed by the remaining 1/4 cup of pepper jack cheese. Broil for 2-3 minutes, until the meatballs begin to brown and the cheese melts. Serve and enjoy!
In a sauce pan, add the olive oil over medium heat. Saute the onions for 6-8 minutes, until cooked through and the onions start to brown. Add the garlic and cook an additional minute.

Add the red enchilada sauce, followed by the cilantro. Mix well and season to taste with salt and pepper. Let simmer on low, until ready to combine with the meatballs.
Our wine choice: the 2010 Casone Toscana. Made up of 80% sangiovese and 20% syrah, this medium-bodied red has notes of pepper and balsamic; with good complexity and a smooth finish, it's a great wine to pair with these spicy enchilada meatballs. Cheers!