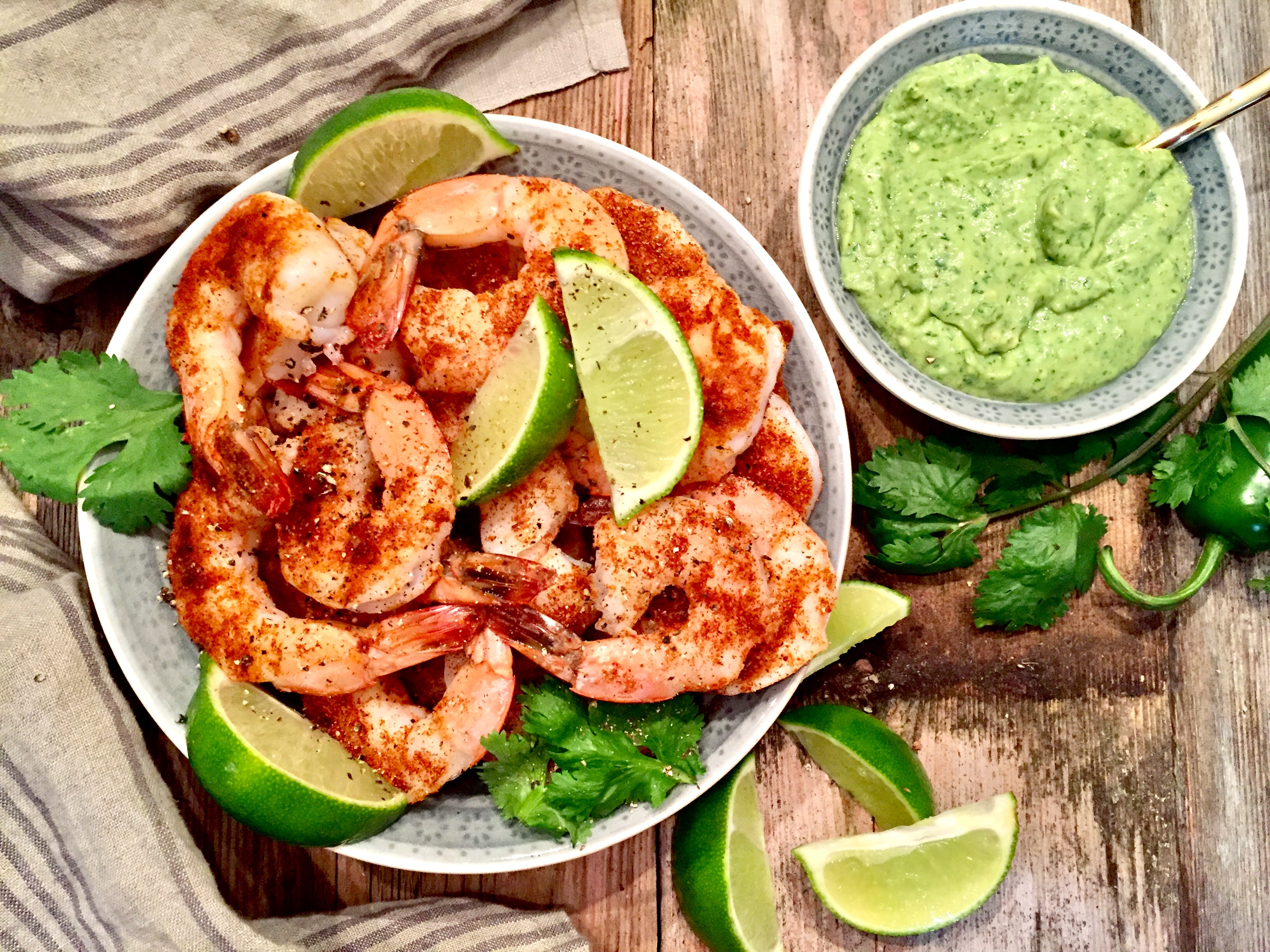 This is basically a summer shrimp cocktail. And it's a perfect combination: spicy shrimp with a cool, avocado dipping sauce that discernibly tastes like heaven.
The end.
Okay, okay – though that sums it up to a tee, this dipping sauce deserves a bit more of a shout out.
So the sous chef and I shamelessly have a side of avocado with our dinner pretty much every night [#slightlyobsessed], so it comes as no surprise we wanted to refashion beauteous avocados and whip them into this glorious dipping sauce.
Now, naturally I went a *teensy* bit overboard and made probably 3 times the amount of dipping sauce that anyone could need for this – but I will say, this also makes an excellent salad dressing [Am I a little too focused on sauce? Probably. Would I have it any other way? Absolutely not,].
Back to the point: the shrimp were all gone; and sitting all by its lonesome on the dinner table was the leftover dipping sauce. In an instant, the sous chef picks up a spoon, and proceeds to eat it by the spoonful. He then stops, asks if we have any chips [we didn't], so he finishes eating it by the spoonful. Two things on this: 1) it probably would be excellent with chips, too. 2) again, he's clearly a man after my own heart.
Now, don't get me wrong – I love a classic shrimp cocktail recipe. But my friends, this has all the summer feels, and is a perfect appetizer for any occasion. Did I mention it comes together in a snap?
xoxo,
Your sauce freak [the shrimp are great, too – pinky promise!]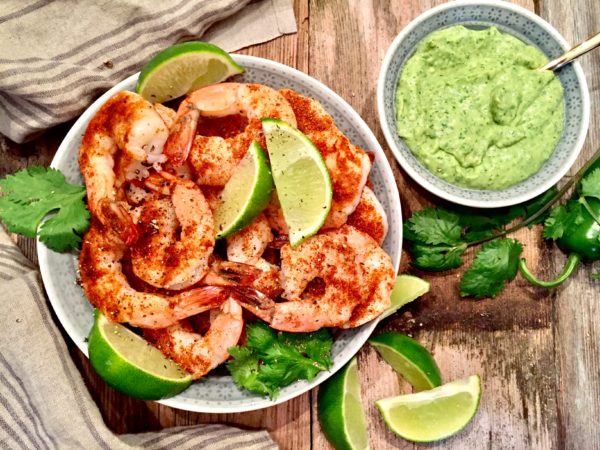 Avocado-Cilantro Dipping Sauce
| | |
| --- | --- |
| Avocado-Cilantro Dipping Sauce | |
Preheat your broiler to 500 degrees. In a bowl, combine the smoked paprika, cumin, onion powder, garlic salt, chipotle chili powder, pepper, and ground cayenne.

Season the shrimp with the spice mixture. Broil the shrimp on each side for 2-3 minutes, until opaque and cooked through.
Avocado-Cilantro Dipping Sauce
In a food processor, pulse together the avocado, buttermilk, cilantro, jalapeno, lime juice, garlic, green onion, cumin, garlic salt, and pepper until smooth and creamy.

Serve with shrimp, and enjoy!
Our wine choice: the 2014 Hugel & Fels Gewurtztraminer - a sweet and spicy white from the Alsace region of France, that has a bright, acidic finish. A great choice to pair with these delicious shrimp! Cheers!