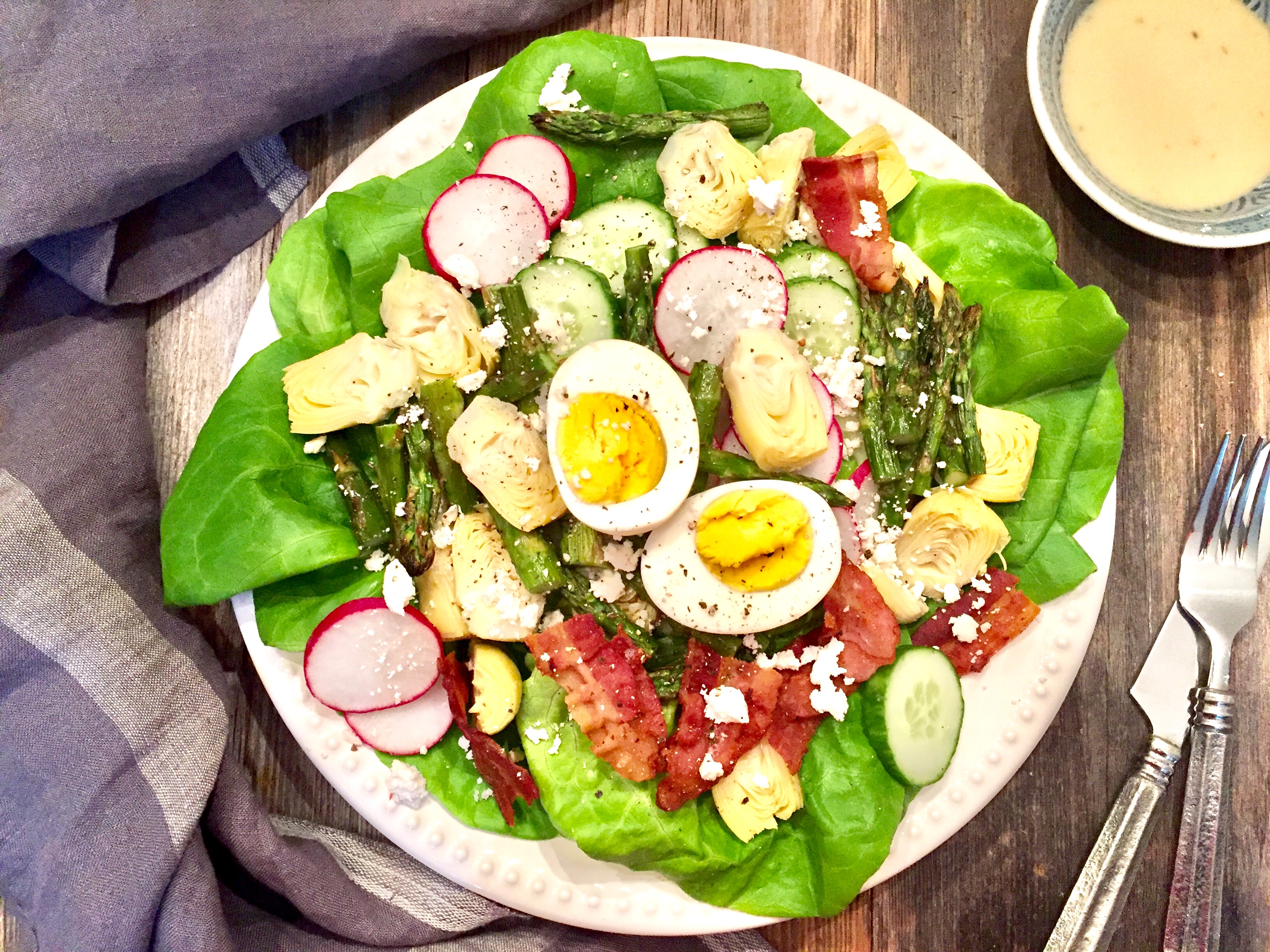 Nothing to see here, friends. Nothing to see here. EXCEPT THIS INSANELY GORGEOUS AND CRAZY DELICIOUS SPRING COBB SALAD. Whew… sorry, had to get that out.
This is definitely worth seeing. And even better: worth making. As in, stop everything you're doing, find a cutting board, pour a glass of wine, fry up some bacon, and thank me later.
Okay, that may have included some optional steps. And perhaps omitted others. But I basically touched on the most important things.
You can actually consider this a peace offering, because you probably weren't very happy with me for posting some seriously wintry comfort food yesterday, in the middle of March.
So brb winter, shifting gears to spring real quick: I don't know if it's just me, but have you noticed how fabulous the asparagus look at the grocery store right now? I always have a detailed list of things we need to get at the store each week – but whenever I grocery shop and see gorgeous looking produce, I can't even help myself and must. impulse. buy. it. all.
So, you can imagine how this salad came about. Nothing says spring like gorgeous asparagus, artichoke hearts, and radishes.
And if you happen to throw bacon and feta cheese on top for good measure, I won't be mad. Actually, if you don't throw bacon and feta cheese on this, you should be mad at yourself. Because bacon. And, well, cheese.
And this delicate beauty of a salad is a perfect starter salad, or even entree.
So don't be shy, dig right in!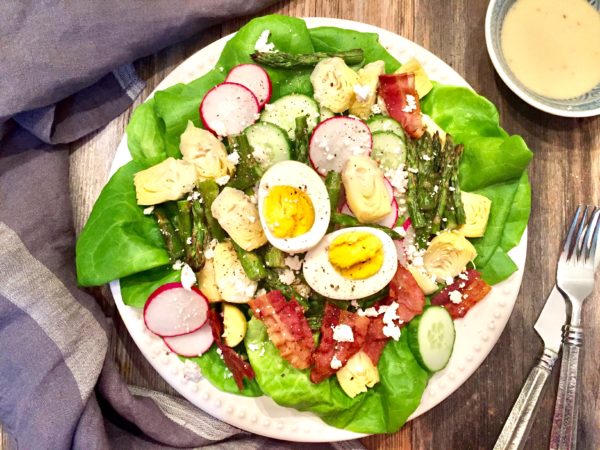 | | |
| --- | --- |
| | |
Preheat the broiler in your oven. Spread the asparagus on a baking sheet lined with tin foil. Drizzle the asparagus with olive oil and season with salt and pepper. Broil for 6-8 minutes, depending on the thickness of the asparagus, until bright green and cooked through. Set aside and chop once cool.

In a large pan, cook the bacon until crisp. Set aside, and crumble once cool.

To assemble the salad, divide the lettuce among the plates, followed by the asparagus, bacon, artichokes, radishes, cucumbers, eggs and feta cheese.

Drizzle with the champagne vinaigrette, and eat up!
In a bowl, whisk together the olive oil, champagne vinegar, dijon mustard, garlic, shallot, salt, and pepper.
Naturally, with our champagne vinaigrette, we'd recommend pairing this gorgeous salad with champagne. Cheers!