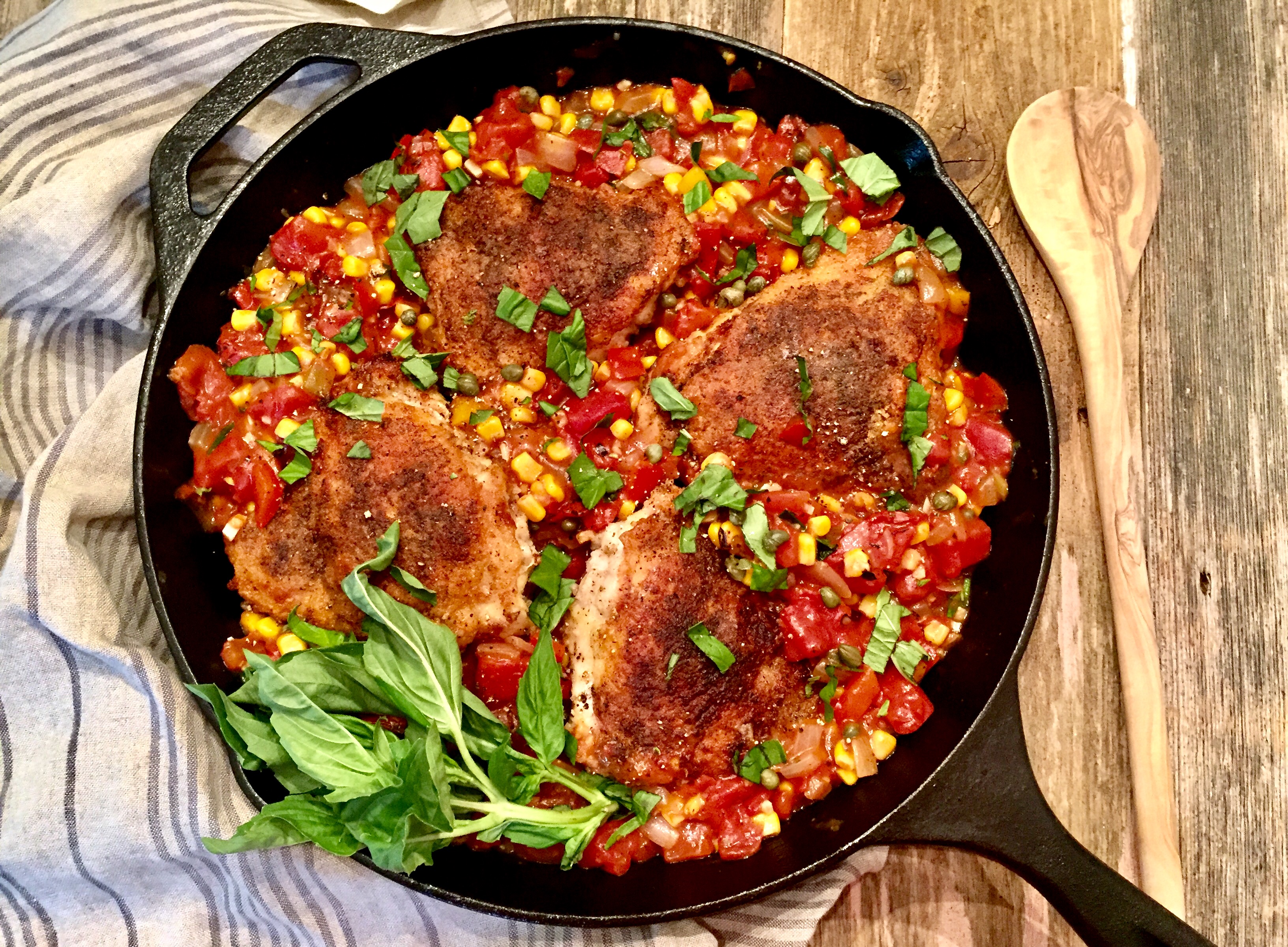 Y'all. You know when it's mid-summer, sweltering, and all you want is a salad good ol' comfort food pretty much appropriate for February? Whew. I knew it wasn't just me. See, we bond over so many things – SO glad we have each other. Welp, good news, my friends. This summer rendition of chicken cacciatore is just what the doctor ordered. Spruced up fresh corn and basil – it's completely suitable for summer. Okay, more than suitable – totally summer worthy.
It literally doesn't get any better than this. The crispy, golden-brown chicken thighs [i.e. juicy little nuggets that are pure gold] engulfed by a beauteous tomato sauce full of peppers, onions, corn, and fresh basil? Um, yes please. Oh, and you know, a healthy portion of wine. And I'm not talking to drink… I mean literally in the sauce. Well, to drink, too. Let's be clear.
And as far as the sous chef goes, he's all about this. Yummy, packed with flavor, and so satisfying. And just one pan to wash — the cherry on top [extra glass of wine is more relatable, but okay]. Not to mention, even good for you. Not a carb in sight, my friends. Okay, a couple. Mostly in the wine. A bit in the flour. But now you're just nit picking.
MOVING RIGHT ALONG. Summer comfort food = the best. Can we make this a thing? Forget beach season, we have needs. MY STOMACH HAS NEEDS. And it includes more than wine. It definitely includes this chicken cacciatore.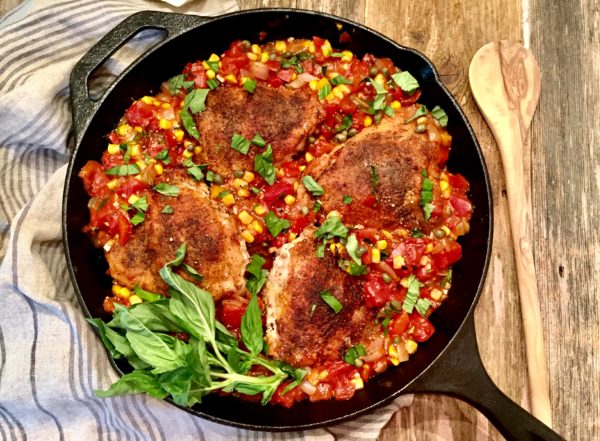 | | |
| --- | --- |
| | |
Season the chicken thighs with the salt and pepper. Dredge the seasoned chicken thighs in flour.

In a large saute pan, add the two tablespoons of olive oil over medium heat. Sear the chicken thighs for about 5 minutes in each side, until golden-brown. Remove from heat and set aside.

Discard all but 2 tablespoons of fat from the pan. Add the onion, bell pepper, and corn to the pan and saute for 6-8 minutes, until cooked and slightly brown. Add the garlic, and cook for an additional 2 minutes.

Add the white wine to the pan, and simmer until almost completely reduced; about 5 minutes.

Add the chicken broth, fire-roasted diced tomatoes, capers, fresh basil, oregano, and crushed red pepper. Mix until combined. Season to taste with salt and pepper.

Return the thighs to the pan, nestling them into the sauce. Simmer for an additional 20 minutes, until the chicken is cooked and has reached an internal temperature of 165 degrees.

Remove the chicken from the pan and tent it with tinfoil. Continue to cook the sauce until thickened, about 12-14 minutes. Spoon sauce over chicken, and EAT!
Our wine choice: the 2013 Domaine de la Perriere Sancerre. A crisp, fresh white with floral notes and lemon zest. Cheers!