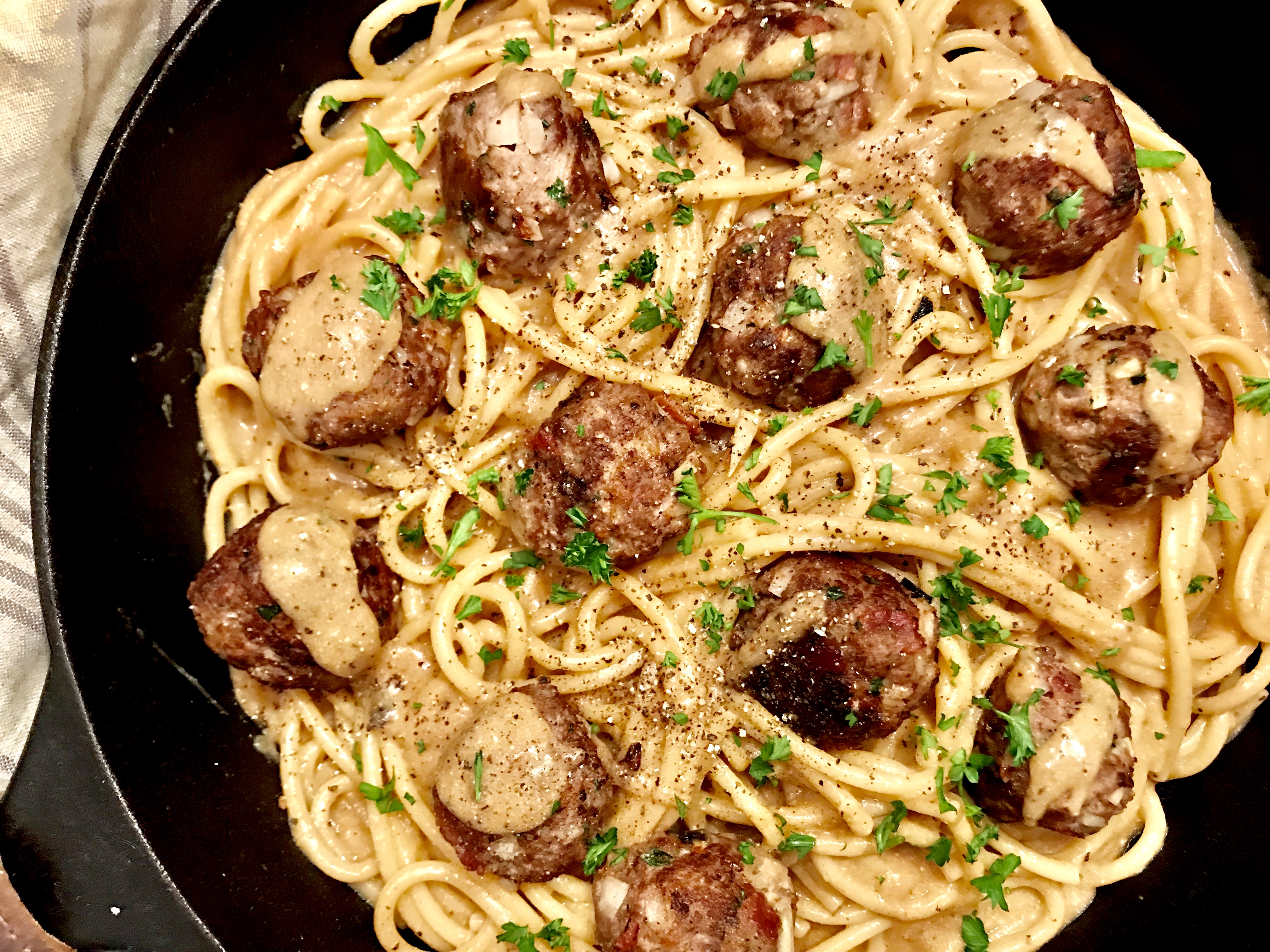 Helllooooo, frands! We're officially over one week into the new year, so it's totally cool to eat carbs again. You're welcome. Detox soup and kale salad were fun for a few days, don't get me wrong, but these Swedish meatballs and creamy pasta was everythinggggg I needed in my life: juicy little nuggets of meat swimming in a brandy-spiked gravy. And that bucatini… thick, hearty melt-in-your-mouth pasta. UGH. All I can say is #goals.
So it's been exactly FREEZING where we live. I love when the news coins these cold spells: "Like, the arctic-blast-bomb-cyclone-polar-vortex is here to stay"… you mean it's cold AF outside and I need should hibernate starting IMMEDIATELY? Gotcha. I'll go ahead and keep my fleece onesie on and leave my house for just about nothing…
That said, this was everything I needed to warm right up (wine, too, naturally). Comfort at its best.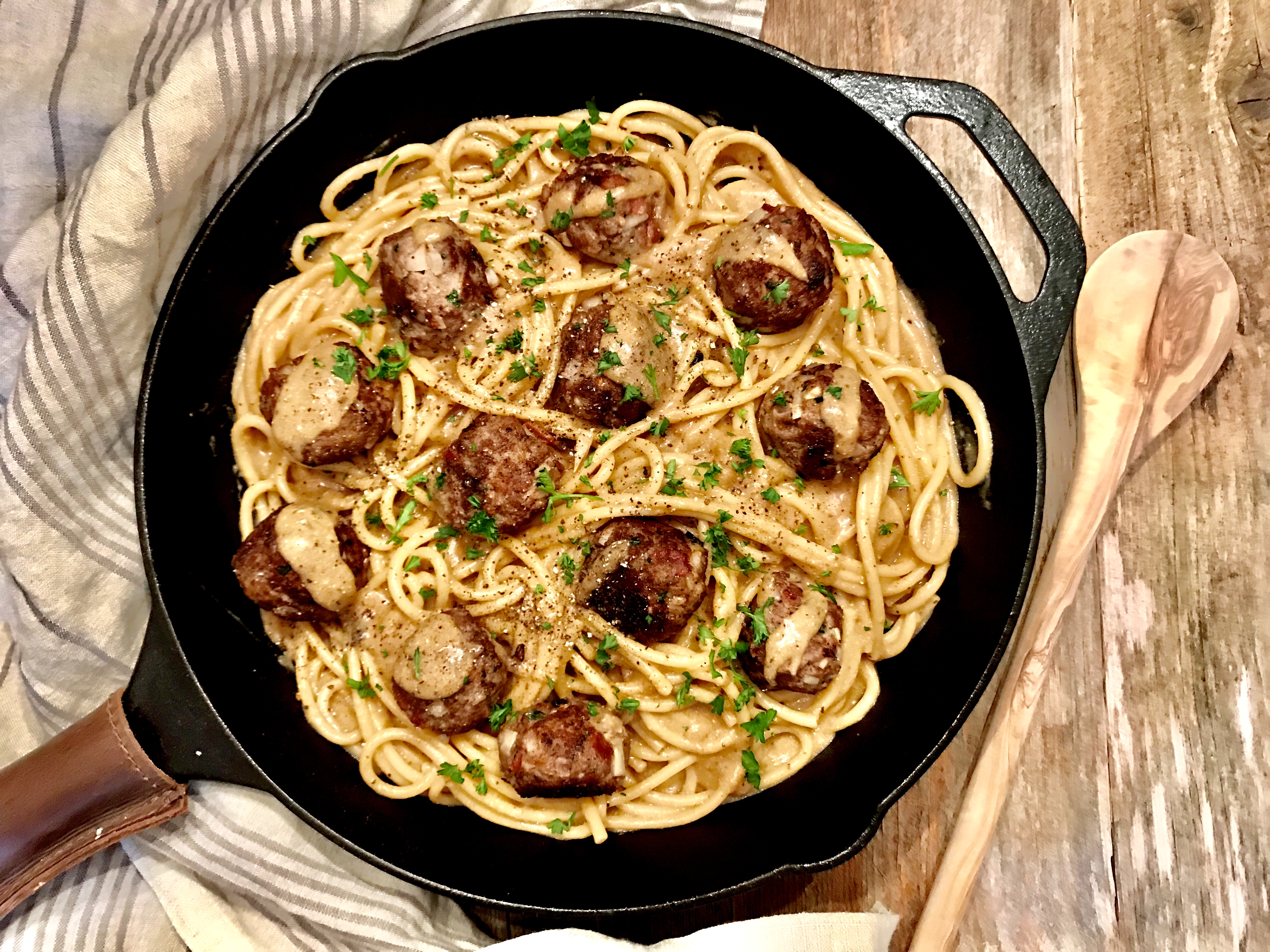 Now, I'm calling these Swedish meatballs, but the emphasis should really be on the 'ish' here… you know, Swed-ISH meatballs. Because I'm pretty sure that most traditional Swedish meatballs don't have bacon, brandy, and Parmesan cheese [but I mean, life motto: make it up as you go] — and that's okay. Who doesn't love bacon, brandy, and cheese? I, for one, consider those indispensable food groups [don't worry, wine, you totally are, too].
So they're Swedish meatballs with a twist — but nonetheless, rich, hearty, and so satisfying. You really can't go wrong. And I just so happen to believe that this recipe is *exactly* what the doctor ordered to cure the winter blues. But they key here — and not to be overlooked — is that this recipe basically requires a fleece onesie and a glass bottle of wine (share with me?). And you shouldn't argue with the doctor. It's just bad form.
Cheers!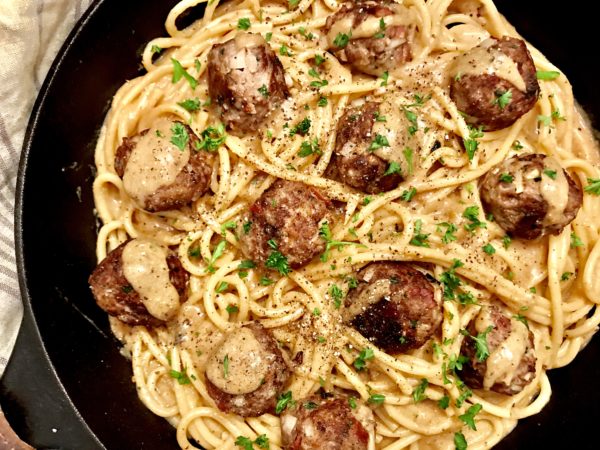 | | |
| --- | --- |
| | |
In a large pan, cook the bacon over medium heat until brown and crispy, about 7-8 minutes. Remove from heat and set aside. Once cool, crumble the bacon. Reserve 2 tablespoons of bacon fat, and discard any excess.

In a large bowl, combine the ground beef, onion, garlic, egg, panko breadcrumbs, Worcestershire sauce, parsley, ground allspice, nutmeg, salt, pepper, and crumbled bacon using your hands until well incorporated.

Form the beef mixture into meatballs, about an inch and a half in diameter (the size of a golf ball).

Re-heat the 2 tablespoons of bacon fat in the same pan. Sear the meatballs on all sides until evenly browned, about 8-10 minutes. This can be done in batches. Remove the meatballs from the skillet and set aside. Tent with tinfoil to keep warm.
Deglaze the pan used to cook the meatballs with the brandy, scraping up any brown bits. Let simmer for 30 seconds.

Add the beefstock, sour cream, dijon mustard, Worcestershire Sauce, and Parmesan cheese. Season to taste with salt and pepper. Let simmer for 3-4 minutes.

In a small bowl, whisk together the cornstarch and water. Slowly pour the cornstarch mixture into the gravy (whisking quickly), until slightly thickened the desired consistency of the gravy has been achieved.
Cook the bucatini in boiling water according to the package directions. Drain. Add the cooked bucatini to the gravy, tossing until coated. Add the meatballs to the pan. Let simmer for 2-3 minutes.
Our wine choice: the  2011 Black Stallion Cabernet Sauvignon. This full-bodied red is rich, with layers of flavor, and is the perfect accompaniment for this hearty dish. Share with me? Cheers!