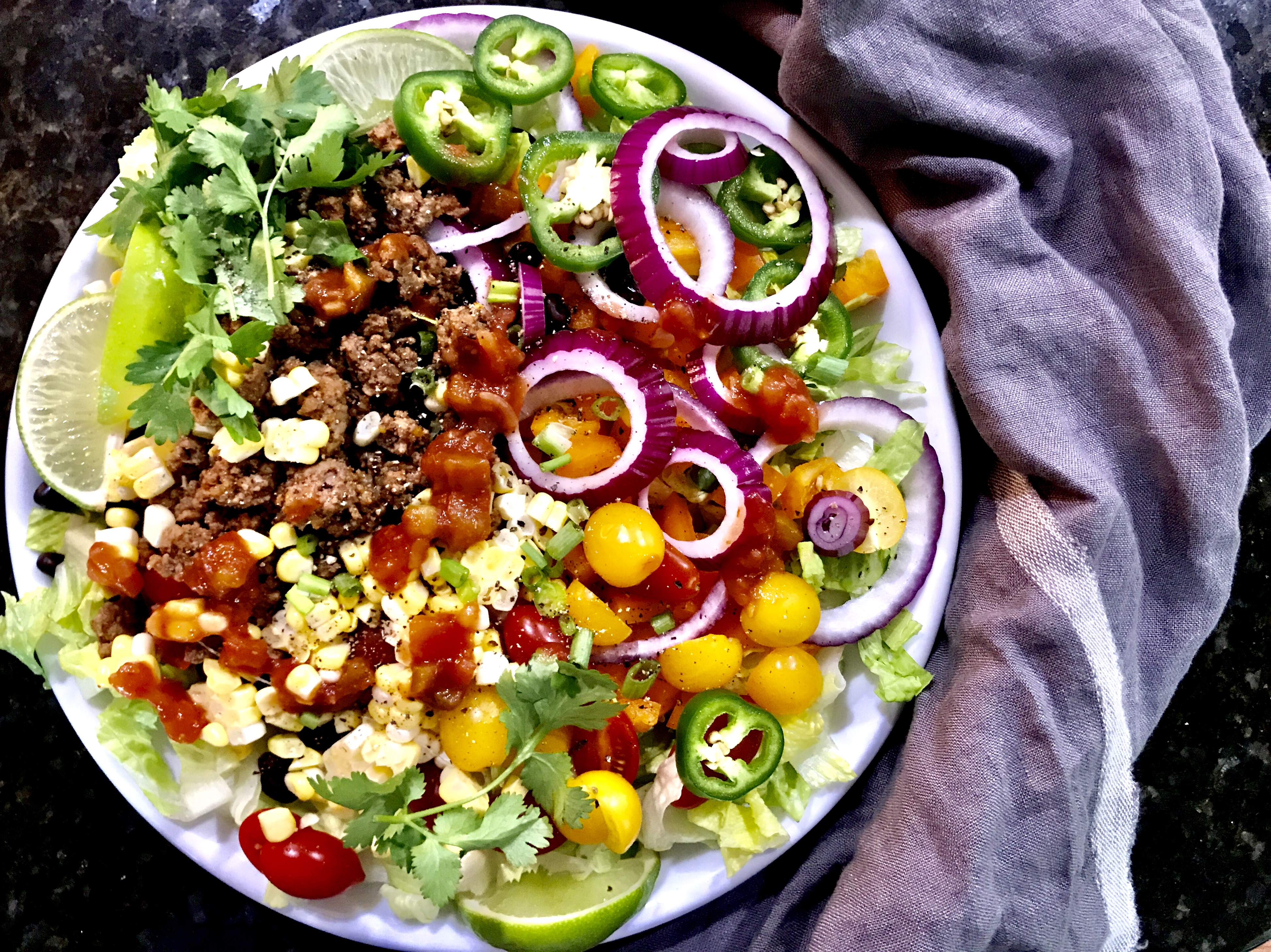 My friends, we seriously need to taco bout this [insert photo of everyone laughing at my joke. Pictured: only me.]. Taco salad is my jam. My bread and butter. The yin to my yang. Okay, okay, you get it. And I love this salad for so many reasons. Salty, spicy, crunchy. It's what salad dreams are made of.
Now I make no secret of my obsession with Mexican food [my total weakness is queso. I could drown in a giant bowl of it and die a happy human], but I'm not so obsessed with the cals. You know, gotta save those for the wine. So taco salad is the perfect way to satisfy that Mexican food craving without overindulging *overindulges in wine instead*.
Random factoid to clearly demonstrate my Mexican food obsession that I'm pretty sure I've told you ten times before: I literally eat salsa with a spoon. Like, all the time. As if it's soup or something. Extremely strange, yes. I just love the spicy, salty flavor #cantstopwontstop.
The most difficult part about this salad: trying not to eat all of the spicy little nuggets of ground beef while making it #thestruggleisreal.
And you know what? Every now and then, you just need some shortcuts. Because life is busy. And after working a 9 hour day, nobody wants to make salsa. Or taco seasoning. So let's just go ahead and declare this the world's easiest taco salad. And then take a moment and give thanks to the Mexican gods who created Mexican food. That's what happened, right? Whew. Glad we're in agreement.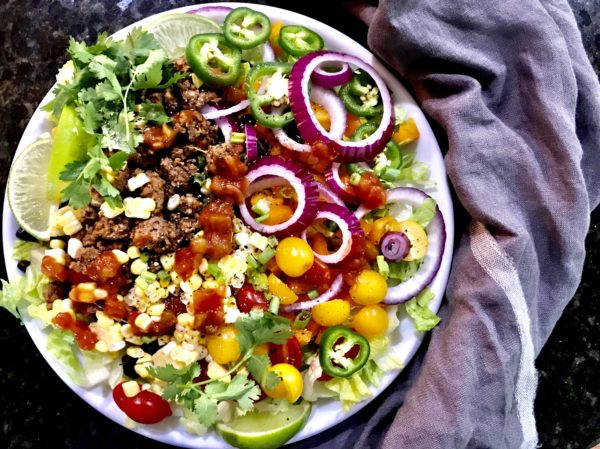 | | |
| --- | --- |
| | |
In a saute pan, add your ground beef over medium heat. Cook for 8-10 minutes, breaking up the beef with a spatula. Add the taco seasoning, mixing well. If moisture is needed to incorporate the seasoning, add a tablespoon of water at a time, until mixed well. Remove from heat and let cool.

Divide romaine among plates, followed by the grape tomatoes, red onion, corn, black beans, cheddar cheese, and cilantro. Top with ground beef.

Serve with salsa and ranch dressing. Enjoy!
Our wine choice: the 2015 Amalaya Malbec. This medium-bodied red has notes of plum, licorice, and spice. A delicious red to pair with this super yummy taco salad. Cheers!