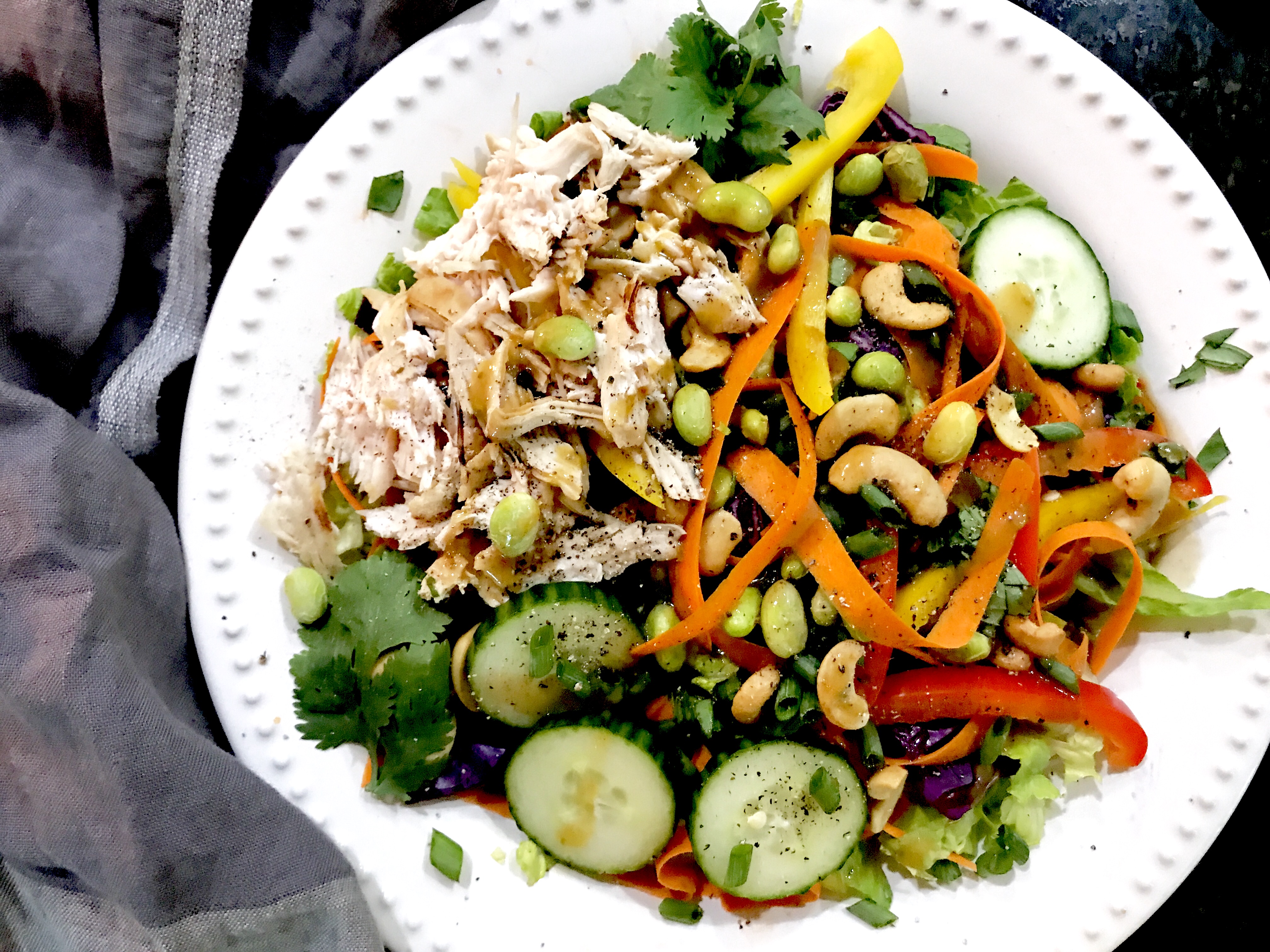 Hello…! I'm so excited to share this salad with you. This beautiful bowl of a rainbow is sure to brighten your Tuesday. And aside from this being a super healthy salad [read: more calories saved for dessert wine], it's also so so yummy.
You know, mid-summer, I find nothing more refreshing than a crisp, cool salad — because it basically feels like a swamp outside, and anything heavy is just not even remotely appetizing… [which is also why I love fall and winter – you don't even NEED an excuse for comfort food]. But even now, the sous chef and I basically keep our house like an ice box – because who wants to sweat all summer long?!?
As a kid I loved the summertime [I mean, like every kid, school's out!] and lounging around at the pool all day. I tell ya it's just not the same in a cramped office wearing suits all summer long. So yeah, unless we're at the beach, summer just doesn't quite do it for me anymore. WOMP WOMP.
But honestly, this is a perfect salad to get you through the next two months [not like I'm counting or anything… I totally am].
And since I'm pretty much obsessed with creating tons of texture in salads, this one definitely does not disappoint. The cashews, peppers and cucumbers add the perfect crunch, and the edamame gives a touch of creaminess [and clearly, a perfect salad to throw all of your fresh summer produce into!].
And the dressing… you knew I was going to go there. So good. It pretty much makes the salad in my opinion – and yes, I know you're not shocked. But honestly, take it from me…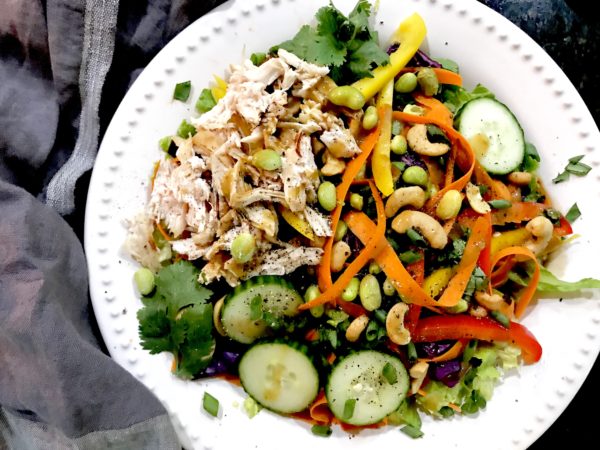 Thai Chopped Chicken Salad
| | |
| --- | --- |
| Thai Chopped Chicken Salad | |
Thai Chopped Chicken Salad
Preheat a grill to 475 degrees. Grill the chicken breasts for 6 minutes on each side, until cooked through and the internal temperature registers at 165 degrees. Remove from grill and let cool. Once cool, shred the chicken.

Cook the frozen shelled edamame according to package instructions. Let cool.

In a large bowl, combine the romaine lettuce, red cabbage, carrot ribbons, cucumber, bell pepper, green onions, cilantro, cooled edamame, salted cashews, and shredded chicken.
In a food processor, combine the peanut butter, toasted sesame oil, unseasoned rice vinegar, honey, brown sugar, soy sauce, lime juice, garlic, ginger, chili garlic sauce, sriracha, and salt.

Puree until smooth. Add 1-3 tablespoons of water as needed, to achieve desired consistency.

Drizzle the ginger-peanut dressing over the salad, tossing until coated, Divide the dressed salad among plates, and enjoy!
Our wine choice: the 2015 Francis Coppola Chardonnay. This juicy, complex white has a creamy texture with notes of crisp fruit -- a perfect white to pair with this lovely salad. Cheers!