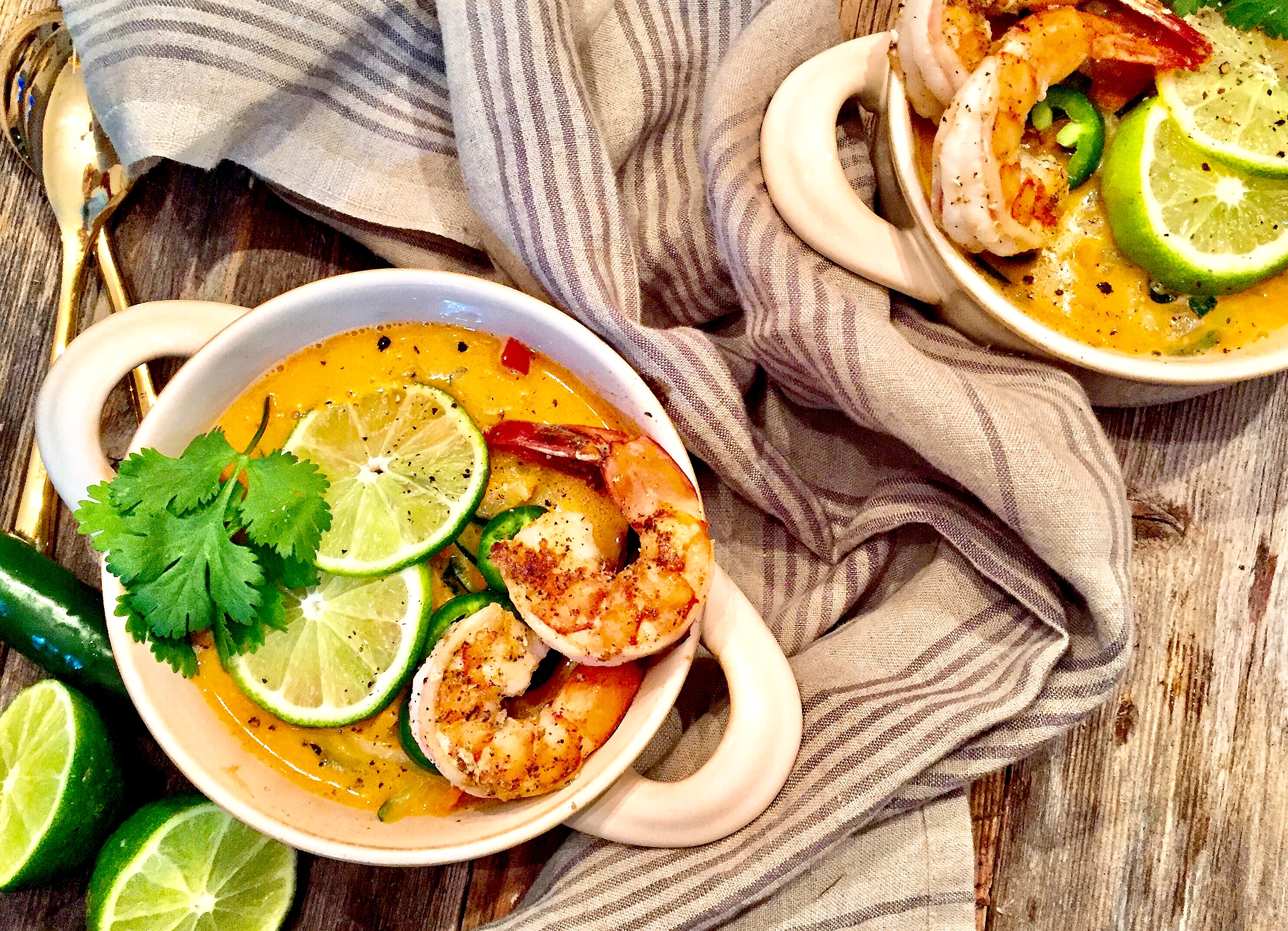 HALPPP! It's official. I need to sign up for soupaholics anonymous pretty much stat. Like, soup is overflowing in pots, tupperware, it's everywhereeeee. I try and break it up with normal-ish food, like Mexican cauliflower rice, or the cheesy meatball skillet, but I'm basically putting on a front and deceiving everyone into thinking I don't have a soup problem. I mean, I just turned 29, but with the rate I'm consuming soup, you'd literally think I was 89 and down to two teeth.
I still have a laundry list of different soups I am dying to make, and it's embarrassing. As I'm creating the list of recipes I'm going to make each week, I actually have to make a concerted effort to make sure I add some variety – and by variety, I mean solid foods.
And as I'm slurping up this delicious bowl of thai curry soup – I had a sudden and striking moment of realization. I'm talking profound. Like, really deep. I love soup, because it's basically a bowl of sauce. I know, mind blown. Me too.
But can we just chat for a minute about this soup? It is amazing. I've never actually cooked with red Thai curry paste, and I was naturally skeptical about how it'd turn out, because things I'm unfamiliar with = terrifying. Like yeast. No yeast recipes on this blog. But I totally want to make a zillion things [like soft pretzels with a beer-cheese sauce…. yes, PLEASEEEE.] that have yeast – and as soon as I realize yeast is in the recipe *closes out of page*. I know, so close-minded. But back to the soup: it was amazing. It was like a spicy, creamy bowl of comfort that I just want to wrap my arms around and never let go of, that good.
And it's full of vegetables and is Whole30 compliant, so it has beach body written all over it. Just don't look at how many calories are in coconut milk. Because that says "where's my winter parka?"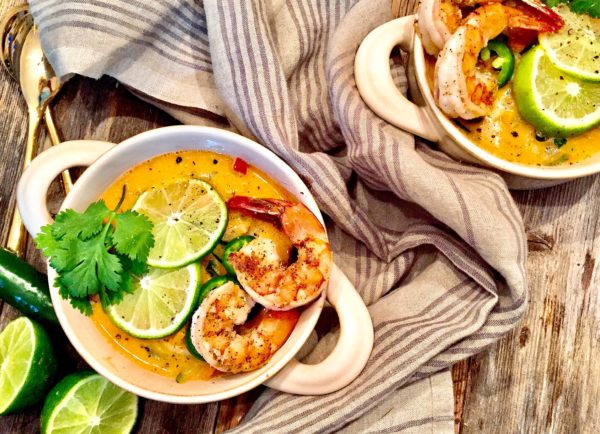 | | |
| --- | --- |
| | |
Season the shrimp with salt and pepper. In a large saute pan, heat one tablespoon of olive oil over medium heat. One hot, sear the shrimp, about 2-3 minutes per side, until opaque and cooked through. Set aside.

In the same pan, heat the additional tablespoon of olive oil. Add your zucchini, pepper, carrots, onion, green onion. Add the cayenne and red curry paste, mixing until the paste evenly coats the vegetables. Saute for 8 to 10 minutes, until tender.

Add the garlic, ginger, and cilantro, cooking for an additional 2-3 minutes.

Add the coconut milk, and squeeze the lime into the pan. Let simmer for 4-5 minutes. Add the shrimp to the soup, and allow the shrimp to heat through, before serving.
Our wine choice: The 2014 Trimbach Gewurtztraminer. This dry, balanced white has notes of warm spices and bright cantaloupe. With a lingering spicy finish, it's the perfect wine to pair with these flavorful red curry bowls. Cheers!