I clearly have an obsession with all things fall. Gourds, squash, sweaters, pumpkins, Indian corn, pumpkin-flavored coffee, boots, pumpkin bread, scarves, pumpkin pie, pumpkin-anything, really. The list pretty much doesn't end – and from the time that the holidays are over, a countdown begins to the end of the next summer. The crisp, cool air sets in and the leaves begin to change.
It's finally an acceptable time of year to drink pumpkin coffee again, spiced apple cider and red wine – but let's be serious, I'll drink red wine all summer long unapologetically. You can go on hayrides bundled in your favorite plaid shirt, pick apples from a totally adorable orchard only to be followed by baking an apple pie, and posing in a pumpkin patch with the sweet scarecrow. Okay, I get a little carried away. Let's just say this time of the year beats summer amilliontimesover. No questions asked. And the comfort food that comes with it? Even better. That was of course the inspiration for this beauty – sausage and kale stuffed acorn squash with a Parmesan breadcrumb topping. All the fall feels.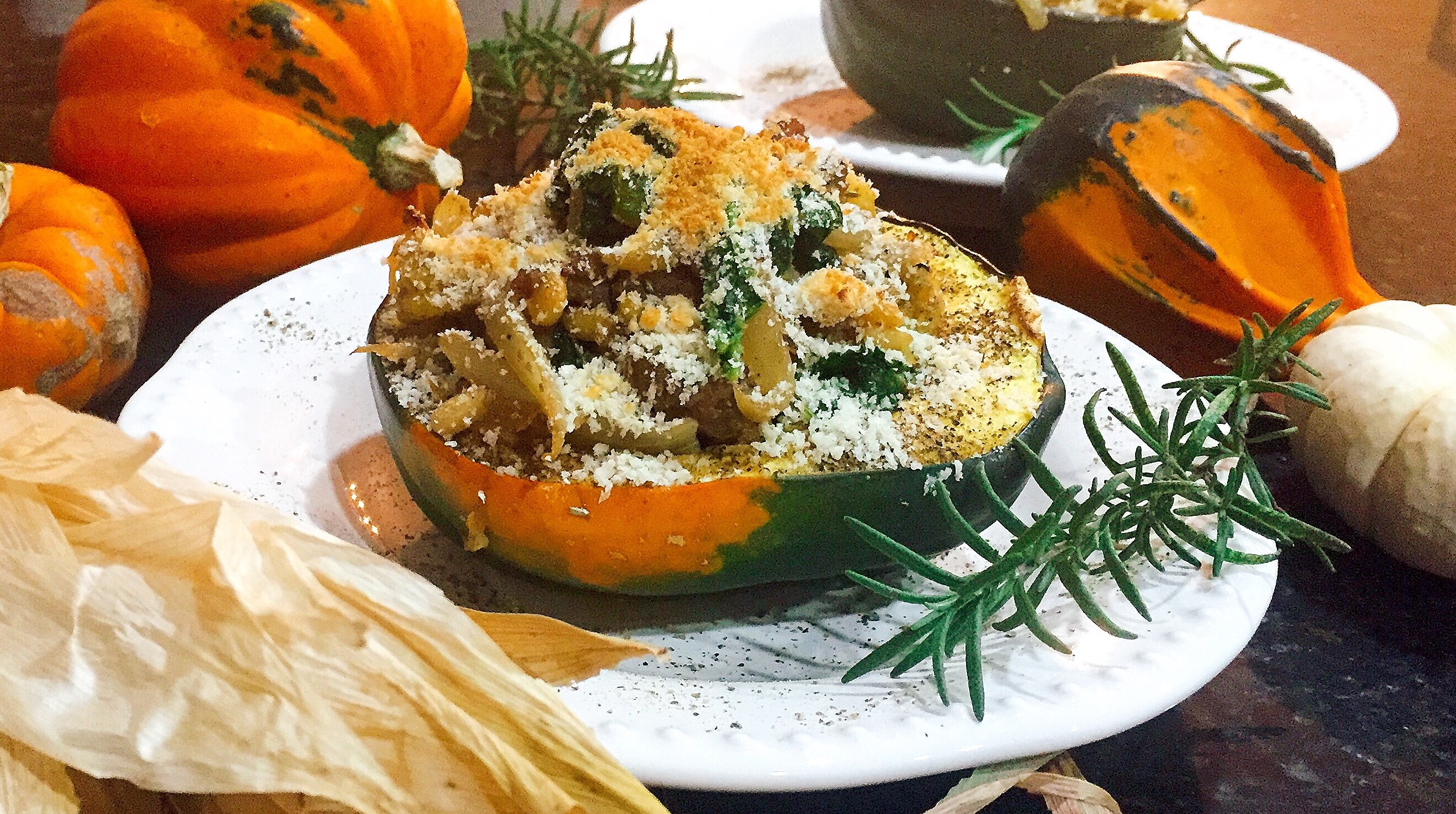 Sausage and Kale Stuffed Acorn Squash with a Parmesan Breadcrumb Topping
2 acorn squash, halved down the middle, seeds removed
1 lb. hot Italian sausage
1 medium onion, thinly sliced
2 cloves garlic, minced
1 bunch kale, stems removed and coarsely chopped
1/4 cup pine nuts
Teaspoon crushed red pepper flakes
1/4-1/2 cup chicken broth
1/4 panko breadcrumbs
1/4 Parmesan cheese
Salt and pepper to taste
Begin by preheating the oven to 400 degrees. Please the acorn squash (halved with seeds removed) in a large roasting pan and season with salt and pepper. Once the oven is preheated, roast the squash for 40-50 minutes, or until you pierce the squash with a fork and there's no resistance.
While the squash is roasting, saute your hot Italian sausage (casings removed, if necessary) in a large saute pan until brown and cooked through. Transfer to a bowl lined with paper towels. Remove all but 1 to 2 tablespoons of fat from the pan, add your onion and cook through until golden and brown. Add your garlic, saute for a couple of more minutes. Return the sausage to the saute pan. Add your pine nuts, kale and red pepper flakes (adding the chicken broth as needed to help give the mixture some moisture). The kale will cook down and turn bright green. Let all the flavors come together for a few minutes, seasoning with salt and pepper to taste.
In a separate bowl, mix the Parmesan cheese and breadcrumbs together. Set aside.
By now your acorn squash should be finished roasting. Remove from oven. Scoop out a moderate amount of flesh and add to the filling in the saute pan, leaving enough room for you to stuff the squash. Using a large spoon, stuff the each of the squash halves with the sausage and kale filling. Top each little boat with the Parmesan breadcrumb mixture. Return to the oven and let roast until the topping turns golden brown, 10-15 minutes.
The next part is the easiest: enjoy!