I really don't want to throw the sous chef under the bus here, but I need to come clean with you: I recently told the sous chef I wanted to craft a delicious, kind of non-traditional Shepherd's Pie recipe and he scoffed. Wrote it off. Wanted nothing to do with it. Well, my delightful sous chef comes home after work in the evening to this ah-mazingly fragrant, delicious looking concoction of a Shepherd's Pie, and he's all like, "What is this? This looks amazing." (P.S. earlier in the day, he asked what was for dinner, and I told him it was a surprise since he already declared his anti-Shepherd's Pie stance.)
Amusedly, I grinned and let him know it's the dreaded Shepherd's Pie. Long story short, he has not one serving, but two – shakes his head up and down as he savors each bite, and let's me know it's pretty darn good (an understatement, my friends) – this is comfort food at it's best. The sweet potatoes are so savory: fresh rosemary, Gouda cheese and fragrant garlic. And the filling. No words. Okay, a few words: a classic combination of peas, carrots, onions, celery – oh, and Parmesan cheese with sauteed kale? So. Good. (No other words.) K, I'm going not going to hold out on you anymore.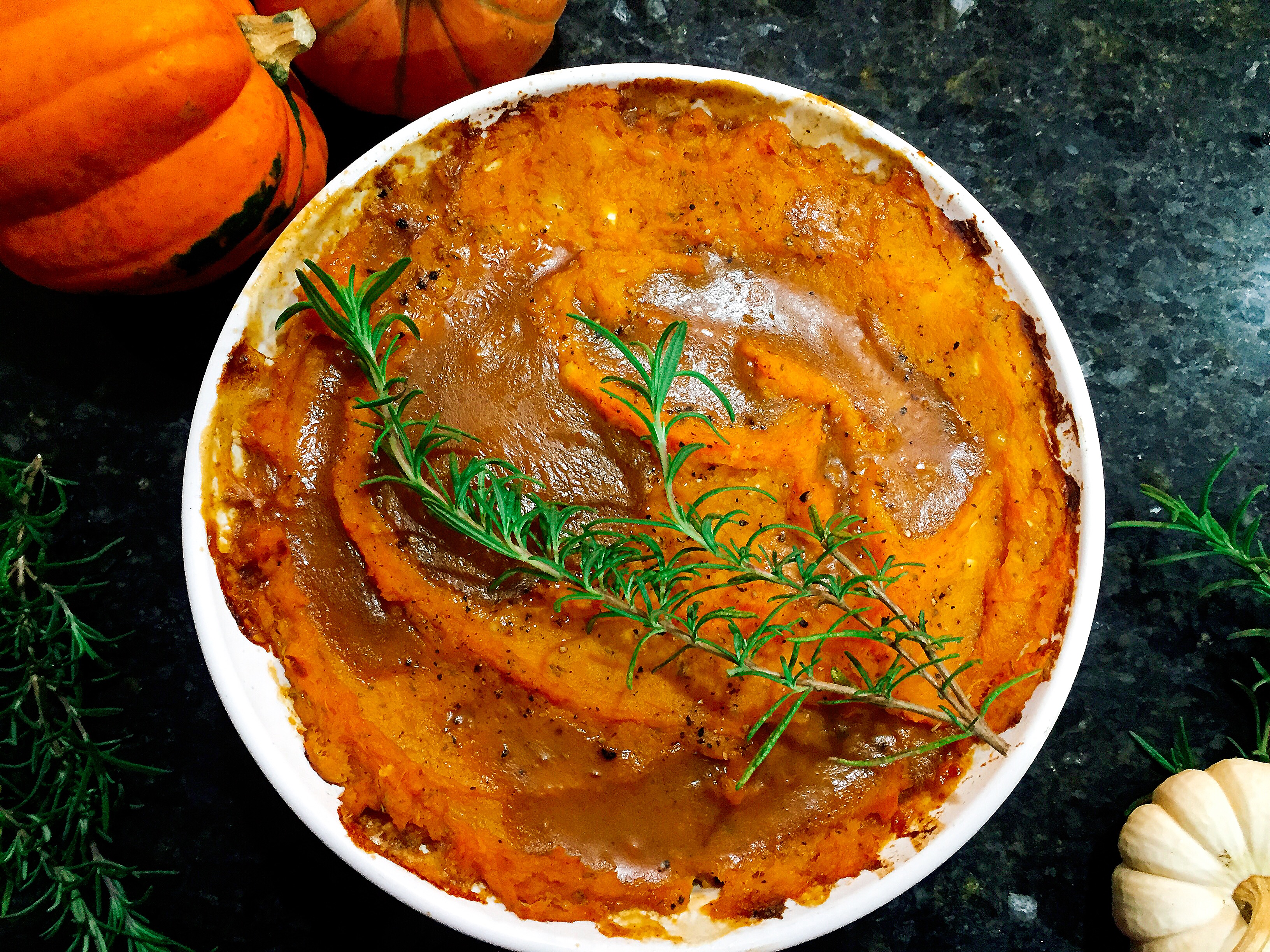 Sweet Potato, Kale and Gouda-Parmesan Shepherd's Pie:
3 large sweet potatoes
1 cup grated Gouda cheese
4 cloves garlic, minced, divided
1 tablespoon fresh rosemary, minced
1 lb ground beef
1/2 large onion, diced
1 cup celery, diced
1 cup carrots, peeled and diced
2 tablespoons fresh sage, chopped
1 tablespoon fresh thyme, chopped
1 1/2 cups frozen peas
2-3 oz. kale, de-ribbed and coarsely chopped
2 heaping tablespoons flour
1 cup beef stock
1 tablespoon Worcestershire sauce
3 tablespoons tomato paste
1 cup Parmesan cheese
Salt and pepper to taste
So let's start with the sweet potato topping. Microwave or bake your sweet potatoes until tender and soft (about 15-20 minutes on 'baked potato' setting in your microwave or 45 minutes to an hour at 400 degrees in your oven). Once finished, remove and let cool.
Next, season your ground beef and brown in a large saute pan. Once cooked through, remove and set aside in a bowl lined with paper towels. Discard all but one or two tablespoons of fat from the saute pan. Add your onion, celery, carrots and half of your minced garlic, fresh sage and thyme, season with salt and pepper and cook on medium heat until the vegetables are tender and cooked through. Next, add your kale and cook down until bright green. Then, add your peas and ground beef back into the skillet. Sprinkle the two heaping tablespoons of flour over your vegetable mixture and saute until the flour is no longer visible (2-3 minutes). Add your tomato paste, beef broth, and Worcestershire sauce. Incorporate well, cooking for an additional 10-15 until thickened. Season with salt and pepper to taste.
Transfer your vegetable and beef mixture to a 9×13 casserole dish. Sprinkle in the Parmesan cheese and give it a good mix. Set aside.
Preheat your oven to 350 degrees. By now, your sweet potatoes should be cool enough to handle. In a separate bowl, scoop out the flesh of the cooked sweet potatoes. Season with salt and pepper and whisk until they have a smooth and creamy texture. Add your Gouda cheese, minced rosemary and remaining half of the minced garlic. Mix well and pour the sweet potatoes over top of your vegetable and beef mixture in the casserole dish. Bake at 350 degrees for 30-40 minutes. Remove from the oven, let cool slightly, and dig right in.